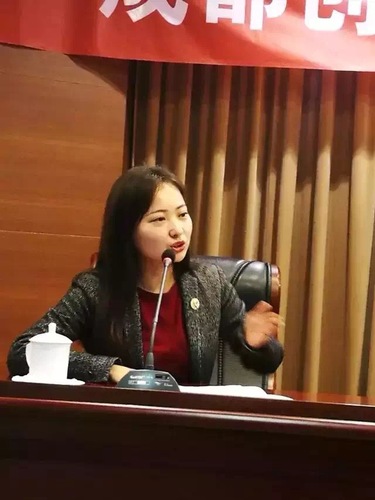 Zheng Shenglan gives a speech. [Women voice]
Chengdu Female Entrepreneurship Era, a female entrepreneurship service platform established by a group of female returnees from the city of Chengdu, southwest China's Sichuan Province, has recently founded its own women's federation base.
Zheng Shenglan, a post-80s female returnee and the founder of the platform, has been elected as the president of the newly established platform-based local women's federation.
As the initiator of the platform, which has provided services to some 9,000 women, Zheng said she has finally found her harbor, the federation, and has also become a servant of the Women's Home.
"Being the first president of the federation, I've set my goal: to build our cooperation as a home for women," she said.
It was not an act of impulse to establish the women's federation branch, according to Zheng.
Invited to the Beijing-based headquarters of the All-China Women's Federation (ACWF) this March 8 to mark International Women's Day, Zheng shared her long-hatched idea with Song Xiuyan, vice-president and first member of the Secretariat of the ACWF, saying, "There are quite a few women at our platform, how about setting up a Women's Home base?"
The proposal not only gained Song's support but also garnered her further suggestions. Soon, she made up her mind to implement all the ideas in one step since they had been approved by the ACWF.
Zheng then submitted her application to Chengdu Women's Federation and the relevant party-masses working bureau. "Since we are going to do it, we need to do it in a down-to-earth manner," Zheng wrote.
Most of the co-founders of Chengdu Female Entrepreneurship Era are overseas returnees like Zheng. "Though cherishing a lot of enthusiasm, we didn't quite know where to start at first," said Zheng with a hint of embarrassment when speaking of their hurry-scurry beginning.
Facing a startup service platform inundated with those of the post-80s and post-90s, Chengdu Women's Federation successively dispatched staff to their spot, giving face-to-face guidance on how to draw up the women's federation's constitution, how to make vote tickets, as well as the steps to organize a women's congress.
On March 31 at its founding conference, 23 members of the federation's executive committee, including eight Chinese Communist Party members and 16 female entrepreneurs, were elected by the votes from 56 women representatives. The 23 executive committee members then further elected one president and six vice-presidents for the federation.
"We have finally found our home and working base," said Zhu Yu, a Qiang ethnic woman from southwest China who has long been taking charge of industrialized poverty alleviation. Having kept confronting the unjust treatment faced by female entrepreneurs, Zhu felt a sense of relief as they now have the federation as a solid backing to obtain better rights protection, policy support and better solutions for legal disputes.
"We need to do some practical things for women," stressed Zheng. "The two main goals for us this year are, first, to broaden new marketing methods for the agricultural products from underprivileged areas, and second, to improve the employment rate among local areas and communities through launching multiple technical training activities."
Song Xiuyan meets Zheng. [Women Voice]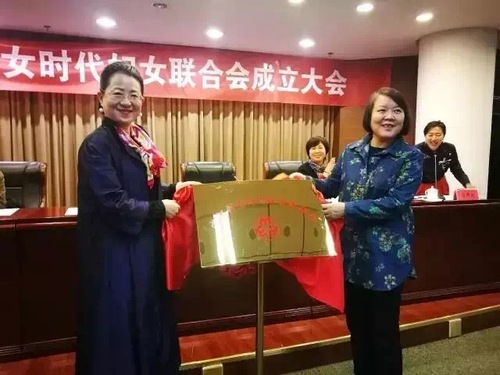 Participants take part in the vote. [Women Voice]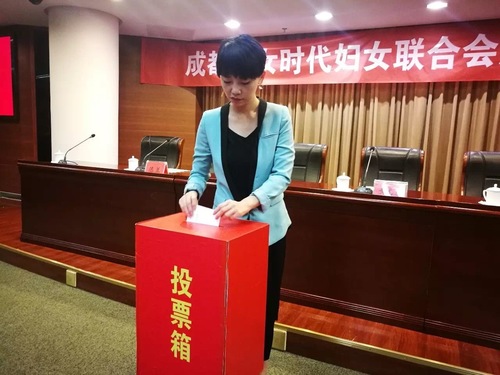 Participants take part in the vote. [Women Voice]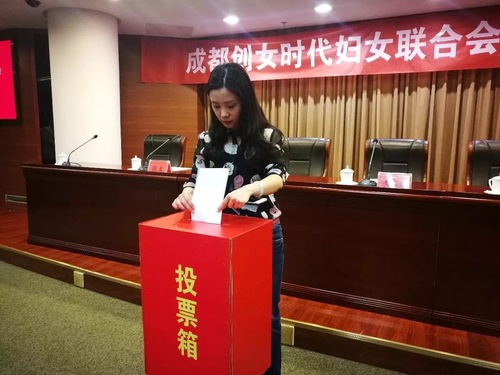 Participants take part in the vote. [Women Voice]
(Source: Women Voice/Translated and edited by Women of China)