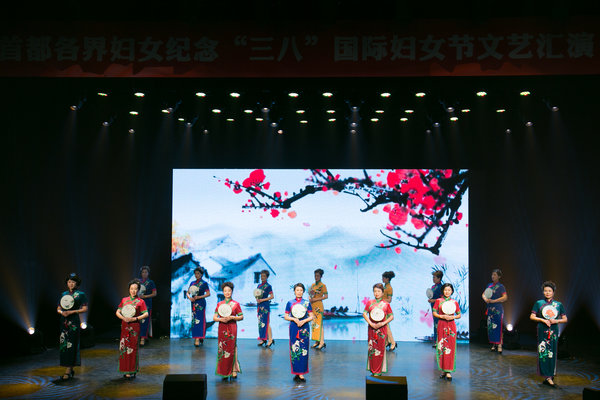 [Women of China/Zhang Yuan]
To celebrate the recent International Women's Day (March 8), Beijing Women's Federation organized a special cultural performance at a theater in the capital on March 16.
The event was held under the joint themes of "Embracing the future success of the 19th National Congress of the Communist Party of China (CPC)" and "Women benefiting from a new life."
This activity was further designed to highlight the State policy of gender equality; mark the achievements of women's development; and encourage a positive "social ethos" in the capital, according to officials.
All of the performers at the event were invited on the recommendation of relevant social groups such as associations of female college professors or women's organizations.
Audiences enjoyed displays of dancing, singing, music, Peking Opera singing, and a catwalk show of women wearing the qipao, a traditional figure-hugging garment often made from silk.
Officials in attendance at the event included Feng Deyu, executive vice-secretary of the Organization Party Committee of the International Liaison Department of the CPC Central Committee; Lu Yamin, vice-director of the Liaison Department of the All-China Women's Federation; Chu Yumei, vice-director of the Beijing Municipal Committee from the Revolutionary Committee of the Chinese Kuomintang; Zhang Chuang, vice-principal of Beijing Forestry University (BJFU); Fang Guoliang, president of the BJFU's Labor Union; and, Liu Lijun, vice-president of Beijing Women's Federation.
Other attendees included officials from the Beijing Municipal Committee's United Front Work Department, teachers' committees, the Taiwan affairs office, and non-government associations for international exchange.