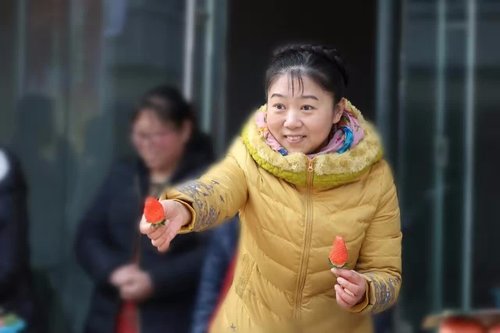 Sun Hongli (front), an official of Qingdao Women's Federation and the first Party secretary of Loulitou Village, invites a visitor to taste a strawberry during the exhibition. [Women Voice]
East China's Shandong Province hosted an agricultural trade fair from December 24-25 in the city of Qingdao, to promote local products specially selected by grassroots city officials.
The event aimed to draw on the experiences of Shandong-based first Party secretaries, highlight their role in linking urban and rural projects, and create a free display and sales networking platform for farmers.
Organizers hoped the agricultural model could encourage poverty-relief by supporting the interaction between rural and urban areas.
At the gathering, held for the second year in a row, Sun Hongli, a first secretary from Loulitou Village near Pingdu, a county-level city in Qingdao, was vigorously recommending strawberries to local residents.
Beside Sun stood her colleagues from Qingdao Women's Federation, who came and lent their support. They were busy marketing exhibits, introducing agricultural projects or discussing on cooperation with nearby booths.
To save time, Sun and staff members of the Loulitou Fruit and Vegetable Cooperative began to arrange many of the booths at the site two days in advance. Due to their efforts, villagers could bring their products and take part without delay.
"The strawberries, sweet potatoes, taros and apples were all picked earlier this day at around 5 a.m.," Sun told a journalist.
Sun Hongli's Poverty Relief Efforts
According to Sun, this was not her first experience "selling strawberries". Last year, 86 first Party secretaries from 39 townships took part in a similar event.
In June 2015, Sun began to work as a grassroots official at Loulitou, population 737, a local area which is greatly affected by poverty. There, 190 of the 243 households make a living by cultivating strawberries in greenhouses.
In addition to poor infrastructure when she arrived, she found that the village cooperative was in constant debt and suffered from poor sales. Moreover, some families were in poverty because of car accidents or medical bills.
Sun was determined to help locals get out of these difficult situations.
Aside from serving as a salesperson at the exhibition, she mobilized growers to join the WeChat e-commerce platform called Xiao Nong Gu to extend their sale channels.
Moreover, she invited experts from Qingdao Academy of Agricultural Sciences to spread knowledge of pest control and organic methods in their farmlands.
With her help, the total income among local strawberry growers has increased by over 10 million yuan (U.S.$ 1,437,900) in the past year.
To further bring convenience to villagers, Sun wrote a report on regional transport conditions, which she submitted to Qingdao Women's Federation, and gained 300,000 yuan (U.S.$ 43,100) of funding from a local charitable female entrepreneur to build a new cement road.
To solve the problem of ground water shortages, she contacted Qingdao Water Conservancy Bureau and obtained 200,000 yuan (U.S.$ 28,700) in funding to renovate two huge dump sites into reservoirs.
In addition, under her invitation, leaders from the local women's federation have visited the village many times, bringing supplies to impoverished families and the local women's and children's activity centers.
Seeing the positive changes in their hometown, many migrant workers have returned to start businesses, creating many job opportunities and stable earnings for local women in the agricultural sector.
However, recalling her work done in the past year, Sun said what she did for the village is still "far from enough."
"When my tenure is full, I will stay in the village and continue to serve for the people," she concluded.
Sun Hongli (L) and local residents attending the exhibition [Women Voice]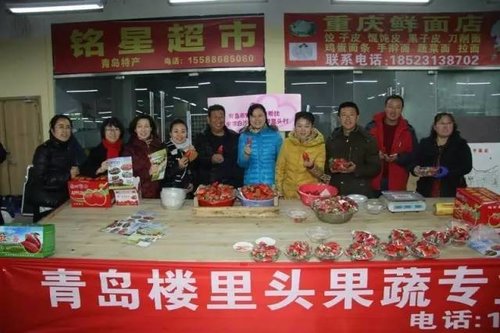 Sun Hongli (R4) and her colleagues from Qingdao Women's Federation at the exhibition [Women Voice]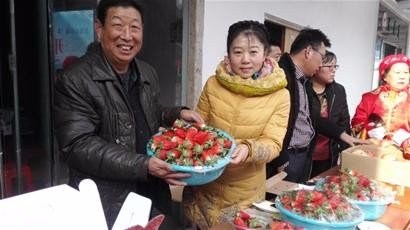 Sun Hongli (L2) and a farmer present strawberries. [Women Voice]
Strawberries displayed at the exhibition [Women Voice]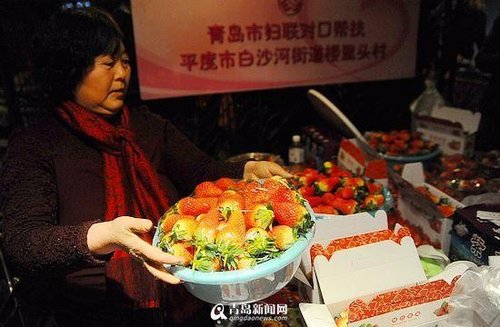 An attending farmer and her strawberries at the exhibition [Women Voice]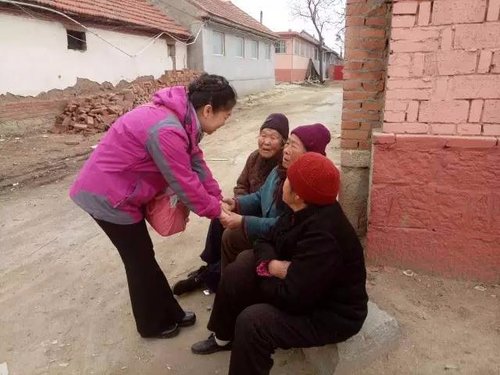 Sun Hongli (L) talks with elderly people in Loulitou Village. [Women Voice]
(Source: Women Voice/Translated and edited by Women of China)