Cui Yu, vice-president and member of the Secretariat of the ACWF, speaks at the opening ceremony. [Women of China/Fan Wenjun]
With the purpose of promoting gender-responsive budgeting in Asia and the Pacific and accelerating the implementation of Beijing Declaration and Platform for Action as well as the 2030 Sustainable Development Agenda, the All-China Women's Federation (ACWF) and the Economic and Social Commission for Asia and the Pacific of the United Nations (ESCAP) held a seminar on gender-responsive budgeting, in Beijing, on November 17-18, 2016. Approximately 70 participants, including experts from ESCAP, UN Women, Indonesia, Philippines, Malaysia and representatives from China's ministries, academic institutions, the ACWF and local women's federations, attended.
Cui Yu, vice-president and member of the Secretariat of the ACWF, delivered a speech during the opening ceremony. She spoke highly of the efforts ESCAP had made for promoting economic and social development and advancing gender equality in Asia and the Pacific. She outlined Chinese Government and ACWF's achievements in identifying gender gap and promoting women's overall development. Cui emphasized that Chinese President Xi Jinping raised four points of view for women's all-round advancement in his speech at the Global Leaders' Meeting on Gender Equality and Women's Empowerment, which was held in New York in September 2015. Those points represented Chinese Government's determination in promoting gender equality and reflected the common values shared by nations at the global stage.
At present, Cui noted, countries from around the world spare no effort in achieving the 2030 Sustainable Development Goals, which stress "no one should be left behind." China is pursuing innovative, coordinated, green, open and shared development, implementing the country's 13th Five-year Plan (2016-2020) and uniting people from all sectors of society to fulfill the great China Dream that highlights prosperity of the country and happiness of its people. Cui called upon participants to make joint efforts and seize precious opportunities to put their proposals into practice and make unremitting efforts to advance gender equality and women's development.
During the seminar, Li Mingshun, China Women's University's vice-president, an esteemed expert on gender issues, introduced gender mainstreaming in China and the basic State policy of equality between men and women. Experts from the National Development and Reform Commission, Chinese Academy of Fiscal Sciences, Ministry of Human Resources and Social Security and National Health and Family Planning Commission, shared China's practices on gender-responsive budgeting. Representatives from Shanghai and Wenling outlined the measures local governments and women's federations had taken in promoting gender-responsive budgeting. Representatives from ESCAP, UN Women and other countries in Asia discussed their practices and challenges in making supportive polices for implementing gender-responsive budgeting.
Gender-responsive budgeting, abbreviated as GRB, refers to the methods that integrate a gender perspective into the evaluation of different impacts on women and men, or on girls and boys, caused by the fiscal revenue and expenditure allocated by a government. GRB has so far been implemented in more than 100 countries.
Mu Hong, director-general of ACWF's International Liaison Department, presides over the opening ceremony.[Women of China/Fan Wenjun]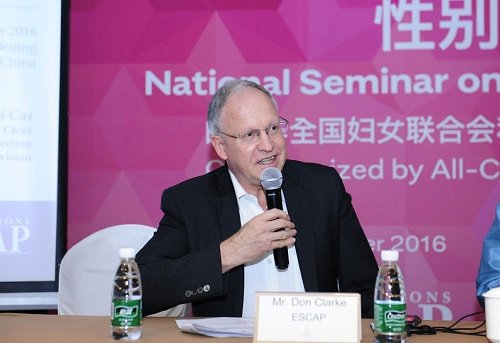 Donald Clarke, ESCAP consultant, speaks at the meeting. [Women of China/Fan Wenjun]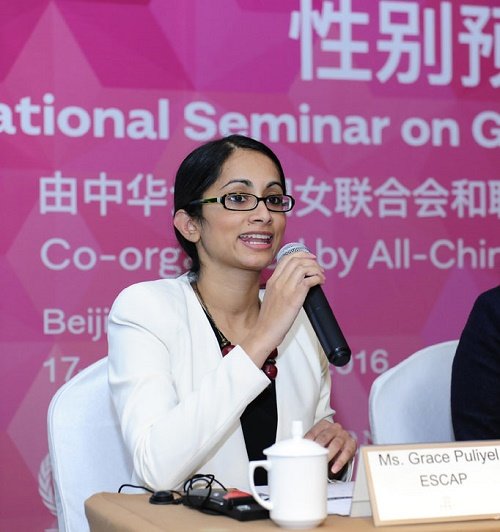 Grace Puliyel, associate social affairs officer from Gender Equality and Women's Empowerment Section of ESCAP's Social Development Division, speaks at the meeting. [Women of China/Fan Wenjun]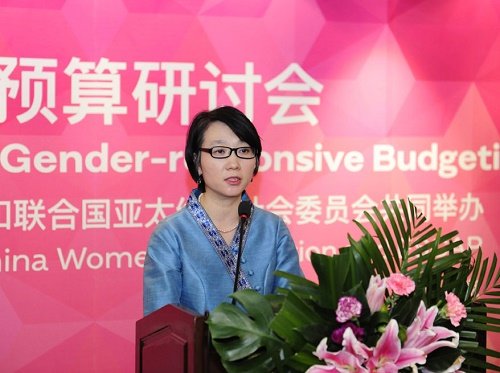 Cai Cai, chief of Gender Equality and Women's Empowerment Section of ESCAP's Social Development Division, speaks at the meeting. [Women of China/Fan Wenjun]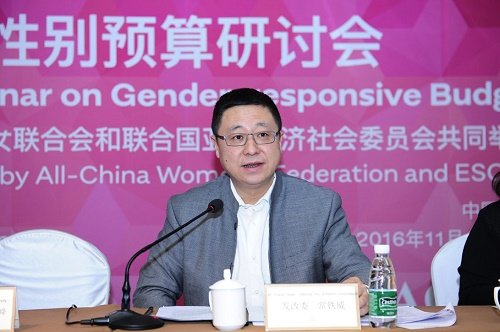 Chang Tiewei, director of National Development and Reform Commission's Department of Social Development, speaks at the meeting. [Women of China/Fan Wenjun]