Wang Lanying, a social association's organizer, shows a panel she made to publicize the G20 Hangzhou summit. [China Women's News/Yang Rui]
Women from various industries have all been dedicating themselves to serving the 11th G20 summit in the city of Hangzhou, east China's Zhejiang Province, in recent days, China Women's News reports.
Wang Lanying: Positively Publicizing Hangzhou Abroad
As a female association's organizer, Wang has often traveled to European counties in the past few years. In order to give her support to the G20 summit, she came back from France especially to return to the host city of Hangzhou.
Wang said that she wanted to take part in the big event and make her own contributions to the promotion of G20, in turn hoping that more people across the world would have a better understanding of Hangzhou.
Therefore, the woman has made great efforts to carry out a series of publicity activities in 12 European nations including Italy, the Netherlands and France, among others. After conducting several events, Wang actively shared her stories about G20 with staff at Hangzhou women's federation.
Wang stated, "My home is on the Qiantang River; it is really wonderful that I have appreciated such a fantastic G20 gala with my family members."
Chen Liying: Outstanding Entrepreneur Becomes Passionate Volunteer
Being an excellent female entrepreneur, Chen said, "I established my own start-up more than 20 years ago and I have a great passion to make a positive contribution to the G20 Hangzhou summit."
At 6:00 a.m. every day, Chen and her staff went to the local subway station near the famous West Lake, after having breakfast. They were mainly responsible for carrying out security checks of passengers while also providing consultation services and pointing people in the right direction when they arrive, Chen revealed.
In addition, Chen and other workers also helped the elderly carry their luggage at the metro station. In order for tourists to recognize them, Chen wore a yellow jacket with a G20 logo on it particularly.
Although standing for at least 6-8 hours outside the subway station under the harsh sun, the businesswoman still tried her best to be on duty without any complaint.
After finishing the volunteer work at 2:00 p.m., Chen returned to her company to deal with relevant export foreign trade business. The competent woman stated that she still had to handle necessary business negotiation matters every day while visiting staff members at a regular time, as well as caring for their daily lives.
Chen maintained, "I have been largely focusing on the latest news about G20 and I am looking forward to seeing more good business policies introduced by China. I will further adjust my company's operation process and make more innovative work in accordance with the newly-enacted scheme."
Despite her busy work schedule, Chen said that she was willing to help and hoped that more foreign people would come to know more about Hangzhou and China through her humble efforts.
Hu Jiaojiao: Interpreting Hangzhou in an All-round Way
As a tour guide, Hu said that she wanted to interpret Hangzhou's splendid culture for more foreign visitors during the G20 summit. Hence, Hu has prepared materials in several foreign languages about the famous Grand Canal, which is also called Beijing-Hangzhou Grand Canal, and is the longest and earliest man-made canal in the world.
Apart from being a tour guide, Hu has also served as a volunteer at the summit. She stated, "I have pushed to promote the general image of Hangzhou rather than just a few certain scenic spots."
Hu revealed that she has dressed in a cheongsam, or qipao, which is considered to be a typical sign of traditional Chinese culture, when she received domestic and foreign media. Meanwhile, Hu has presented accomplished folk artists' handmade works to foreign guests as small gifts as well.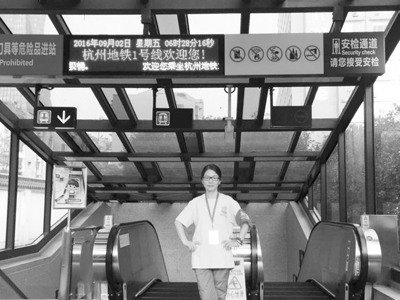 Chen Liying, a female entrepreneur, serves as a volunteer at the local subway station. [China Women's News/Yang Rui]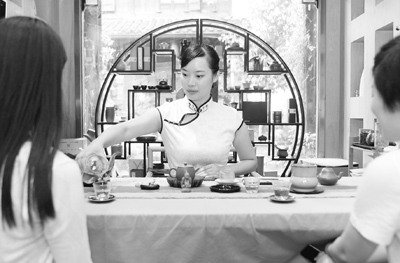 Hu Jiaojiao, a versatile tour guide, introduces tea culture to tourists. [China Women's News/Yang Rui]
(Source: China Women's News/Translated and edited by Women of China)