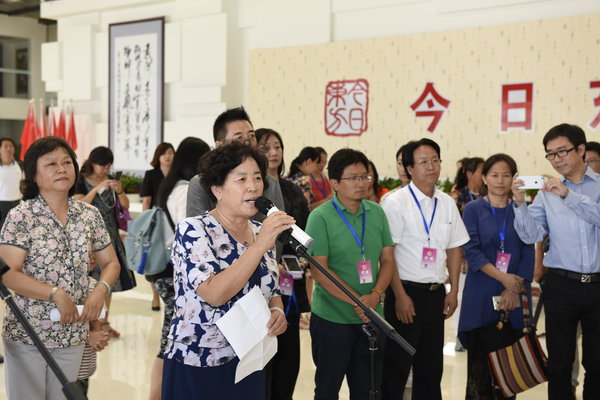 Vice-President of Beijing Women's Federation Wang Shucun (L2) speaks at the contest's final. [Beijing Women's Federation]
A total of 232 contestants from 16 delegations in Beijing showcased their handicraft skills and competed for honor at the final of the Fourth Capital Vocational Skills Contest on August 29.
The contest was organized by Beijing Women's Federation and drew the attendance of 2,033 people from all walks of life across the capital city. Contestants demonstrated their talents in embroidery, paper-cutting, ceramics, handmade textiles, handmade clothes, sculpture and other handicrafts, all of which featured combinations of aesthetics and techniques, and succession and daily life.
Ten professionals from Beijing Industrial Design Center, Beijing University of Technology, Beijing Institute of Fashion Technology and other research institutes were invited to judge contestants at the final. Invited experts said that organizers had made remarkable improvements in the fields of management, public participation and the selection of candidates, hoping that the contest would be conducive to the further development of handicraft techniques, the improvement of practitioners' vocational competence and innovation in handicraft growth.
"Beijing Women's Federation has underpinned the importance of vocational contests to the cultivation of handicraft practitioners in its work for years," said Vice-President of Beijing Women's Federation Wang Shucun at the contest's final. She continued that the event aimed to build up a platform for female handicraft practitioners to display their wares, enrich the cultural connotations of their products, and beef up their competence in scientific innovation as well as entrepreneurship.
She pledged that her federation would work hard to provide local female practitioners with a convenient environment for their engagement in handicrafts and help more women find employment opportunities whilst staying in their hometowns.
In the end, eight contestants took the gold medal for their excellent performances at the event. Meanwhile, 15 and 31 participants were presented with second and third prizes respectively at the event.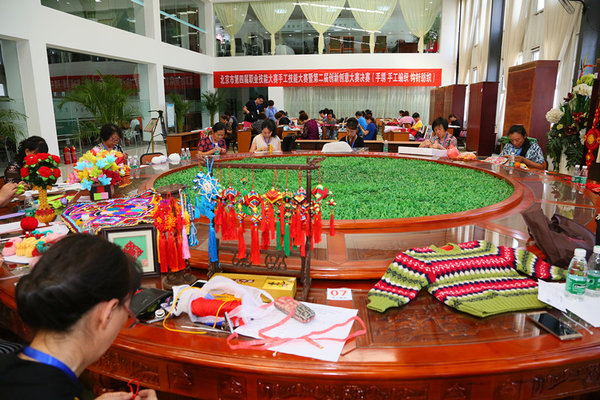 Contestants produce their handicraft items at the contest's final. [Beijing Women's Federation]
Contestants produce their handicraft items at the contest's final. [Beijing Women's Federation]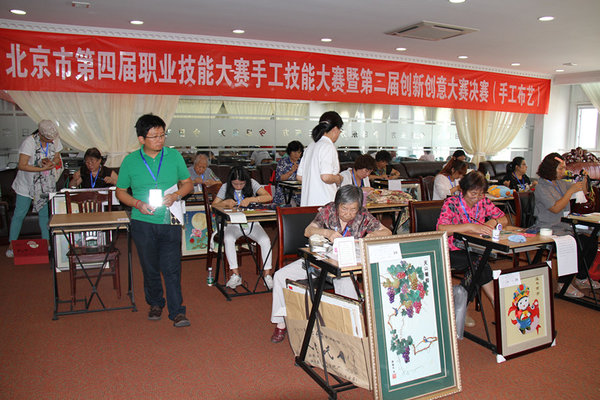 Invited experts judge attendees' handicraft products at the contest's final. [Beijing Women's Federation]
Holders of the gold medal pose for a group photo with invited professionals at the contest's final. [Beijing Women's Federation]
Invited professionals pose for a group photo with all contestants at the contest's final. [Beijing Women's Federation]
(Women of China)