Attendees at the meeting [Women of China/Fan Wenjun]
The Consultation Meeting on the Implementation of the Domestic Violence Law with Meaningful Engagement of Women Groups and Civil Social Organizations (CSOs) took place in Beijing on August 29.
The meeting was co-sponsored by China Association of Marriage and Family Studies (CAMF) and UN Women. The President of CAMF Zhen Yan, UN Women Country Programme Manager Julie Broussard, and Deputy Director General for Administration under the Ministry of Civil Affairs Ni Chunxia attended the event.
Zhen said in her speech that the consultation would closely focus on the implementation of the country's Domestic Violence Law, and that it needs both the implementation of basic-level organizations and the participation of more social forces. Furthermore, it is important since officials should all gain experience in playing the role of CSOs as seen in other nations, she stated.
CSOs are an inevitable organizational form of modern social management, as well as a major social power of carrying out work among large sections of the population and providing effective services, Zhen stressed.
Zhen hoped that through the consultation meeting, attendees could have a more scientific understanding of the role of CSOs, exchange opinions on how women groups cooperate with CSOs voluntarily, jointly promote the deepening of their work, the reform and construction of CSOs, and summarize and publicize their work experience, in a bid to create a bigger role for women groups and CSOs in the implementation of the Domestic Violence Law.
Julie stated at the meeting that the implementation of China's Domestic Violence Law has made significant achievements, and that it now requires broad and comprehensive publicity and promotion. She hoped that various social organizations can enhance cooperation and coordination and jointly establish strategies and action plans. She also encouraged the government to help CSOs gain more strength and solve domestic violence victims' needs, to jointly promote the implementation of the Law.
Ni Chunxia said at the meeting that, based on incomplete statistics, civil affairs departments across the country have protected and rescued some 50,000 domestic violence victims since 2008, and that civil affair departments are willing and have the responsibility to support women groups and CSOs in participating in and carrying out anti-domestic violence work.
Attendees at the meeting further learned about the Domestic Violence Law and exchanged successful practices both at home and abroad. They also discussed how women groups and CSOs can advocate and participate in the implementation of the Law more effectively, to promote cooperation between government, women groups and CSOs, raise the capability and level of grassroots federations in anti-domestic violence, and to play an active role in its implementation.
The consultation meeting was a follow-up activity to the previous two sessions of the training program among grassroots backbones in anti-domestic violence, organizers said. More than 140 people, including women group chiefs in pilot areas and representatives of CSOs, relevant ministries and organizations, attended the meeting.
The Consultation Meeting on Implementation of Domestic Violence Law with Meaningful Engagement of Women Groups and Civil Society Organizations (CSOs) kicked off in Beijing on August 29. [Women of China/Fan Wenjun]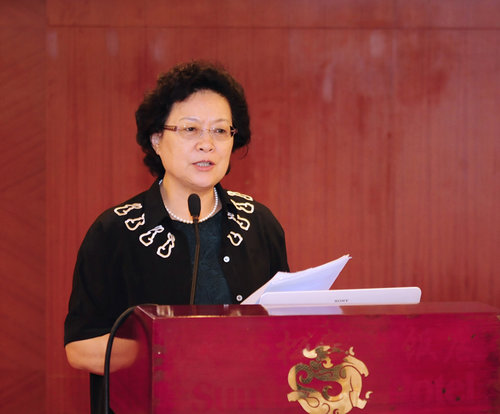 Zhen Yan, president of the China Association of Marriage and Family Studies (CAMF), speaks at the meeting. [Women of China/Fan Wenjun]
Jiang Yue'e, vice-president and secretary general of the China Association of Marriage and Family Studies (CAMF), presides over the event. [Women of China/Fan Wenjun]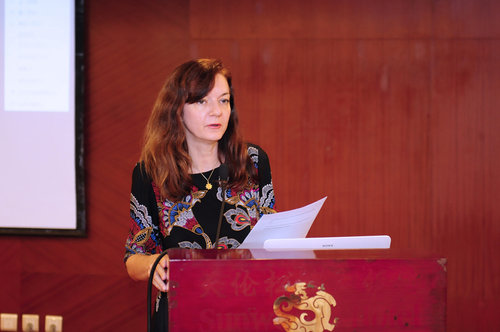 UN Women Country Programme Manager Julie Broussard speaks at the meeting. [Women of China/Fan Wenjun]
Attendees during a group discussion at the meeting [Women of China/Fan Wenjun]
An attendee speaks at the meeting. [Women of China/Fan Wenjun]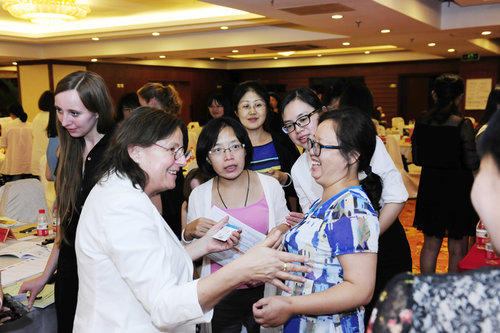 Attendees interact during the meeting. [Women of China/Fan Wenjun]
(Women of China)