Song Xiuyan, vice-president and first member of the secretariat of the All-China Women's Federation, delivers a speech at the meeting. [Women of China/Fan Wenjun]
During a high-level meeting held on May 25, Song Xiuyan, vice-president and first member of the secretariat of the All-China Women's Federation, delivered a speech in which she outlined China's efforts in enhancing women's empowerment and its participation in inclusive economic growth.
First of all, China attaches great importance to improving the laws and regulations on promoting gender equality, Song stated. In the past 30 years, the country has revised and improved dozens of laws and regulations to protect women's rights, ban discrimination and to ensure equal pay among men and women.
Secondly, concrete efforts and actions have been taken to promote employment and entrepreneurship, Song continued. Starting from 2009, China has issued more than 290 billion yuan (U.S.$ 44.2 billion) of small loans to women entrepreneurs. "We also focus on the employment of women graduates from universities and colleges. We have set up more than 8,100 internship bases across China and selected more than 20,000 internship and entrepreneurship tutors to provide guidance and professional training to college graduates," she added.
Thirdly, China will carry out targeted technological training for new farmers, and set up revitalization projects for high-skilled talents and projects to improve rural migrant workers' skills, Song said. "We are also improving the e-commerce skills of women by conducting training with the help of Internet and we are trying to foster social culture and media environment favorable for women."
Although participants to the W20 Meeting come from different countries, the level of economic participation among women from these nations varies. Song concluded: "We are highly similar to each other in terms of promoting gender equality, women's equal participation and achieving innovative economic growth."
The meeting also featured speeches from representatives of Chad, Egypt, Indonesia, Laos, South Africa, Turkey, Japan, Mexico, Senegal, Spain, the Women in Parliaments Global Forum and the China NGO Network for International Exchanges. The representatives outlined good practices in enhancing women's participation in economic activities in their respective countries and regions.
High-level meeting [Women of China/ Fan Wenjun]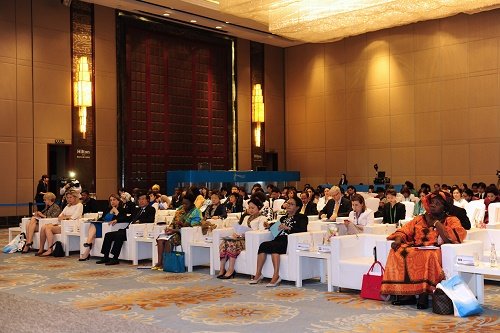 High-level meeting [Women of China/ Fan Wenjun]