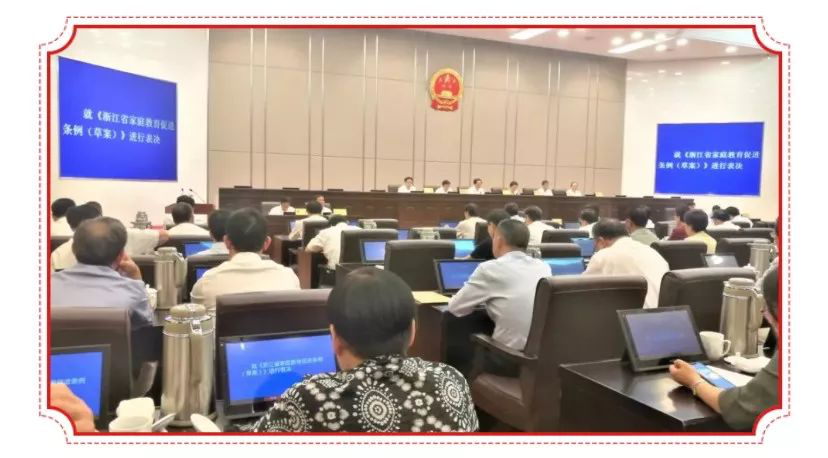 The Standing Committee of the People's Congress of Zhejiang Province adopts the regulation on promoting family education on September 27. [Zhejiang Women's Federation]
A regulation on promoting family education will be put in force in Eastern China's Zhejiang Province on January 1, 2020. It is the first provincial regulation on family education in Zhejiang Province.
The regulation includes 35 articles in seven chapters, specifying the responsibilities of family, school, government and society, and it is significant to the development of family education and happiness, the healthy growth of juveniles and social harmony in the province.
Main Contents of Family Education
The regulation specifies the content of family education, which includes the thoughts and ideas of socialism with Chinese characteristics; socialist core values, fine traditional Chinese culture and the spirit of Zhejiang; social morals, family virtues and personal morality; common sense and knowledge of scientific, legal and safety matters; work attitude and labor skills, behavior and habits and mental health; and other education good for the healthy growth of juveniles.
Family Education Working Mechanism
The regulation stipulates that the promotion of family education should be led by the Party and the government, involve both families and schools and be coordinated by society.
It provides that the week-long promotion campaign will be around International Family Day, which falls on May 15 every year.
Parents, Main Implementers of Family Education
The regulation stipulates that parents have direct responsibility for family education and must fulfill the consequent duties. Other adult family members should assist parents to perform those obligations.
If parents die or lose their guardianship, other guardians who are determined according to law should fulfill the family education duties.
Parents should improve their self-cultivation, pay attention to educating children through both words and deeds, and educate and influence their minor children with healthy ideas, good conduct and appropriate methods.
Parents should also guide and accompany their minor children to participate in activities that are beneficial to their physical and mental health, and monitor their sleep, entertainment and physical exercise.
Parents should prevent negative behavior in their children such as skipping class, campus bullying, taking nights out, fleeing from home, being addiction to the Internet, smoking, drinking, fighting, gambling, or taking drugs. They should also not allow their children to watch, read, collect or spread any audio and video products, books, newspapers and magazines or e-publications which contain information endangering national security, or pornography, violence, heresy or superstition. Parents should prevent their children from taking part in any superstitious activities and commercial promotion activity that are not good for their physical and mental health.
Role of Other Departments and Organizations
Other departments, such as public security and judicial administration, should cooperate to do the family education work well.
The provincial people's government is required to organize women's federations and education, health and other departments to compile books on family education guidance for different ages according to the National Family Education Guidelines and formulate corresponding work and evaluation specifications of family education guidance.
Governments at or above the county level should organize women's federations and departments of education, civil affairs and health to set up family education service centers to improve the public service system, launch online parents' schools and online courses, establish professional teams providing family education guidance services and offer relevant information to them. Especially, family education guidance should be given to left-behind children and children in difficulties.
Normal colleges and universities should include courses on family education in their compulsory subjects and vocational schools should be encouraged to open such courses or organize training targeted at producing family education professionals.

(Source: China Women's News/Translated and edited by Women of China)