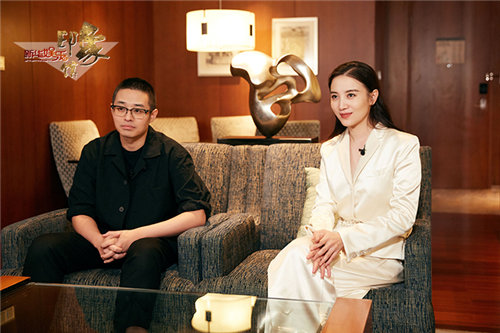 Wen Muye and Song Jia (R) talk about their impression of female pilots in an interview. [Xinhua]
Me and My Motherland, an anthology film celebrating the 70th anniversary of the founding of the People's Republic of China, was released on big screens across China on October 1.
The seven-part anthology has veteran director Chen Kaige as the chief director, supported by six other top Chinese directors. Wen Muye is one of the directors.
Wen, who directed one of the seven stories — Huhang, or Escorting — and the leading actress Song Jia recalled the days when they experienced the life and training of the female pilots at an air force base before shooting the film.
Huhang, as the only story featuring women in the anthology film, reconstructed the female pilots' excellent performance at the grand parade at Tian'anmen Square on September 3, 2015, to mark the 70th anniversary of the victory of the Chinese People's War of Resistance against Japanese Aggression and the World Anti-Fascist War.
"It was quite impressive. I was inspired by the charm of female soldiers during the parade on that day. It's a fantastic experience to play the role of my idols in the film," said Song.
Song visited an air force training base and talked with the pilots so as to better portray the power and spirit of the Chinese soldiers before shooting the film.
"The female pilots are quite lovely, and they also hope to look attractive. They are glad to share their romantic stories, which is quite different from their serious images at their post. However, they are so brave and strong when they are training," Song said.
Song added that she was more respectful to the pilots especially when she had experienced the overload training that they must undergo in their daily life.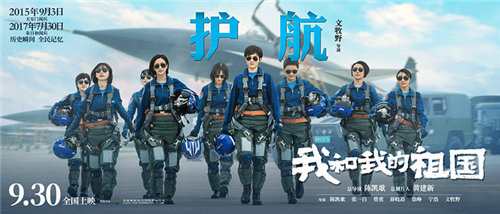 A poster of Huhang. [Xinhua]
"It's difficult for pilot cadets to become a member of the air force team. Before becoming an air force pilot, the cadets must undergo high-standard training. If they fail in any test, they cannot fly any more. It is a great challenge for female pilots to complete all the training courses like male cadets," says Wen.
The spirit of the female air force pilots embodies the valuable national spirit of the Chinese nation. They have devoted themselves to the country and undertake the responsibilities of safeguarding territorial integrity of the airspace of the country. The film promotes the spirit of the air force pilots to all the Chinese.
(Source: Xinhua/ Translated and edited by Women of China)