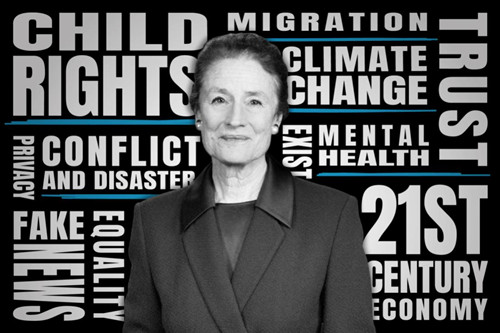 UNICEF Executive Director Henrietta H. Fore issues an open letter to commemorate the upcoming 30th anniversary of the United Nations General Assembly's adoption of the Convention on the Rights of the Child. [UNICEF]
In November 2019, the world marks the 30th anniversary of the United Nations General Assembly adopting the Convention on the Rights of the Child. To commemorate this occasion, UNICEF Executive Director Henrietta H. Fore has written an open letter to the world's children recently.
The letter describes the enormous progress that the international community has made in realizing child rights over the past three decades and addresses 'frontier' issues that will affect child rights in the next 30 years – such as climate change, digital privacy, mental health, misinformation, conflict, displacement and migration.
In the letter, Executive Director Fore outlines solutions to many of these emerging challenges, while highlighting the opportunities that will also emerge for the next generation of children and young people.
The open letter is one of the series of activities to be launched by UNICEF in honor of the Convention on the Rights of the Child.
It states that the majority of children will grow up as natives of a digital environment that is saturated with misinformation and so-called 'fake news,' which undermines trust and engagement with institutions and information sources. The letter also warns that misinformation campaigns have duped children into handing over money, giving away their data and being groomed and exploited for sex. They can also skew democratic debate, change voter intentions, and sow doubt about other ethnic, religious or social groups.
To address this challenge, UNICEF has embarked on a digital and media literacy program that prepares savvy young citizens to resist manipulation and retain a trusting connection to reliable and verifiable information and institutional knowledge.
Concerning the mental health risk for adolescents, the letter says mental health disorders among people under 18 years old have been rising steadily over the past 30 years and depression is now among the leading causes of disability in the young. With half of lifetime mental health disorders starting before age 14, age-appropriate mental health promotion, prevention and therapeutic treatment and rehabilitation must be prioritized. The letter adds that it is also necessary to eliminate the ongoing stigma and taboo that prevent communities talking openly about mental health problems. The letter continues that fortunately, the taboo is beginning to fall, and young people, once again, are leading the way—founding non-governmental organizations, developing apps, raising awareness, and being vocal about their own struggles with mental illness and their efforts to address their condition, in hope that others feel empowered to do the same.
(Source: UNICEF.org.cn and China Women's News/Translated and edited by Women of China)