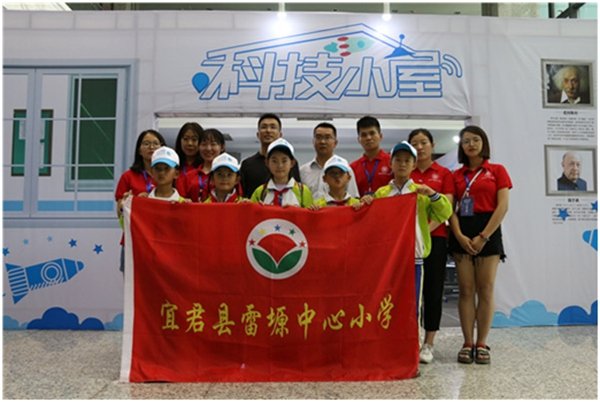 Volunteers pose with students at a science education center of a primary school in Yijun County, Tongchuan City, Northwest China's Shaanxi Province. [stdaily.com]
Students in 16 Hope Primary Schools in nine cities of Northwest China's Shaanxi Province recently found that science was interesting enough to ignite their dreams of future in science and technology.
Liu Jianlong, a pupil from Chengjiagou Hope Primary School in Jiaxian, a county in Yulin City in Shaanxi, is one of them.
Liu used to be self-contemptuous and he was not good at his schoolwork. However, after he joined an airplane model club at the science education center launched by a group of postgraduates from Xi'an University of Posts and Telecommunications, he was inspired to work hard, not only in his new hobby of airplane models but also in his schoolwork.
Last year, he was granted special admission to a local middle school for his excellent performance in a national aero sports event.
Five graduates from Liu's school have been enrolled by local middle schools for their excellent model airplane skills.
Thanks to a charity program on science popularization, more rural students were inspired to explore the world outside the Loess Plateau, where they were born and growing up.
The program was initiated in 2016 by a group of postgraduates from Xi'an University of Posts and Telecommunications, the Shaanxi Provincial Committee of the Communist Youth League and the Provincial Department of Science and Technology to offer science education to rural students.
This summer vacation, seven volunteer students from the university demonstrated many interesting scientific devices at the science education center at a primary school in Ningshan County, Ankang City. The students tried their hands at spring dynamometers, kaleidoscopes, telescopes and unmanned aerial vehicles (UAVs).
In Xianyang and Tongchuan cities, volunteers brought the pupils hand-painted textbooks and the latest popular science books. They also surveyed the development and problems of the science education center, which would be a useful reference to expanding the program's coverage in Northwest China and even across the whole country.
"Compared with the urban schools, the innovative education of science in primary schools in the mountainous areas lags far behind," said Liu Yang, an instructor at the university and the initiator of the program.
To narrow the gap, Liu came up with the idea of building such a center for the primary schools in the mountainous areas in early 2016 and he started to motivate others to join in making the idea a reality.
With the efforts of volunteers and charity organizations, the first center opened at a school in Zhen'an County, Shangluo City, on March 21, 2017.
It is equipped with more than 150 kinds of experimental equipment and 200-plus books on popular science.
So far, 16 science education centers have offered activities to more than 20,000 children in mountainous areas of the province.
(Source: China Women's News /Translated and edited by Women of China)