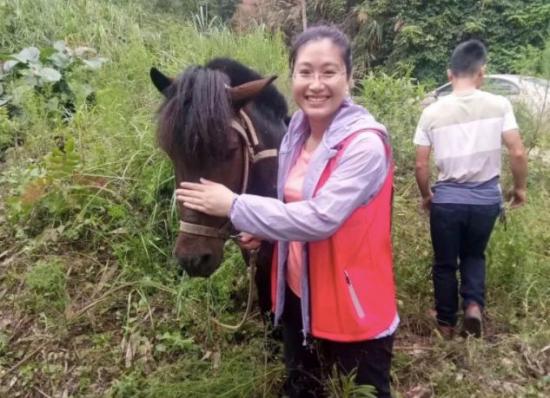 A file photo of Huang Wenxiu [CCTV]
Xi Jinping, general secretary of the Communist Party of China Central Committee, has urged Party officials and youths to learn from a late village official's strong sense of mission, responsibility and dedication to poverty reduction.
In a written instruction honoring Huang Wenxiu, who worked on the poverty relief front until an accident recently took her life at the age of 30, Xi grieved for Huang and extended condolences to her family.
The instruction was made public on Monday, the day the CPC celebrated its 98th birthday.
Huang gave up job opportunities in big cities and returned to her home in Baise, in the Guangxi Zhuang autonomous region, after she graduated from Beijing Normal University with a master's degree, Xi said.
He praised Huang's dedication to poverty alleviation. She was committed to the original aspirations and missions of a communist with her glorious young life, the president said, and is an excellent example of an ideal youth.
Xi called on Party members, officials and young people to take Huang as a role model, remain true to the founding mission of the Party and make greater contributions during the long march in the new era.
Since March 2018, Huang was the first Party secretary responsible for poverty relief in the mountainous poverty-stricken village of Baini, in Leye county, Baise. Under Huang's leadership, 418 people from 88 households in the village have emerged from poverty and now live better lives.
Huang's efforts are part of the nation's poverty-reduction campaign to eliminate absolute poverty in the country's rural areas by the end of 2020, when the nation aims to secure a victory in building a moderately prosperous society in all respects.
Huang was traveling in a mountainous area on her way back to Leye county on the night of June 16. Early the next day, she was found dead in her car after it was washed into a valley by a flash flood.
(Source: China Daily)