College students wear traditional hanfu clothing as they dance at a park in Fuyang, Anhui Province, in April. [For China Daily]
Enthusiasts rush to buy traditional clothing representing Han ethnicity
About 300 days a year, 25-year-old Zhou Zhiluo wears long, flowing robes with big sleeves, a skirtlike lower garment and a belt at her waist. Her long hair is tied in a variety of intricate styles, including loose buns.
"I feel quite myself wearing hanfu," said Zhou, referring to the term coined by internet users to describe clothing worn by Han Chinese before the Qing Dynasty (1644-1911).
"I'm proud that we Han people have such beautiful traditional clothes," said Zhou, who hails from Henan province, adding that she has been wearing such clothing for about six years and has more than 200 outfits in her closet.
Wearing hanfu costumes and reviving the culture has become increasingly popular, especially among the younger generation.
A recent report by major e-commerce platform Tmall said that last year purchases of the costumes rose by 92 percent year-on-year. People from Chengdu, capital of Sichuan province, made the highest number of such purchases.
Mo Li, chairman of the Sichuan Hanfu Association, said the revival started in about 2005 when a question was raised during online debate.
Netizens said Japan has the kimono, South Korea the hanbok, and other Chinese ethnic groups have traditional costumes that are worn on special occasions. So why did present-day Han Chinese have no idea about clothing to represent their cultural heritage?
"People then started looking into the history books and researching Han people's clothing," Mo said. "They found that they had a traditional costume dating back thousands of years, but this disappeared when the Manchu started ruling around the middle of the 17th century."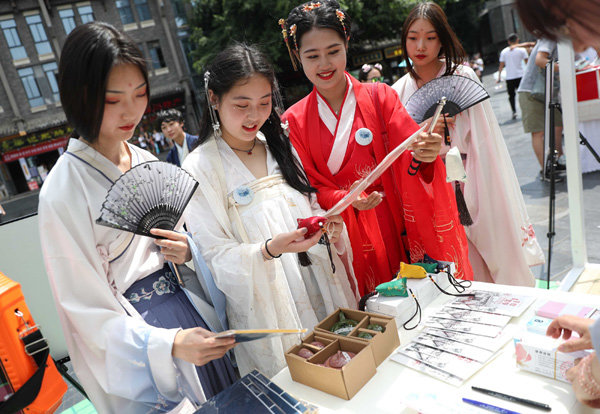 College students wear traditional hanfu clothing as they dance at a park in Fuyang, Anhui Province, in April. [For China Daily]
After confirming the existence of hanfu, a revival movement started. A large number of enthusiasts formed various online groups to promote the culture. They have also held many offline events to showcase the beauty and cultural connections of the clothing.
"Many Han Chinese didn't really know about hanfu or its history, and would wear other traditional dress such as the qipao," Mo said. "But in recent years, the number of hanfu lovers has grown rapidly and knowledge of the culture has widened."
Last year, there were more than 2 million keen admirers of hanfu in China, a rise of nearly 73 percent on 2017, according to a report by HanFu Information, a data provider for the sector. Their average age is 21, and some 88 percent of them are female.
Coco Wu, cultural strategy consultant for market research company Kantar Worldpanel, said part of the reason for the increasing popularity of hanfu is people's growing confidence in their own culture, due to the country's rapid economic growth and continued government efforts to boost cultural development in recent years.
"Having great confidence in their culture makes people more willing to trace their traditions. To them, wearing hanfu can be compared with wearing a cultural icon," she said.
Moreover, the huge differences between hanfu and modern clothing makes the costumes ideal choices for cosplay, as wearing them can offer people "novel experiences" and make them feel as if they are traveling back in time to an ancient world, Wu said. She added that it is now common to see younger people wearing the attire on visits to ancient sites and parks.
"The younger generation has become the main driving force behind the revival," she said. "To them, wearing hanfu can be more fashionable than wearing luxury global brands, and caters to their need to search for novelty and showcase their personalities."
Rebecca Li, an etiquette expert in Beijing, said she likes to wear hanfu when visiting ancient sites. In April, she also wore the traditional costume on a visit to Japan to see the cherry blossom.
College students in traditional hanfu clothing is making a bow with hands folded in front. [For China Daily]
"Wearing hanfu can restrict movement. It is not that comfortable, but it is very beautiful and special," she said. "I feel especially proud when foreigners recognize me as a Chinese and appreciate the beauty of our traditional costumes."
While the hanfu revival originated online, it has also spread through short-video platforms such as Douyin and Bilibili that are used by the younger generation, Wu said.
Douyin hosts many short-videos of people wearing hanfu during everyday activities, including eating hotpot, skateboarding, hip-hop dancing, and working in factories. Short videos related to the costumes have received more than 10.8 billion clicks.
On Bilibili, there are an estimated 40 million users who are interested in the country's traditional culture, and some 88 percent of them were born after 1995, according to the platform.
On April 7, Bilibili and the Central Committee of the Communist Youth League of China hosted the second celebration of hanfu culture. More than 20 million people watched a livestream of costumes and related performances.
Mo said short videos have contributed greatly to promoting the culture in China.
"Such videos showing people in the costumes performing various activities in everyday life actually showcase a new lifestyle, telling people that they can wear the attire and perform many fashionable, classic, funny or cool tasks," she said. "They bring the culture closer to the public."
There are two types of costume being worn nowadays. One is made by strictly following traditional patterns and is usually reserved for special occasions.
The second type, which can be worn in everyday life, retains the general traditional patterns, but also includes improvements or has modern elements and Western-style decorations.
College students in traditional hanfu clothing is dancing with ancient melody. [For China Daily]
Prices range from a few hundred yuan to tens of thousands of yuan.
According to Hanfu Information, the sector's revenue reached some 1.08 billion yuan last year, with about 75 percent coming from online sales. There were more than 815 hanfu stores on Tmall, up by just over 24 percent on the previous year.
This year, sales are expected to rise significantly, Hanfu Information said.
Lyu Xiaowei, 39, is one of those who started the revival 14 years ago, when she founded China's first brick-and-mortar hanfu store at a scenic spot in Chengdu.
"I couldn't find anywhere to buy the clothing, so I decided to open a store myself," she said, adding that initially business was poor.
Moreover, as making the costumes is quite different from modern clothing in terms of cut, design, size of fabric and use, it is difficult to find people willing to take on the work, as it is more time-consuming, Lyu said.
In 2014, she opened a second store, and her business quickly picked up. Under the brand Chonghuihantang, which dates to the Han (206 BC-AD 220) and Tang (618-907) dynasties, she owns more than 20 offline stores nationwide and an online business. The brand's sales have ranked in the sector's top three in recent years.
Lyu said these sales have doubled annually on average for the past five years, and about 80 percent are made online. This year, there has already been "explosive market demand".
"At present, the younger generation is very much into hanfu, and this enthusiasm will continue, bringing great potential to the industry," she said. "Hanfu will gradually become everyday dress for more people."
Two years ago, Zeng Xiaowu, from Changsha, capital of Hunan Province, used to wear hanfu only at home. But as he got to know many people with the same interest, he decided to open a store selling and renting the costumes. The store, which opened in March, has seen good business.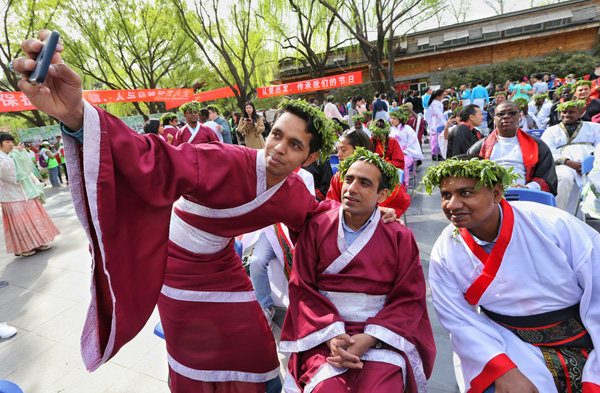 Foreign students in traditional hanfu clothing is posing for pictures. [For China Daily]
"Our revenue is about 5,000 yuan ($724) a day, and can reach 20,000 yuan on busy days," he said. "Most of our customers are females who were born after the 1990s and even after the 2000s. But sometimes the elderly also come for a novel experience."
The popularity of hanfu has also boosted the development of related businesses, including classical makeup, hairstyles and accessories. According to Hanfu Information, some 18 percent of the sector's revenue comes from related products.
Despite the high market demand, the sector is far from mature, and due to the complexity involved in making the costumes, it is difficult to mass-produce each design.
Lyu said: "For a single design, if more than 10,000 pieces are sold in a year, this is a huge success. However, for ordinary fashion brands, selling more than 20,000 or 30,000 pieces of a particular design is easy."
Another factor that Lyu feels could endanger the sector's development is that with the enthusiasm for hanfu bringing an increasing number of companies into the market, some of them have failed to respect the original culture and even conveyed incorrect information to the public.
"Some small manufacturers even copied designs from other companies, bringing chaos to the industry," she said.
Mo, from the Sichuan Hanfu Association, said the clothing is like a "stepping stone" that will attract and lead young people to explore traditional Chinese culture.
"Hanfu culture will bring disruptive changes to many aspects of the fashion industry and also help the younger generation widen its cultural identification," she said.
(Source: China Daily)