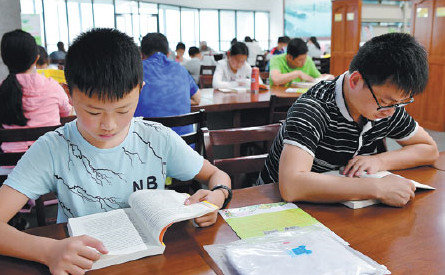 People of all ages take part in a reading competition at a local library in Jinhua, Zhejiang Province. [For China Daily/Shi Bufa]
More than 7,000 Chinese bookworms in the Yangtze River Delta region took part in this year's reading marathon, or "readathon", on May 25 to promote reading among the public.
The event has gained popularity in China over the past few years, with this year's iteration attracting 1,400 teams who competed in 115 public libraries across Shanghai, and those in Jiangsu, Anhui and Zhejiang provinces.
All participants were required to collaborate with their team members to finish the same book in six hours before they had a closed-book test on what they had read.
In Zhejiang Library, competitors could organize their observations by mind mapping using electronic devices.
It is a good way to nurture a reading habit and show people the pleasure that can be found among the pages of a book in this era of fragmented reading, according to organizers.
The book used in the contest, translated but not yet officially published in simplified Chinese, was How to Find a Habitable Planet written by James Kasting, professor of geosciences at Pennsylvania State University.
Zheng Yongchun, a researcher with National Astronomical Observatories of China who won the 2016 Carl Sagan Medal, spent two weeks revising his translation after the book's future publisher informed him that it had been selected for the reading event.
"Searching for a habitable planet like Earth is a topic that interests people," says Zheng, who also set and modified some of the test's questions.
The latest national reading report conducted by the Chinese Academy of Press and Publication showed that in 2018, Chinese adults, on average, each read around 4.67 books.
(Source: China Daily)