Top CPC and State leaders Xi Jinping and Liu Yunshan meet with attendees at a conference to honor model families across the nation in Beijing, December 12, 2016. [Xinhua/Ma Zhancheng]
China's news agency Xinhua published an article on December 13 featuring keynote remarks made by President Xi Jinping's on State affairs and his view on expressing positive family virtues.
Speaking at a conference in Beijing to honor model families across the nation on December 12, Xi called for efforts to enhance positive virtues and civility in Chinese families and make them an important foundation for national development, progress and social harmony.
"The Chinese nation has always valued the family. Traditional family values have always been engraved onto their minds and mixed into the blood of the Chinese people," he said.
Virtue is a "precious treasure" for the promotion of family harmony, he added.
The president hoped that families would value education as well as their own family culture, said the article.
Focus on Family
Xinhua journalists reported that President Xi listened closely to the voices of grassroots people during his both domestic and overseas visits.
For example, in December 2013 Xi visited impoverished households in the village of Luotuowan, near Fuping County, north China's Hebei Province; in July this year, he inquired about household conditions in the village of Xiaogang, east China's Anhui Province; and, in June 2013, he spoke with a local farmer during his State visit to Costa Rica.
In his New Year address on December 31, 2013, President Xi revealed some of the family photos he keeps in his office. These included Xi taking his elderly wheelchair-bound father for a walk, him holding his mother's hand, riding with his daughter and a portrait of his wife Peng Liyuan.
Furthermore, in 2015, Xi underscored the importance of families at a conference held during the Chinese Spring Festival.
At the time, Xi stressed the importance of family bonds and family education, by calling families the "cells of society." He said: "Chinese traditions and virtues of family harmony and affection should not be forgotten, so as to ensure that the young grow up healthily and senior citizens are well good care of."
During Xi's visit to the Road Toward Renewal exhibition in Beijing in November 2012, the president said: "History tells us that everybody has their future and destiny closely connected to that of their country and nation," commenting that the people's well-being relies on the strength of the country and prosperity of the nation.
"We, this generation of Communists, must take what has been left to us by our predecessors as a departure for forging ahead into the future," Xi said.
He pledged to build the Party, unite all Chinese people to build the country and develop the nation, in a bid to continue "marching boldly toward the goal of the great renewal of the Chinese nation," Xinhua reported.
Focus on Strict Family Education
"From the individual to the country, the home is the most important foundation and link, and family education is what nurtures the continuity of the Chinese nation," Xinhua journalists wrote.
Earlier, in 2001, when Xi served as governor of southeast China's Fujian Province, he wrote a letter to his father in which mentioned strict family education.
"We siblings were deeply affected by our father's frugal living habits, which could even be called 'thrifty.' Such a spirit should be passed on by generations," Xi wrote in the letter.
Focus on Anti-Corruption
In 2007, Zhejiang Daily Press published a compilation of remarks made by President Xi during his work in east China's Zhejiang Province.
Under the tenure of the core leadership of the 18th CPC Central Committee, President Xi has stressed the importance of positive family virtues in many different situations. Such events include his talks with officials from the All-China Women's Federation (ACWF), and his meetings with teachers and students on national Youth Day (May 4th).
Xi, speaking in February 2015 during the 10th meeting of the Central Leading Group for Comprehensively Continuing Reform, stressed that reform measures must target important issues and the public must feel the benefits.
During the three-day 6th Plenary Session of the 18th CPC Central Commission for Discipline Inspection (CCDI) on January 12 this year, President Xi pointed out that "the construction of positive family virtues has significant meaning in the CPC's anti-corruption campaign."
"Party committees and disciplinary watchdogs at all levels should strengthen their supervision over the implementation of the Party Constitution, in addition to the Party's policies and decisions, so as to ensure decrees issued by the CPC Central Committee are obeyed," Xi said.
The CPC published new guidelines on honesty and self-discipline and new rules for disciplinary punishments for Party members in October last year. It was the first time that Party members' self-governance by law and by virtue was incorporated into such a notice, Xinhua reported.
According to President Xi, "a prosperous, strong nation, the great national rejuvenation, and the happiness of the people are all embodied by the happiness of tens of thousands of families and the better life of hundreds of millions of people."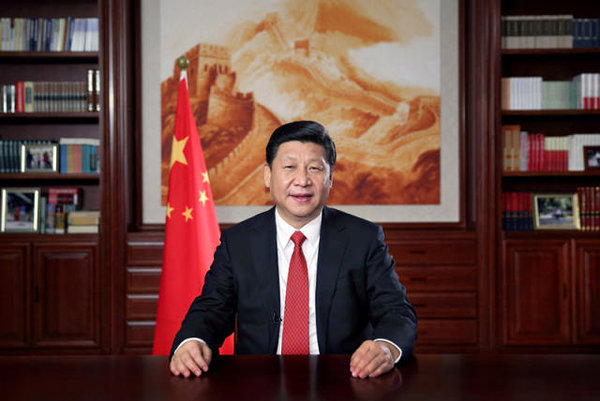 President Xi Jinping delivers his New Year message via State broadcasters in Beijing, December 31, 2013. [Xinhua/Lan Hongguang]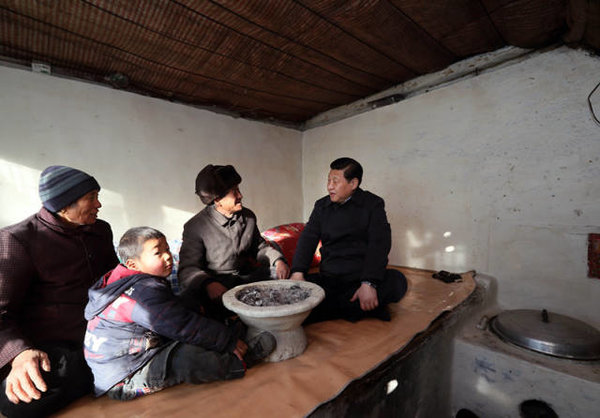 President Xi (R1) talks with the family of Tang Rongbin (R2), an impoverished villager in the Luotuowan Village of Longquanguan Township, Fuping County, north China's Hebei Province, on December 30, 2012. [Xinhua]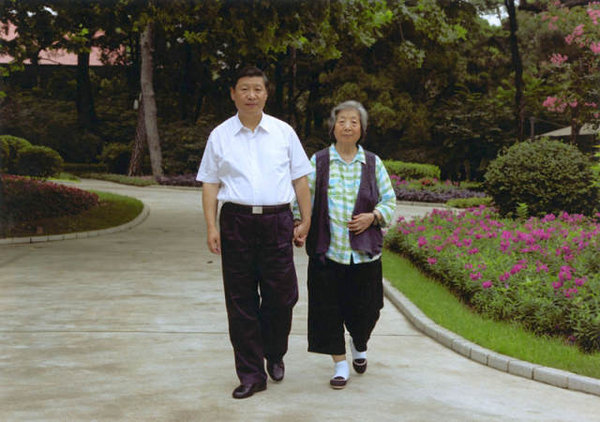 President Xi walks with his mother Qi Xin (R). [Xinhua]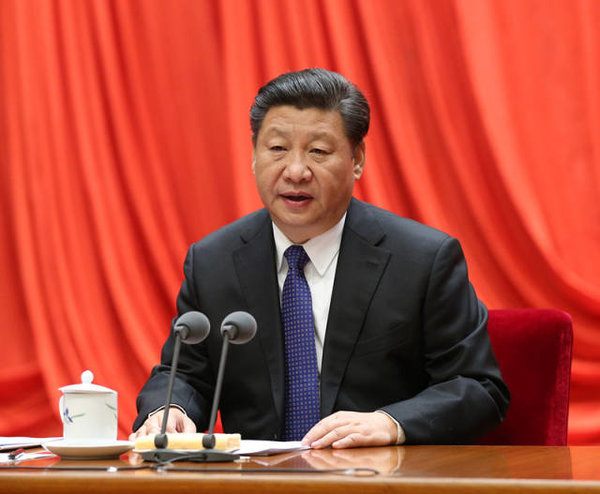 President Xi Jinping gives a speech at the 6th Plenary Session of the 18th CPC Central Commission for Discipline Inspection (CCDI) in Beijing, January 12, 2016. [Xinhua/Ma Zhancheng]
(Source: Xinhua/Translated and edited by Women of China)