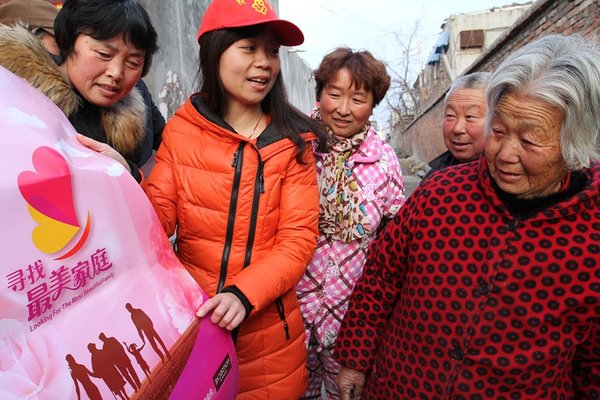 An elderly woman (R) looks at a poster of the Looking for the Most Beautiful Family initiative organized by the ACWF. [Women Voice]
Women Voice, the official online media outlet of the All-China Women's Federation (ACWF), recently published an article featuring inspiring national role-models who nurture positive family virtues.
The article encouraged households to learn from a total of 300 households who, on December 12, won the honor of national model families. Those featured went through a rigorous nomination and selection procedure that highlighted "patriotism, ethics and core socialist values," according to organizers.
Among them is the family of Li Baoguo from north China's Hebei Province. Li and his wife Guo Suping have spent over 30 years planting trees on Taihang Mountains with their reclaimed land of just under 10 hectares.
Household harmony has shared close relationship with social progress, wrote a commentator. Individuals' virtues, values and behaviors stem from their own families and affect the overall social morality.
China is the country with the highest number of families in the world. Through such schemes, all of them are encouraged to promote family culture and sustain a good social ethos, added the commentator.
Since the 50s, the ACWF has launched a series of campaigns to highlight outstanding households. These include initiatives such as the Five-Good Families, Five-Good Civilized Family, and Looking for the Most Beautiful Family.
Moreover, multiple exhibitions promoting family virtues have been displayed, both digitally and in actual exhibitions, across the country. It is hoped that these can affect more households to sustain a "good social ethos", according to the ACWF.
A youngster gives food to an elderly woman. [Women Voice]
(Source: Women Voice/Translated and edited by Women of China)