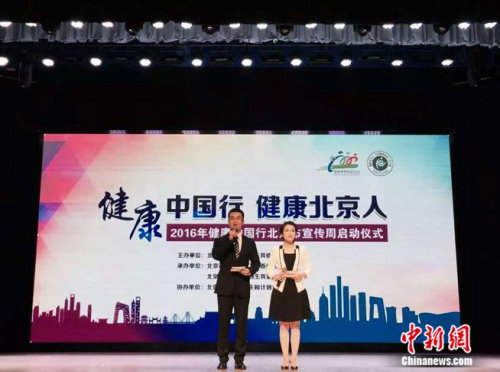 A ceremony is held in Beijing to mark the 27th World Population Day on July 11. [Chinanews.com/Lv Chunrong]
To coincide with the 27th World Population Day on July 11, the All-China Women's Federation (ACWF) and the National Health and Family Planning Commission (NHFPC) jointly launched a ceremony on the theme "Caring for the Health and Happiness among Women and Children" in Beijing.
Mao Qun'an, director of Publicity Department of the commission, attended the event and reaffirmed the significance of promoting gender equality among families and the public. The outdated idea of pressurizing women to get married and have children at an early age has not been fundamentally eliminated in some regions across the country, Mao said.
According to officials of NHFPC, they would further urge relevant government departments at various levels to make great efforts in protecting women's legal rights and interests in the field of marital autonomy and healthcare services as well as ways of preventing violence against women.
Statistics shows that China's female population is 670 million, accounting for one fifth of the total female population worldwide. At the ceremony, Mao also stated that China has progressively strengthened its social welfare system to provide better healthcare and services for the benefit of women and children.
As China is also coming to grips with its population issues, by the end of 2015, the pregnant women's mortality rate had fallen to 20.1 for every 100,000 and the infant mortality rate had descended to 8.1 per thousand, achieving the UN Millennium Development Goals in advance in 2014 and 2007, respectively, Mao added.
In addition, at the end of the ceremony, "10 outstanding family planning workers and institutions" were elected and announced as well.
(Source: Chinanews.com/Translated and edited by Women of China)