China's first lady Peng Liyuan attends an awards ceremony Monday in Beijing for the first UNESCO Prize for Girl's and Women's Education. [Xinhua]
Peng Liyuan, China's first lady and a UNESCO special envoy for advancing girls' and women's education, called on Monday for the promotion of gender equality in education and for better education for females.
She made the appeal at an awards ceremony in Beijing for the first UNESCO Prize for Girl's and Women's Education.
Supported by China, the prize is given annually to two laureates. It consists of an award of U.S.$ 50,000 each to further their work in girls' and women's education.
This year's winners are Ella Yulaelawati, director of early childhood education at the Indonesian Ministry of Education and Culture, and Evernice Munando from Zimbabwe, founder of the Female Students Network.
Peng, who became a UNESCO special envoy in March 2014, said the world still faces great challenges in educating girls and women, with women accounting for more than 60 percent of illiterate adults worldwide.
Peng became the sixth person — and the first Chinese — to serve as a UNESCO special envoy.
The awards will play a key role in promoting efforts to ensure equality in education, Peng said, stressing that she is ready to make every effort to realize educational rights for girls and women.
Irina Bokova, UNESCO's director-general, thanked the Chinese government for its leadership.
She also thanked Peng for her lifelong commitment to advancing empowerment for girls and women — embodied in her actions as a UNESCO special envoy.
Munando, the prize winner from Zimbabwe, thanked China and Peng for supporting the important prize for female education.
Pang Zhongying, dean of the School of International Relations at Sun Yat-sen University in Guangzhou, Guangdong Province, said Peng plays a crucial role in promoting women's and children's education.
Her work shows that China attaches great importance to human development, Pang said.
"The status of women in China in politics and in law has improved significantly since the founding of the People's Republic of China. But new challenges and problems for them have also arisen in China since its rapid development, like elsewhere in the world," Pang added.
"What Peng has done as a special envoy shows that China is willing to face these problems directly and to respond to these challenges actively.
"It demonstrates China's responsibility in acting as a leading example to promote women's development."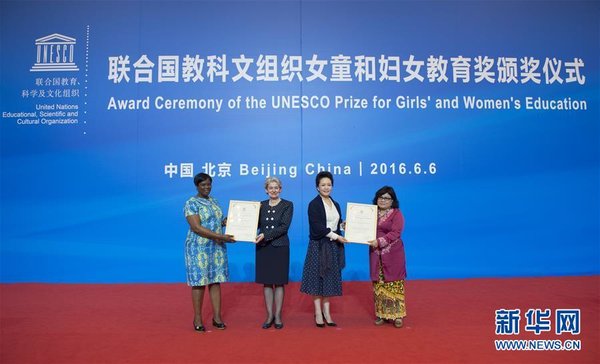 Peng Liyuan, China's first lady and a UNESCO special envoy (R2), and director-general of UNESCO Irina Bokova (L2) present awards at a ceremony in Beijing on Monday to winners of the first UNESCO Prize for Girl's and Women's Education. [Xinhua]
Attendees at the awards ceremony [Xinhua]
(Source: China Daily)