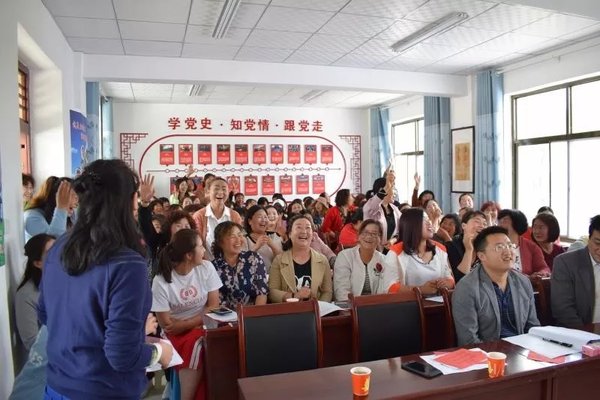 Members of executive committees of grassroots women's federations at the gathering [Women Voice]
Local women's federation committee representatives from different villages in Xiyu Township, northwest China's Gansu Province, met on June 7 to share their work experiences in different fields.
The 14 executive committee members spoke about how they help women shake off poverty, reconcile neighborhood conflicts, pass down traditional culture, and contribute to public-welfare projects.
The discussion was highly praised by Song Xiuyan, Vice-President and First Member of the Secretariat of the All-China Women's Federation (ACWF).
One of the representatives Yu Chengzi said: "I am the headmaster of Yumiao Kindergarten. I often organize lectures to provide relevant information on raising children in a scientific way and preventing infectious diseases, among mothers and grandparents.
"Meanwhile, I also lead local women to participate in such activities, which can help them foster positive attitude towards life."
Mu Caiying, member of the women's federation of Xiazhai Village, said: "I'm a warmhearted woman, and I often help some families solve their family conflicts, as I believe a harmonious family can contribute to the good relationship among every villager."
An independent local woman, Bai Caixia, also shared her own experience to inspire others to shake off poverty.
She said:" I'm a mother of three, but my husband suffers from depression, so I had to undertake all the family responsibilities.
"Now, with my efforts and hard work, I have already supported my two daughters to go to university, and we have constructed a new house."
These grassroots officials' experiences have also encouraged more women's federation officials to provide better services on leading women to escape poverty, and promoting the spirit of self-reliance and the sense of fulfillment among villagers.
Representatives share their experiences at the event. [Women Voice]
(Source: Women Voice/Translated and edited by Women of China)