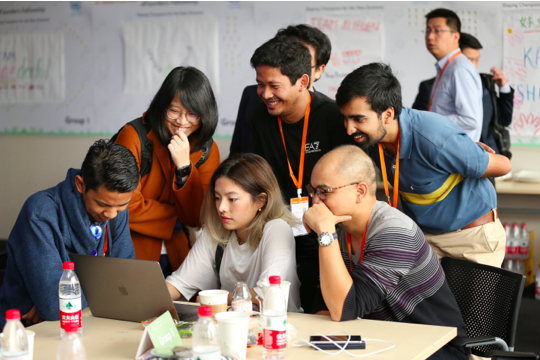 Young overseas entrepreneurs discuss problems together during a training program at Alibaba Group in Hangzhou, Zhejiang province. [Photo/cztv.cn]
A group of 37 young entrepreneurs from Thailand, Indonesia, Pakistan, Malaysia, Cambodia, the Philippines, and Vietnam finished their 11-day training program at Alibaba, China's e-commerce giant headquartered in Hangzhou, Zhejiang province, on April 5.
The 37 participants, of which 90 percent are aged under 35, were carefully selected from 180 applicants worldwide.
Before the training program started, the entrepreneurs shared problems they've experienced in operating businesses, such as bad logistics infrastructure, difficulty in raising funds, and talent cultivation.
During the training, they gained a better understanding of the positive effects of e-commerce on Chinese society.
Jowan Ko, 40, said that "If the knowledge and experience we gained at Alibaba can help us avoid two-year or two-decade detours and help our businesses influence all of society, then this will be the best investment I've ever made."
Xie Xuelian, co-founder of Malaysia's internet logistics firm GoGet, said that "We have positive impressions of Alibaba and Jack Ma. They empower small and medium-sized enterprises, inspire young people, and focus on environmental protection, all of which embody the social responsibilities they take on."
The development of China's Belt and Road Initiative (BRI) also aroused the entrepreneurs' interest.
Xie said that BRI advocates a more inclusive, connected, and open global economy, and she believed the training program would be an excellent opportunity to enable key figures in trade and e-commerce to cooperate in the future.
Lennise Ng, a 25-year-old female Malaysian entrepreneur, believed BRI to be a great opportunity that would unite all nations and expected more such training courses to be launched and more attention to be given to benefiting the people.
With the growing influence of BRI and the globalization of e-commerce, more and more overseas entrepreneurs have been visiting Alibaba, driven by a desire to learn about inclusive finance, e-commerce, and logistics, or lured by China's development prospects. They will bring the knowledge and experience they gained at Alibaba back to their home countries, and get a better idea of the opportunities brought about by the internet revolution.
Young overseas entrepreneurs visit Alibaba Group's intelligent logistics center in Hangzhou, Zhejiang province. [Photo/cztv.cn]
Young overseas entrepreneurs practice tai chi at Alibaba Group in Hangzhou, Zhejiang province. [Photo/cztv.cn]
(Source: ezhejiang.gov.cn)