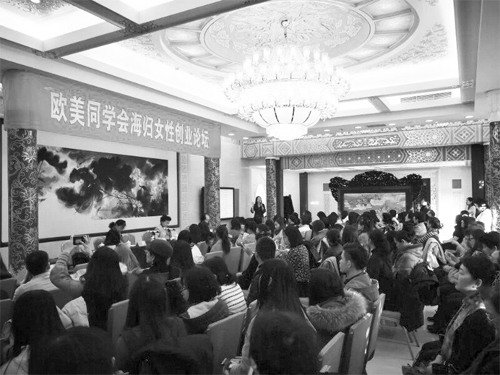 Attendees at the WRSA seminar [China Women's News]
The first business seminar organized by a women's committee for overseas returnees was held on December 17 in Beijing.
At the event, 11 businesswomen shared their entrepreneurship experiences with over 1,000 participants. The seminar was organized by the women's committee of the Western Returned Scholars Association (WRSA).
During the session, the speakers, who all formerly lived in different countries, spoke about their own stories in their respective professional fields.
Official from the ACWF
The All-China Women's Federation (ACWF) has strongly promoted women's entrepreneurship and innovation campaigns since 2015, aimed at inspiring women to pursue their business dreams, said an official at the meeting.
Guo Jing, Manager of Galaxy Internet
Guo Jing has been a senior manager in international investment for over 15 years and Galaxy Internet is a startup service platform.
According to a report from Silicon Valley Bank Financial Group, the percentage of female senior executives in startups was 63 percent in China in 2017, noted Guo.
Besides development in financial technology, the rising number of female startup owners is another factor showing the characteristics of the innovation and entrepreneurship in China, Guo said.
"The development of China has promoted more Chinese enterprises to participate in global business. As an investor, I am proud to be involved in international affairs," Guo said.
Zhao Xue, CEO of China Innovation Capital
When it comes to the question of what is the right time to launch a business, Zhao Xue knows a thing or two.
She previously worked at a foreign company for three years and later founded a corporation, specializing in bringing in advanced financial programs from the U.S. to China.
"The value of a Chinese returnee is to bring in positive changes across the nation. For example, returnees can focus on improving people's quality of life and participating in educational campaigns or poverty-relief initiatives," she said.
"It's never too late to start a business, as long as you take advantage of what you have," concluded Zhao.
Wang Yue, President of Beijing Huixinyuan Tech Incubator
Wang established a work mechanism to help graduates get training in terms of both employment and entrepreneurship.
"Some graduates may feel puzzled when they start their career. It's better to work for several years and then decide on their startup project," noted Wang.
Chen Ying, Founder of Payment App Xinzitong
Chen said that graduates can accumulate experience in their industry prior to starting a business of their own.
Such experience includes improvements on work capabilities, resources and the ability to generate innovative ideas in their later startups, noted Chen.
Yan Li, President of Ice Bioscience Cooperation
There are two elements in launching a business: impulse and endurance, said Yan.
"If you consider the overall business risks, you may be fearful to start. Once you have started, you may find not everything goes as smoothly as your plan. It is endurance that keeps you doing it," she added.
Yuan Xiaoshuai, CEO of V-production Consulting Company
Yuan had rich work experience at a foreign company and encourages young women to have a strong mind, work hard and learn from their male counterparts.
Wu Xiaoshan, Expert at China's Thousand Talents Program
In her speech, Wu focused on mental and physical health among female startup owners.
"Women may face huge work pressures when they start a business and they need to balance their gains and losses in their career," Wu said.
Jiang Shuge, Director of Women's Research Center of BASS
With their Chinese background and global insight, those 11 high-level intellectuals represent the group of returned overseas Chinese, noted Jiang Shuge, Director of the Women's Research Center affiliated to Beijing Academy of Social Sciences (BASS).
Their strong pursuits in career development and social interactions have revealed a highly-compatible situation and pattern of female entrepreneurship in China, Jiang added.
Statistics indicate the number of women who are private enterprise owners increased from 11.1 percent to 16.4 percent from 2000-2012.
Jiang encouraged women to make use of organizational strength in boosting connections with startup associations.
(Source: China Women's News/Translated and edited by Women of China)