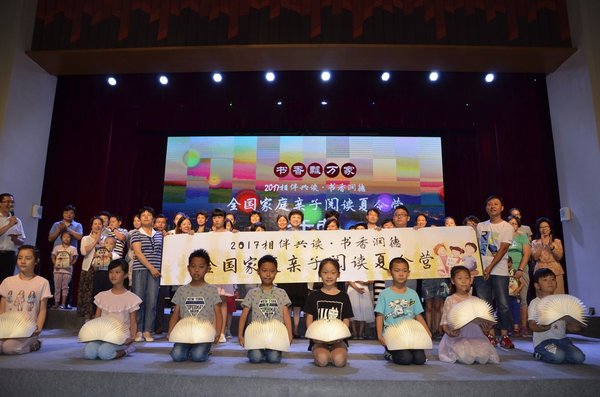 [Women Voice]
Women's federations nationwide have been carrying out various initiatives to promote parent-child reading and positive family traditions this year.
This April the All-China Women's Federation (ACWF) launched a national parent-child reading campaign with support from the State Administration of Press, Publication, Radio, Film and Television (SAPPRFT).
Other related activities by women's federations at various levels have included summer camps, celebrations on International Children's Day (June 1), and a competition for videos submitted by the general public.
Promoting Parent-Child Reading
According to a paper on April 7 jointly issued by the ACWF and SAPPRFT, women's federations should carry out the parent-child reading campaign in an extensive way across the country.
The paper urged nationwide organizations to play an active role in planning and advancing the campaign according to local conditions, creating a reading-favorable atmosphere among all households.
Various kinds of initiatives have so far expanded the coverage and influence of the campaign.
During the reading campaign in east China's Zhejiang Province this year, organizers released a list of 100 top books and sent many books as gifts to households.
In east China's Shandong Province, public lectures, youth textbook recitals and open courses have been organized.
Over 3,000 public lectures highlighted family virtues and traditions across the southern province of Hainan. Around 500,000 people participated in the campaign, which also involved more than 20,000 donated books and 93 selected role models.
In northeast China's Liaoning Province, popular initiatives included a composition contest, story-telling sessions and showcasing of parent-child interactions via letters, videos and drawings.
Online and Offline Sharing of Parent-Child Reading Experience
In line with household needs, public cultural and social resources are channels to spread scientific approaches to parent-child reading through diverse activities, according to the paper.
The Reading Illuminates Life campaign made use of digital media to promote classic books among children in the city of Harbin, northeast China's Heilongjiang Province.
Over 800,000 households participated in hundreds of reading-related initiatives in east China's Anhui Province, via multiple platforms such as an online parental school and an official account on WeChat, a popular instant messaging app in China.
Authorities in the city of Linfen, north China's Shanxi Province, have established 20 pilot bases for parent-child reading over the past three years. This initiative is believed to have completed the Internet-based mechanism in the field of interactive reading.
Reading sites are popular across southwestern province of Sichuan because they rely on local resources, for example, Women's Home activity centers, to provide books and spaces for the benefit of universal reading.
Experts, scholars, teachers, and model families shared their joys of reading with parents and children during lectures in communities, villages and schools across northwest China's Qinghai Province.
Authorities in northeast China's Jilin Province issued a plan to highlight the theme, time, and content of the reading campaign. They built 20 provincial pilot bases for parent-child reading under the help of local department of education and 104 "Her Space" reading areas in collaboration with the local administration of press, publication, radio, film and television.
ACWF Guidance in Implementing Parent-Child Reading Initiatives
The support and extension of the reading campaign carried out by women's federations at different levels featured eight activities such as book recommendations, innovations in reading-related products, parent-child summer camps, and the building of pilot bases.
The Department of Family and Children's Affairs of the ACWF and China Children's Center jointly launched a summer camp on the theme of parent-child reading from July 24-28.
"This activity teaches parents to accompany children in reading. It is also a platform for us and youngsters to embrace mutual growth," said one parent attendee.
Under the demonstration and guidance of the ACWF, summer camps have become a significant initiative in promoting parent-child reading campaign organized by women's federations at different levels.
In south China's Guangxi Zhuang Autonomous Region, participants included 50 families and 20 "left-behind" children whose parents have left them at home to seek jobs in other cities. They received books as presents; attended lectures; and, shared their thoughts during the summer camp.
In central China's Henan Province, organizers planed to host four sessions at the weekend starting July 29. Each session involves around 100 people.
In northwest China's Xinjiang Uygur Autonomous Region, 71 child representatives attended a reading sharing session and visited local centers for patriotic education and science and technology popularization.
Women's federations in northwest China's Ningxia Hui Autonomous Region worked in collaboration with local TV stations and libraries to invite experts, anchors, and bookworms in sharing their reading experience during a newly-launched monthly column called Children's Fun Reading.
In north China's Tianjin Municipality, the organization and local TV station launched a reading contest to underline the importance of reading among households. This initiative encouraged parents and children to reproduce their reading situations at home.
In the city of Xiamen, southeast China's Fujian Province, mom's reading sharing session and another reading initiative among households were held prior to Children's Day. Sessions also displayed many model families and fruitful results by the federation.
A public project called New Education Firefly is specialized in organizing parent-child reading initiatives in the city of Nantong, east China's Jiangsu Province. In the county of Haimen, the project gained fiscal support from local women's federation after it stood out at the investment scheme of the organization.
Accompanied Reading Nurturing Good Family Tradition
The ACWF launched a series of initiatives to foster reading habits among parents and children as part of household practices in recent years.
For example, a reading proposal in 2015 underscored the importance of reading for 30 minutes a day.
Under the guidance of the ACWF, women's federations at various levels carried out multiple activities to foster parent-child reading as the basis of new household civilization, ethos and virtues. Those initiatives would also spread core socialist values among households.
Women's federations across northwest China's Shaanxi Province carried out activities to combine family education and parent-child reading. Initiatives included spreading family virtues with parents, recitation contests about household happiness, and celebrations on Children's Day.
In south China's Guangdong Province, story-telling sessions are used to spread scientific approaches of family education, to nurture positive virtues, and to promote healthy growth of children, and harmony in families.
Over 800 people attended an activity to celebrate the Children's Day on the theme of reading in the city of Nanchang, east China's Jiangxi Province.
Children signed their signatures on a scroll and promised to visit a local village famous for its former scholarly residents.
Women's federations at different levels regard the initiative of parent-child reading as a key job in relevance to family education and the building of civilized households.
The influence of the reading campaign among villages, communities and families will support the healthy growth of children and constantly contribute to family civilization, harmony, and good social atmosphere. The campaign combined efforts to the realization of the "Chinese Dream of national rejuvenation."
(Source: Women Voice/Translated and edited by Women of China)