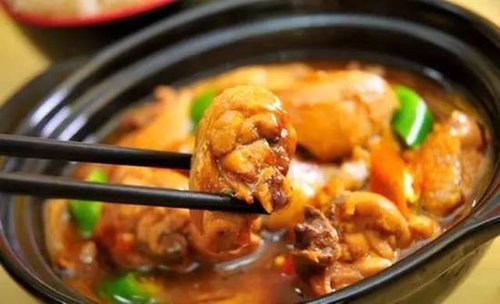 Clay pot chicken [newscctv.net]
A hugely popular Chinese restaurant chain, Yang's Braised Chicken and Rice, is to head to the States and open its first location on September 10 in Tusin, California.
With only one main dish, clay pot chicken and rice, the chain restaurant boasts more than 6,000 branches in China, Singapore, Australia and Japan.
Apart from the chicken dish, a number of other Chinese street treats have made their way into overseas markets and won acclaim among international customers.
Chinese Pancake
Price in Beijing: 6 yuan (U.S.$ 0.90)
Price in New York: U.S.$ 6-15
Jianbing, literally "fried pancake", is a traditional Chinese street food similar to a crepe and is hailed as "one of China's most popular street breakfasts."
U.S. chef Brian Goldberg runs a jianbing restaurant called Mr. Bing in New York. Born in 1977, Goldberg learned Chinese while he attended university in Boston. Twenty years ago, he came to study in China and fell in love with jianbing.
"When I was in China, I liked the street snack very much. The hot food tasted yummy and fresh," recalled Goldberg. "However, back in the U.S., I failed to find it in Boston or New York."
He later spent several months trying numerous jianbing and learning culinary skills in Beijing, Tianjin and east China's Shandong Province.
To cater to American tastes, Goldberg eventually adjusted the snack's ingredients. Now, the most popular dishes at his restaurant are roast duck jianbing and original jianbing.
Hot Dry Noodles
Price in Wuhan: 5 yuan (U.S.$ 0.75)
Price in Florence: € 4 (U.S.$ 4.80)
Reganmian, literally meaning hot dry noodles, is a traditional dish of Wuhan, central China's Hubei Province.
Huang Airong, a woman from Hubei, and her husband run a noodle restaurant in Italy, serving hot dry noodles and other Chinese snacks.
Their noodles feature such ingredients as carrot cubes, chopped garlic chives, sesame oil, aromatic vinegar, and especially, sesame paste. Although the restaurant covers only a few square meters, the fragrance of its sesame paste spreads far and wide.
The snack has gained popularity among Italians and tourists.
Sugarcoated Haws on a Stick
Price in Beijing: 5 yuan (U.S.$ 0.75)
Price in St. Petersburg: 45 RUB (U.S.$ 0.77)
Tanghulu, also called bingtanghulu, is a traditional Chinese snack of fruit covered in hard candy on bamboo skewers. The street food originated from northern China.
During the 2017 New Year, the municipal government of St. Petersburg opened a fair downtown. Unexpectedly, the Chinese candied-fruit specialty, which was debuted in the city, became a hit, with more than 1,000 sticks sold every day. It earned a name among local Russians as the "most popular foreign snack" for the New Year.
Russians prefer sweets and fruit, whilst the Chinese snack combines both. It's no wonder that it became popular in the foreign city.
Chongqing Noodles
Price in Chongqing: 6 yuan (U.S.$ 0.90)
Price in London: £6 (U.S.$ 7.76)
Xiaomian is a popular spicy dish from southwest China's Chongqing.
A few years ago, Zhou Zhengbo from Sichuan Province introduced the Chongqing noodles to London. The treat was a real hit during the 2015 and 2016 Chinese food festivals.
When Zhou first attended the festival, he prepared 15 kilograms of seasoning but ran out in under two hours. During the three-day event, he sold more than 1,500 bowls of noodles, with a revenue totaling 100,000 yuan (U.S.$ 15,152). Some local residents waited for nearly one hour to eat the food.
President of the Chongqing Chamber of Commerce in Britain Hu Min said in an interview that the chamber would endeavor to make Chongqing hotpot and noodles find a place in the Western country, and might even build a Chongqing food plaza there.
Pan-fried Steamed Buns
Price in Hangzhou: 2 yuan (U.S.$ 0.75) each
Price in Dubai: 20 AED for 6 buns, about U.S.$ 0.90 each
Shengjianbao is a type of small, pan-fried baozi (steamed buns) made from semi-leavened dough, wrapped around pork or other meat fillings. After frying, the bottom of the bun becomes crunchy; sesame and chopped green onions are sprinkled on the buns during the cooking process.
The specialty tastes fresh, delicious and juicy, and is quite popular among residents in east China's Jiangsu, Zhejiang and Shanghai.
In early May 2016, a restaurant of Hangzhou-style steamed buns named after Master Ge opened in Dubai, the United Arab Emirates. It mainly serves beef-filled steamed buns and fried buns as well as beef soup with vermicelli.
It supplies only 1,000 buns a day, but usually sells out within a few hours.
Chinese Hamburger
Price in Xi'an: 6 yuan (U.S.$ 0.90)
Price in New York: U.S.$ 4
Roujiamo, literally meaning "meat burger" or "meat sandwich," is a street food originating from northwest China's Shaanxi Province. The meat is most commonly pork, stewed for hours in a soup containing over 20 types of spices and seasonings.
Jason Wang, a native of Xi'an, a city in Shaanxi, sells hometown specialties in Manhattan. In the 90s, he followed his father to the U.S. and with a strong sense of nostalgia, they came up with an idea of opening a restaurant called Xi'an Famous Foods.
Every day, many people queue up outside the restaurant, and some have to wait for half an hour to have the Chinese hamburger.
Nowadays, Wang has opened nine branches in New York, each thronging with diners.
In 2016, Wang's Xi'an Famous Foods was recognized as one of the 11 Hottest Fast-casual Chains by U.S. survey organization Zagat.
'Jianbing' [newscctv.net]
Brian Goldberg makes 'jianbing ' [wcweekly at Wechat]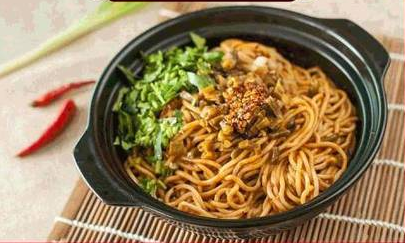 A bowl of hot dry noodles [newscctv.net]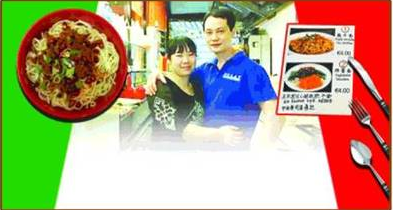 Huang Airong and her husband [newscctv.net]
Huang's husband poses for a photo with a diner. [newscctv.net]