1. 1st Cargo Craft, Tianzhou-1
China launches its first cargo spacecraft, Tianzhou-1, on April 20 at the Wenchang Space Launch Center in south China's Hainan Province.
With the ability to refuel in space, Tianzhou-1 acts as a courier to transfer 'energy packages' and maintain space stations whilst in orbit. [81.cn]
In the first half of 2017, China completed a series of major projects, showcasing the country's enormous improvements in manufacturing upgrades and technological innovation.
2. 1st China-Made Aircraft Carrier
China officially launches its first domestically-built aircraft carrier on April 26, in Dalian, Liaoning Province.
China began building its second carrier in November 2013. Dock construction started in March 2015.
The aircraft carrier is regarded as a milestone for the country's significant development. [Xinhua]
3. Debut Flight of C919
China's homegrown C919 passenger jet makes its maiden flight on May 5 at Shanghai Pudong International Airport.
This flight of the first large passenger aircraft designed and built by China has realized the dream of generations of Chinese people.
Till now the C919 has netted over 570 orders and experts say its market volume will surpass 100 billion dollars. [China Daily]
4. Successful Mining of 'Fire Ice'
China has succeeded in collecting its first samples of combustible ice on May 18 in the South China Sea.
Regarded as a major breakthrough that may lead to a global energy revolution, the success has a far-reaching influence for the country to promote green development and safeguard its energy security. [Xinhua]
5. China's 1st X-ray Astronomy Satellite

China's first space-based, X-ray observatory blasts off on June 15 atop a Long March 4B carrier rocket at the Jiuquan Satellite Launch Center in northwest China's Gansu Province.

The newly-launched telescope can probe the hard X-ray and black holes in the universe, providing high-quality observation data and aiming to help the country gain original scientific achievement.

[military.china.com]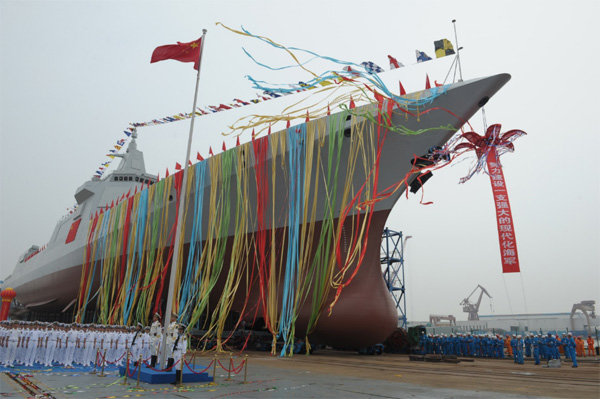 6. China-Made 10,000-Tone Domestic Destroyer
The Navy's new destroyer, a 10,000-tonne domestically designed and produced vessel, is launched on June 28 in Shanghai.
Equipped with new air defense, anti-missile, anti-ship and anti-submarine weapons, the destroyer has strong information perception, and marks a milestone in the development of the country's navy. [China Daily]
7. China-Made 'Fuxing' Bullet Train
China's new model of bullet train, 'Fuxing', or rejuvenation, is taken on its first ride on the Beijing-Shanghai high-speed railway line on June 26.
With good looks and a longer service life, the new trains were designed to be safer and more comfortable, which will become the main force to open the global market. [Xinhua]
8. Two Sections of Jinshajiang Bridge Successfully Joined Together
Engineers successfully joined together two sections of the main arch of the Jinshajiang Bridge on June 28 in Yibin in southwest China's Sichuan Province.
As one of the key parts of Chengdu-Guiyang high-speed railway, the Jinshajiang Bridge claims three 'No.1' records around the world.
The bridge, the world's first rail-road combined structure with a railway line on the top deck, is 1.87 kilometers long, with a widest span of 336 meters along its main arch. Also, the railway track will run 32 meters above a highway, the highest in the world. [Xinhua]
(Source: Official Weibo account of People's Daily/ Translated and edited by Women of China)
Please understand that womenofchina.cn,a non-profit, information-communication website, cannot reach every writer before using articles and images. For copyright issues, please contact us by emailing: website@womenofchina.cn. The articles published and opinions expressed on this website represent the opinions of writers and are not necessarily shared by womenofchina.cn.