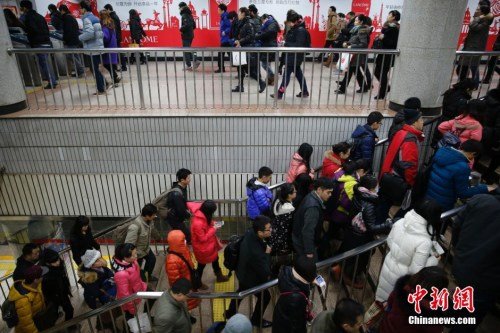 Commuters at a metro transfer station in Beijing [chinanews.com/Wang Jun]
Young people in China have long pondered where would be the best place for them to pursue their life ambitions. Their main choice appears to be: either struggle in a city or opt for a comparably easy-going lifestyle in the villages.
In order to help today's youngsters make an informed decision, reporters in Beijing recently conducted interviews and found that there are three major forms of migration.
Migration from Small Cities to China's First-Tier Cities
Jian Yu, 25, moved to Shenzhen in south China's Guangdong Province in 2014 for better working opportunities, since it is one of the nation's first-tier cities along with Beijing, Shanghai and Guangzhou.
"Those cities, with superlative and advantageous resources, have a so-called 'siphon effect' so that numerous young people across the nation flock here annually and start their careers," Jian believed.
With a meager salary, however, what bothers Jian the most is the loneliness and the high living cost. "For example, the rent and the price of commodities here mean it's always hard to make ends meet," Jian said.
Moreover, the soaring house prices have left the young man currently struggling just to make a down payment, after he sold his house in his hometown.
Inter-City Migration
A Beijinger named Liu Nannan chose to sign a lease on an apartment close to her workplace, instead of living with her parents in another district.
"I used to spend two hours commuting from home to work," Liu said.
"Living in another place has helped me gain back my freedom and I won't be bothered by marriage pressure, which is a constant topic my parents are nagging me about," she added.
"I really envy my fellow partners who live overseas. The longest trips I ever made were during my postgraduate years in a foreign country," she said.
"China's younger generation have become addicted to the big cities, where living is actually a cool-headed thing," Liu commented.
Migration Back to Hometown
Bi Yuncheng, who is a graduate from one of the nation's top universities, believes that reality matters most.
"I need to support my family, including my parents and my younger sister who is still in college," Bi said.
"A stable job in my hometown, for example, as a civil servant or teacher, implies a monthly fixed salary and pressure-free life, which meets all of my expectations currently," Bi believes.
"After years of hard work in cities, many young people find that life is much easier at their hometowns in small cities or villages, especially alleviating the burden of skyrocketing house prices," she explained.
"Also, it is time we young people cared for parents as much as possible," he added.
(Source: chinanews.com/Translated and edited by Women of China)