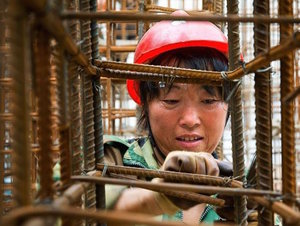 China's construction industry is increasingly occupied by women workers. [Xinhua]
Construction is a big employer of migrant workers in China. According to figures from China's National Bureau of Statistics, the construction industry is the second largest employer of this group (after manufacturing) and engaged 22.2 percent of them in 2013. Data from the Beijing Municipal Bureau of Statistics shows that in the same year in the capital there were 3,522 construction firms recruiting a total of 493,000 workers.
Increasing numbers of women are being involved in the business, too. Often they live in the same temporary shelters as men, lack labor protection, fail to rest during menstruation and take on excessive amounts of work. A labor shortage blighting the construction industry has aggravated the scenario. In addition, some women who fail to find decent jobs in cities have to follow their husbands and stay on the construction sites to lower the family's living costs.
Since few women have signed employment contracts nor joined social insurance schemes, it is difficult for them to protect their own rights and interests. Therefore, establishing a long-term mechanism to safeguard their legitimate interests needs unremitting exploration and arduous effort.
The construction industry used to be dominated by male workers, but scenes of women pushing grout carts, lifting steel bars and carrying hollow bricks weighing more than 20 kilograms are now common sights. With buildings springing up one after another, these women keep migrating among different workplaces and different cities.
Their hardship and bitterness are seldom exposed to the public.
Female workers' bunks separated by a curtain
Changyang, in Beijing's southwestern Fangshan District, was shrouded in dust on an early April evening. The howling gale, mingled with a fierce sandstorm from the previous night, whisked away the thick haze and fluttering catkins, leaving a limpid starry sky.
Right then, Changying Village in Changyang along the busy Beijing-Shenzhen highway began bustling. However, the sight across the road struck a sharp contrast. The tall, modern residential compounds on the west of the highway have all been newly built in recent years while on the east side there are mostly cottages, among which stand 10 conspicuous three-story makeshift houses specially built for construction workers.
The unique "community" with white walls and blue rooftops is home to more than 2,000 construction workers, including hundreds of women. That evening, they just got off work and were busy with fetching the water, washing clothes and having supper. As long as the lights in the houses shine brightly, they are always full of activity.
In a room of around 20 square meters, 13 male and female workers share seven bunk beds. The three women among them use a curtain to create their sole private space. Outside the curtain, some male workers soak their feet, some chat and others read newspapers. "There are no dormitories for women, so we have to put up with it," said a 39-year-old female worker surnamed Yang from northeast China's Liaoning Province.
It is quite common for male and female workers to share one room. A dormitory there even houses a 4-month-old baby.
No weekend, no holiday
"No Sundays" is one of the most commonly heard complaints among these female workers. A 59-year-old worker surnamed Li from northeast China's Jilin Province and her workmate who is 60 from central China's Henan Province receive a monthly salary of 2,700 yuan (U.S. $436) for operating construction hoists for almost 11 hours every day.
Only a handful of young people handle skilled jobs on the construction sites. Most female workers merely take repetitive and boring chores. Moreover, physical weakness jeopardizes their health in particular during menstrual periods.
"We have to work without rest until the freezing winter. I once worked from January to September in a year without a day off," Li said. "And the only entertainment in our dormitory is chatting or playing Mahjong."
Unwilling to let children see their hands
This is the fifth year for Yang to work on this construction site. Looking healthy and strong, she is a veteran of moving bricks and her hands are completely hardened. "They are so rough that I don't want my kids to see them."
Every day, she uses rubber gloves but the heavy manual work wears them out in a couple of days. Though she has been accustomed to this job, she still feels exhausted every night.
However, she is proud that she could depend on herself and afford to support her family. "I have left home to work in big cities for more than 10 years and worked as brick layer and signal worker. So I can handle a lot of jobs in the workplace."
When she gets off work every evening, she will call her two sons, asking about their life and study. "This is the happiest moment of my whole day."
"I have never thought of losing weight because I can not lift up bricks of more than 20 kilograms if I do so like many urban girls," she said.
Social efforts to help female construction workers
What is gratifying to these women workers is that a myriad of institutions have heeded their sorry plight, and have began to offer assistance to them as well as mull over appropriate policies.
For instance, a group of students from Zhenjiang-based Jiangsu University launched a survey to assess the working environment, rights protection, safety and healthcare of female construction workers. They aim to provide guidelines and assistance to safeguard the rights and interests of women occupied in this special field and call on the whole of society to care for them.
"Our Chinese dream lies in building a harmonious society where everyone enjoys equality and dignity," a tutor at the University stated. "Decent work should in no way be a luxury for these women."
Furthermore, in Hohhot, capital of north China's Inner Mongolia Autonomous Region, a public campaign was launched to focus on the health of female construction workers.
There are also a number of government sectors and grass-roots non-governmental organizations that have been making concerted efforts to promote the living standard of female construction workers through diversified methods including occupational safety training and the publicity of labor-related policies.
It is expected that more institutions will contribute their own efforts to improving the life of female construction workers in the future.
(Source: Workers' Daily/Translated and edited by Women of China)