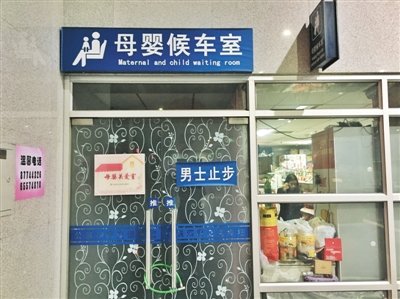 A breastfeeding room [Xinhua]
Some 80 percent of major public places in southwest China's Chongqing will be equipped with baby care rooms by the end of this year, according to a recent announcement.
For example, a mother-and-baby room has already been opened on the 2nd floor of an outpatient department at the People's Hospital in the Bishan district of the city.
The room is about 10 square meters, and includes standard facilities such as a baby diaper changing table, a wash basin, hand sanitizer, crib, sofa for breastfeeding and a power socket.
Hospital cleaners are responsible for the cleaning and maintenance of the facility.
Such standardized baby care rooms were also built in the department of preventive medicine and the pediatric department of the hospital this year and have experienced a high flow of visitors.
In addition, 32 standardized baby care rooms have been built in 19 large-scale public sites elsewhere in Bishan.
The construction of such better-equipped rooms aims to improve support for the country's universal two-child policy, encourage breastfeeding and protect the rights and interests of women and children.
Traffic hubs, commercial centers, hospitals, "5A"-rated tourist resorts and entertainment venues with an area of 5,000-10,000 square meters or a passenger flow of 5,000-10,000 people a day will construct independent baby care rooms with an area of no less than six square meters.
For larger or busier places, the rooms should be at least 10 square meters and they should be equipped with a higher level of infrastructure.
Work places that employ large numbers of female employees should also build nursing rooms.
Maternal and child facilities should be constructed on trains, buses, ships and airplanes according to industry standards.
A fast track system or similar conveniences should be provided for pregnant or lactating women and passengers carrying infants and young children at the ticket entrance, according to an official from the local municipal health commission.
By the end of 2018, every airport and all the main train stations in Chongqing will be equipped with baby care rooms, too.
Then, by the end of 2020, all appointed public places and work places will be basically equipped with standardized maternal and child facilities, according to the announcement.
(Source: Chongqing Daily/Translated and edited by Women of China)