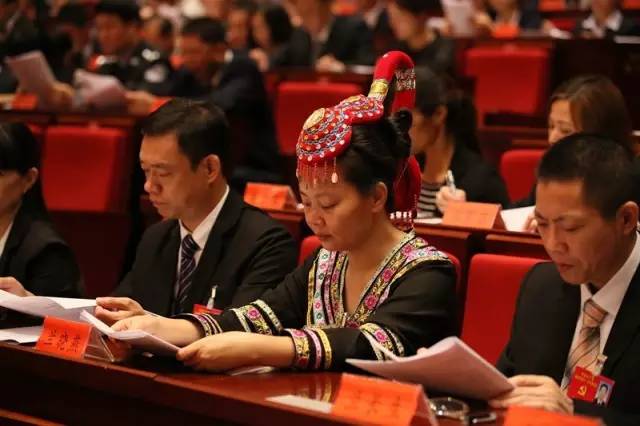 A female official wearing ethnic costume (C) reads documents at Fuzhou's 11th CPC Congress in southeast China's Fujian Province. [hxnews.com]
The southeastern Chinese city of Fuzhou kicked off its 11th Congress of the Communist Party of China (CPC) on September 26. It was attended by 495 officials, with 166 of them being female, China Women's News reports.
The percentage of female representatives was 33.5 percent at the Party meeting, revealing that female officials in Fuzhou are playing an active role in connecting the Party's leadership and grassroots women, one official said.
Moreover, fostering female officials has become one of the major issues outlined by the local government in recent years, the official added.
The Fuzhou government has selected around 400 female officials from different departments and grassroots women's federations to attend training sessions organized by Fujian provincial government since 2012, the official reported.
Furthermore, Fuzhou has been playing a leading role across the province in involving female officials in grassroots government leadership, the official stated.
Statistics indicate that the percentage of female officials at city level was around 60 percent last year, ranking top in Fujian Province; the percentage at village level has reached 100 percent.
Meanwhile, female Party secretaries at villages accounted for around 6.6 percent, an increase of 4.92 percent on the previous leadership; women directors in the city accounted for around 2.69 percent, an increase of 7.2 percent on the previous leadership.
(Source: China Women's News /Translated and edited by Women of China)