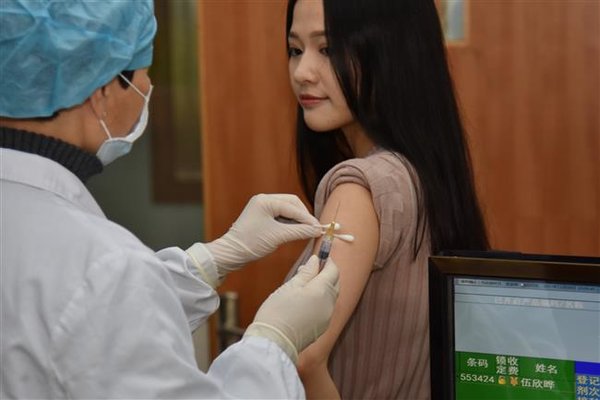 Wu Xinye is the first person to receive an HPV vaccination at a public facility in Shanghai. [shine.cn]
A 23-year-old woman has become the first citizen to be inoculated with a vaccine against cervical cancer in a non-private facility in Shanghai.
On Wednesday morning Wu Xinye received an HPV (human papillomavirus) vaccination in the community clinic of Wanggang, one of the first 17 service providers in the Pudong New Area and downtown.
Wu said she learned about the service a couple of weeks ago at the official WeChat account of Pudong Disease Control and Prevention Center. She made an appointment in the community clinic near her workplace.
"I feel good," she said. "We have access to the world-class health service here in Shanghai."
On Thursday and Friday, the service will be extended to other 40 grassroots clinics and hospitals in Pudong, including Shanghai International Medical Center and Huashan Hospital Pudong. There will be a total of 4,200 doses of vaccines in stock.
The vaccine is set to be available in other districts by the end of this year. Anyone interested should make an appointment, by contacting local health-care facilities or applying via Taobao and Alipay.
Women planning a pregnancy and mothers-to-be are not recommended to receive vaccinations. Women with cervical cancer and condyloma are banned.
Currently, only two companies, GlaxoSmithKline and Merck, are licensed to make the HPV vaccine.
Last year, GSK got the green light to introduce its vaccine, called Cervarix, to China's mainland. It started to supply the domestic market this summer.
Cervarix is licensed for use in girls and women aged from 9 to 25. It targets bivalent virus HPV 16 and 18, which are blamed for 70 percent of cervical cancers. Tests show vaccination is almost 100 percent effective for virgins.
It requires a series of three injections over a period of six months, which costs a total of 1,756.50 yuan (US$265).
Next year, Merck's Gardasil, targeting HPV 6, 11, 16 and 18, is set to be introduced to Shanghai as it was licensed in May by the China Food and Drug Administration. It is approved for use in women aged from 20 to 45.
Cervical cancer is the second most common cancer affecting Chinese women aged 15 to 44. Official figures show there are 130,000 new cases in the country every year, accounting for more than 28 percent of the world total.
Every year, 12 out of 100,000 women in Shanghai develop cervical cancer, and every 3.5 of them die from it.
Previously, many Chinese women seeking HPV vaccines went to joint-venture hospitals on the mainland, which are qualified to administer them, or traveled to Hong Kong or abroad.
(Source: shine.cn)