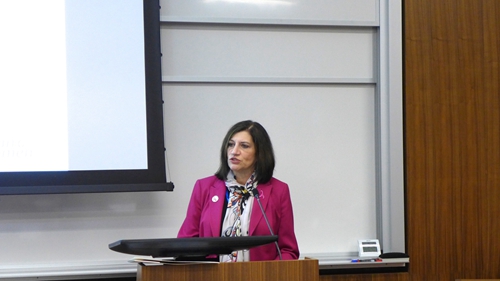 Judith Salerno, President and Chief Executive Officer of Susan G. Komen [Women of China/Zhang Jiamin]
Susan G. Komen CEO Judith Salerno was among the attendees at an event aiming to raise awareness in China about breast cancer, the world's most deadly cancer in women. The event also marked the launch of a Wheels for Life Mobile Medical Bus, funded by the United Family Charitable Foundation and equipped with screening equipment donated by GE Healthcare. Goldman Sachs Gives also shared its HerCare Breast Cancer Education and Awareness Initiative in China. Organized by the American Chamber of Commerce in China and the U.S.-China Healthcare Cooperation Program, the event focused on breast cancer education and the resources available in China to reduce risk and combat the disease.
"We have been honored to work in partnership with the All-China Women's Federation and the China Women's Development Foundation, as well as with GEhealthymagination, to help alleviate suffering from breast cancer in China," said Judith A. Salerno, M.D., M.S., president and CEO of Susan G. Komen.
Breast Cancer Control Through Early Detection and Education
Breast cancer is the most common cancer and leading cause of cancer death among women worldwide. In China, breast cancer is the second most common cancer and often occurs in women in their 30s and 40s, substantially younger than the median age in the U.S. of 61. The increasing incidence of breast cancer is attributed to various factors, including changing diet and lifestyle in China, as well as increased awareness and detection. As evidenced in the U.S., breast cancer mortality rate has declined by 34 percent due to early detection and effective treatment resulted from improved awareness and education about breast health and cancer.
Wheels for Life
For 15 years, the United Family Charity Fund has been providing free medical care, services, and treatment to over 50 partner organizations nationwide. With the launch of Wheels for Life, underserved women and children living and working in orphanages and migrant schools in Beijing will receive onsite medical visits to reduce the number of urgent cases and provide preventative healthcare and cancer screenings.
Wheels for Life is one of the first mobile health buses in the world to provide breast cancer screenings to underserved women using the GE ABUS Ultrasound. "We are proud of this new initiative which in addition to serving orphans will also support women in Beijing who otherwise have little access to medical resources and in particular breast cancer screenings. It is our goal for Wheels for Life to be a model for future mobile units as we know early detection saves lives," said Frances Fremont-Smith, Executive Director of the United Family Charitable Fund.
Dai Ying, Chief Marketing Officer of GE Healthcare, presented a keynote speech at the forum, where he highlighted GE's US$ 1 billion investment and strong commitment fighting breast cancer worldwide. He also discussed GE's continuous effort and contributions to breast health in China. This year marks the 10th anniversary of Pink Action – a CSR initiative of GE against breast cancer – a milestone on GE's path of driving public awareness and improving breast cancer diagnosis.
Dai Ying said, "Over the past 10 years, GE has been committed to promoting awareness of breast health and driving innovation and CSR initiatives to fight against breast cancer. We hope to make the concept of 'Early Health' an indispensable lifestyle and call on more partners to enhance awareness of breast cancer prevention and treatment."
In 2016, for the first time, GE launched a co-branded campaign with an internet O2O company, generating a great buzz among social media platforms in raising public awareness of breast health. It conducted 5,000 free breast-screenings in the past 10 years of Pink Action, and millions of women have benefited from the campaign advocating Early Health. GE Healthcare's partnership with private hospitals has allowed them to play a more important role in breast cancer prevention and treatment.
A government-led, two-cancer (cervical and breast cancers) screening program launched in 2009 in rural China revealed a lack of awareness, education and technical capacity. In response to this important government priority, Goldman Sachs convened and launched "HerCare: Breast Cancer Education and Awareness Initiative in China" through Goldman Sachs Gives, aiming to create a learning and exchange platform to build local practices for breast cancer awareness, health education and training that can be replicated nationwide.
Together with top-tier partners, HerCare introduced the world's most advanced professional expertise in breast cancer awareness and patient education to close knowledge and practice gaps in China. It established the women-and-patient-centered approach, and take "her" needs as the core consideration. It also built local capacity and establishes a tailor-made model for China that can be replicated in rural and urban areas. To date, over one million women have been reached.
"Goldman Sachs is a strong believer in women's empowerment and how it can bring multiplied effects to our families, society and country. And the well-being of women is a fundamental part to make that happen," says Wenchi Yu, head of Office of Corporate Engagement Asia of Goldman Sachs. "We believe through engaged partnerships between public and private sectors like HerCare that collectively we can provide creative and effective solutions to challenging issues like breast cancer."
HerCare has also been included under the framework of U.S.-China Consultation on People to People Exchange, which aims to enhance and strengthen ties between the people of the United States and China.
During the forum, panelists discussed how enterprises can aid in breast cancer prevention and treatment in China, in a bid to call on more enterprises to pay attention to women's breast health and raise public awareness of breast cancer prevention and treatment.
"At a time when breast cancer rates are increasing yearly and the age of diagnosis is younger and younger, American healthcare companies and charitable organizations are eagerly looking for ways to share there their experience in breast cancer treatment and prevention," said Zhou Jun, senior director of AmCham China's Healthcare Cooperation Program. "With the collaboration of Chinese and American partners measures can be taken to improve overall awareness about breast cancer prevention and treatment."
"AmCham China and its leadership are pleased to be supportive of this important initiative in making a significant contribution in the global fight against this terrible disease. " Said James Zimmerman, Chairman of AmCham China. "American business' effort to give back to the community here in China is something that defines who we are and what we stand for."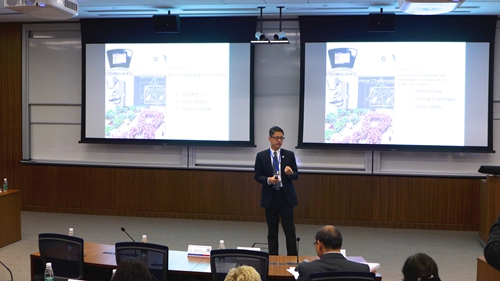 Dai Ying, Chief Marketing Officer of GE Healthcare Great China [Women of China/Zhang Jiamin]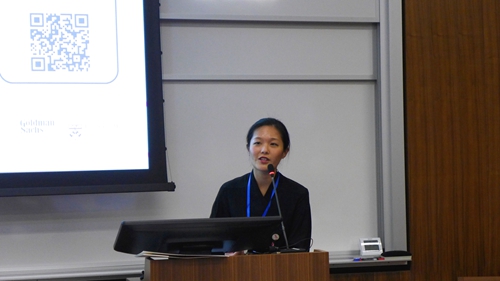 Yu Wenchi, Regional Head of the Office of Corporate Engagement of Goldman Sachs Asia Pacific [Women of China/Zhang Jiamin]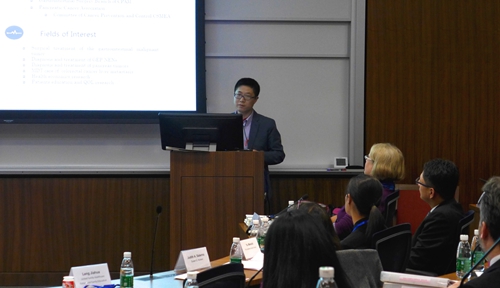 Leng Jiahui, from Beijing Cancer Hospital [Women of China/Zhang Jiamin]
Frances Fremont-Smith, Executive Director of United Foundation for China's Health [Women of China/Zhang Jiamin]