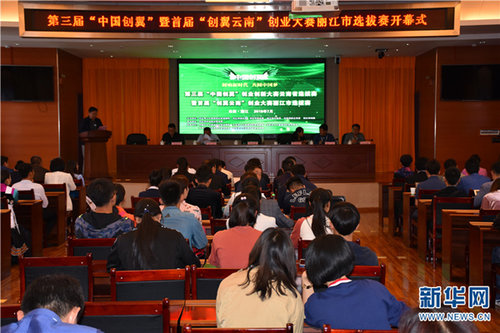 The opening ceremony for the 3rd China Chuangyi Entrepreneurship and Innovation Yunnan Competition. [Photo/yn.xinhuanet.com]
The 3rd China Chuangyi Entrepreneurship and Innovation Yunnan Competition was unveiled in Lijiang city, Southwest China's Yunnan Province on July 9. It is the first Chuangyi Yunnan Entrepreneurship Competition to be held in Lijiang.
The China Chuangyi Entrepreneurship and Innovation Competition is a national-level competition hosted by the China Soong Ching Ling Foundation and the Ministry of Human Resources and Social Security which aims to boost enthusiasm for innovation and entrepreneurship.
The competition was divided into the main competition and special competition. The main competition was open to various groups and was divided into the innovation project group and entrepreneurial project group while the special competition was open to re-employment workers and the disabled.
Over 50 projects from counties and districts in the city, entrepreneurial incubator bases, universities and technical colleges competed in the roadshow, display, Q&A and assessment.
One first-place prize, three second-place prizes and five third-place prizes were selected from among the innovation and entrepreneurial project groups while two self-improvement entrepreneurial awards were selected from among the special competition participants.
The winners received the title of "Lijiang City 2018 Entrepreneurial Star" and will get priority support for their project in terms of discount loans, training and financial support.
He Jiarui, director of the department of human resources and social security of Lijiang, said the competition has not only strengthened the entrepreneurial and innovative spirit in Lijiang but has also provided a policy, capital and market linkage platform for entrepreneurs.
At present, Lijiang is on a fast development track in various industries, including cultural tourism, clean energy, plateau special agriculture and bio-medicine, providing more room for entrepreneurship and innovation.
(Source: China Daily)