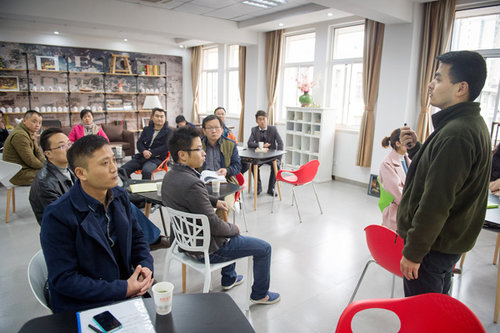 A teacher lectures on startup enterpreneurship at a business-school class in Hefei, capital of Anhui province. [China Daily]
For Chinese entrepreneurs who run small and medium-sized enterprises, one of the key challenges is how to use innovation to gain competitiveness in today's changing environment.
Confronting the challenges posed by the booming internet economy, Zhu Yi, founder of the ice wine brand 45ice in Hangzhou, Zhejiang province, enrolled in the Community Learning Club, which offers an entrepreneurship training program.
Launched by Hangzhou Makerspace Investment Management Co Ltd, the program is mainly aimed at SMEs.
Today, Zhu's ice wine company is one of the well-recognized national brands, and is popular in the local market as well. He said revenue reached 200 million yuan ($29 million) last year, up from 2 million yuan in 2015.
Zhu is one of the thousands of entrepreneurs taking advantage of training programs established in recent years to boost mass entrepreneurship and innovation.
Unlike business courses provided by colleges and universities, these programs are generally aimed at providing practical skills by successful entrepreneurs, instead of business school professors who lack real business experience.
Li Jia, co-founder of the Community Learning Club, said her team's goal is to boost the development of SMEs, since they play a key role in China's national economy.
"The external environment changes so fast now. Previously, mentors would encourage our club members to help others and bring them value, saying whoever gains the community will succeed. But now mentors emphasize the need to exchange information across borders," said Li.
"For those who run small and medium-sized businesses, many still lack innovative thinking. We will ask the industry giants to share their experiences, aiming to help those entrepreneurs to be ahead of the game."
Launched in 2015, the learning club now has more than 4,000 members. It offers online and offline courses on a variety of topics, including operation and management, marketing, leadership, business model, products and services, capital innovation and practice.
Some of those courses are modeled on similar programs available in the West.
For an annual membership fee of 2,000 yuan, members can take at least eight courses. More specialized courses offered by business tycoons are available at extra cost.
Offline courses take one or two days while online classes are usually a 20-minute audio and video presentation or a one-hour streaming course.
Although the exact revenue figures remain closely guarded, it is believed that the company has managed to break even.
Dang Jian Wei, a teacher at the University of International Business and Economics in Beijing, said designing an efficient training program can be challenging.
"I admit that entrepreneurship courses will be useful to some extent. However, entrepreneurs themselves and the specific environment they confront are of great difference, thus it will be a challenging job to offer efficient training courses."
Li, however, emphasizes that the club's programs aren't for everyone.
"Our classes may not be useful to those who only have vague business plans," she said.
"But it will certainly benefit those who have established stable businesses. They will gain a new perspective on marketable plans, such as selling and marketing, which will transfer into employment as well."
(Source: China Daily)