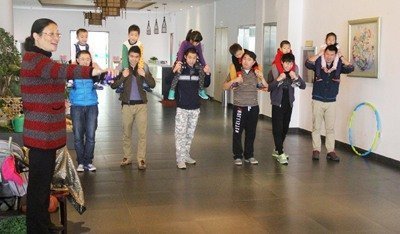 Fathers and their children attend a game at a club in Shanghai's Changning District. [China Women's News]
East China's Jiangsu Province proposed a review of the draft version of the Family Education Promotion Regulations (hereinafter referred to as the regulations) recently.

The regulations specify that any parent absent in their children's education must bear legal responsibility.
Nowadays, some fathers mainly provide financial support, lacking an awareness of participating in their
children's education
.

This lack of time with a father has an adverse impact on a child's growth.

"My husband has never participated in a parent-child activity with my daughter from kindergarten throughout the third grade," said a mom from Hefei, the capital of east China's Anhui Province.

Her husband usually plays games on his mobile phone after work. Her daughter gets so used to depending on her that the child has begun to dislike her father's company because of the long-absent father-daughter communication.

According to a survey conducted by relevant departments such as the Jiangsu Women's Federation, nearly 50 percent of parents do not know how to educate their children.
About 80 percent of parents lack relevant educational knowledge and experience and need professional guidance on
family education
.

Local regulations on family education for parents have been previously introduced in southwest China's Chongqing, east China's Jiangxi Province and north China's Shanxi Province.

According to the regulations, parents shall jointly fulfill their family education obligations for their minor children and must not neglect their children on the grounds of divorce or other reasons.
Both sides shall cooperate with each other to educate their children. For parents who cannot stay with their minor children, they should keep contact via messages or video calls.

The regulations also specify some forbidden behaviors of parents or other guardians in family education, such as letting children drop out of school, insulting children, abusing children or inflicting domestic violence upon them.

Based on urban and rural community educational institutions, youth centers, activity centers of women and children etc., government authorities at and above the county level shall establish family education service sites to provide family education services, according to the regulations.

"It is a tendency to simply introduce new local regulations, but in addition to legislation, it is important to popularize professional knowledge on family education. We should provide professional guidance for parents who are absent in family education, rather than just blame them," said Yang Yongmei, an editor-in-chief of China Education Journal.

Parents must not miss the key points of their children's growth, such as birthdays or graduation ceremonies, and express their care and love to their children on these occasions, according to Yang.

Lan Hai, an education expert, believes that mothers' influence begin to weaken when children are around 10, when a father's impact will increase. Especially in adolescence, children's demand for fathers will gradually exceed their demand for their mothers, as fathers offer a social extension for children.

There is no education without interaction and there is a great chance that children without enough concern and companionship from their parents will experience adolescent rebellion, according to most experts.

"It is gratifying that we have achieved progress in the legislation of family education. But we should still focus on its implementation in the future," said Kang Liying, director of the Family Education Research Center of Capital Normal University.