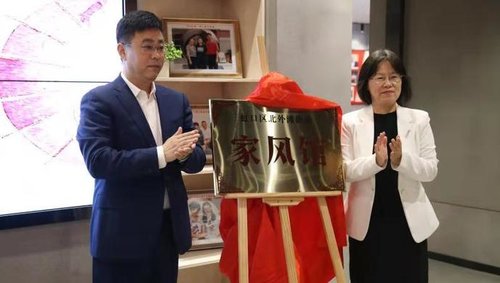 Two officials jointly inaugurate the public hall at a ceremony held in the sub-district office of the Northern Bund in east China's Shanghai. [Shanghai Observer]
Hongkou Women's Federation, in east China's Shanghai, recently opened a public hall in the sub-district office of the Northern Bund to further popularize Chinese family traditions and the practice of parent-child reading amongst locals.
The public hall was divided into three venues, which respectively focus on the exhibition of Chinese family traditions and rules, the building of clean or anti-graft households, and the life stories of family-oriented role models.
According to organizers, these family traditions and rules, along with inspiring stories, have been collected from local households from both ancient and contemporary times.
The inauguration of the public hall is an innovative approach taken by the district women's federation with an aim to strengthen its publicity and promotion of family traditions, family education, traditional Chinese virtues, core socialist values and Party-building affairs under current social circumstances.
Meanwhile, at the ceremony, officials from Hongkou Women's Federation also announced the opening of seven sub-district public halls featuring the exhibition of family traditions and rules.
In addition, the federation has worked together with other local government departments to promote the popularity of parent-child reading and disseminate scientific concepts and methods in raising children over the past few years.
For instance, the building of a parent-child reading hall in the sub-district office of Jiaxing Road has proved a great success and enjoyed great popularity among local families.
There are six themed sessions of parent-child reading in the public hall every week. In addition to the organization of reading activities, several volunteers will also instruct parents to prepare hand-made products together with their children.
Moreover, Hongkou Women's Federation has maintained a closer partnership with social organizations to strengthen the building of ethnic and cultural progress, popularize the latest parenting concepts and methods, and provide children from migrant families with assistance in their mental health as well as in their academic studies.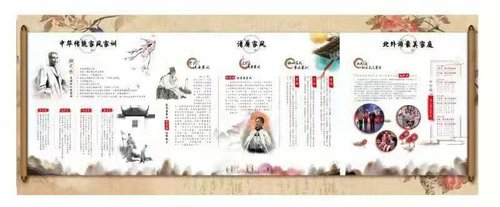 A view of an exhibition in the public hall [Shanghai Observer]
A view of an exhibition in the public hall [Shanghai Observer]
(Source: China Women's News / Translated and edited by Women of China)