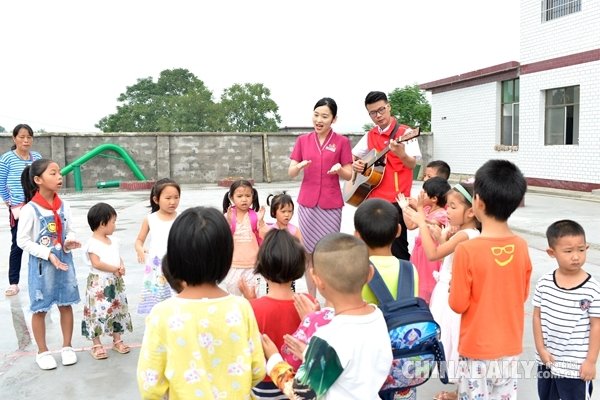 Students sing songs with an airline stewardess. [Youth.cn]
With assistance from local officials and a team led by China Southern Airlines, a teacher at an impoverished primary school in Xinning County, central China's Hunan Province, recently helped to have the school rebuilt.

Huang Zhaoming has 38 years of teaching experience. Six years ago, the run-down Datang Primary School he worked in was declared as dilapidated, but the local government was unable to maintain or rebuild it.
Accordingly, Huang had to transfer to the neighboring Wentang Primary School with the students.
He felt sad when he saw that the children had to spend almost an hour getting to the new site. So, over the years, she developed a wish to rebuild the original school for their convenience.
Poverty-Alleviation Team
During Children's Day (June 1) this year, the poverty-alleviation team, from the Hunan branch of China Southern Airlines, were dispatched to Datang. They organized a special aviation-themed activity for children.
As the school had been demolished, they could only put up a temporary tent in the playground.
Huang's idea tallied with the goals of the village committee and poverty-alleviation team, as the village's conditions had improved in recent years, and relevant poverty-alleviation policies were implemented.
Just three months before the new semester, Huang worked hard with team members to investigate the situation and make applications at the education bureau.
In August, work on the new school was almost finished. However, Huang still needed to find a young teacher to take over his work.
With the help of the county's education bureau, village committee and the poverty-alleviation team, a teacher named Da Xiangqun was appointed.
New Classroom
On August 30, the school held the opening ceremony of the new semester.
Meanwhile, the China Southern Airlines Library was opened for children to enjoy their favorite books.
Huang told the reporter: "In the past, there were only some books on raising pigs and fixing tractors, which were not suitable for students. The newly-donated books are suitable for children."
The students started their new term with pilots, flight attendants, and volunteers as their teachers in the first lesson.
The poverty-alleviation team leader Xiong Jinsong said: "Because of its remote location, Datang is short of land and water resources, and many villagers were impoverished."
The team helped the villagers develop ecological agriculture through crops such as rice, oranges and sweet potatoes according to local conditions.
Meanwhile, an e-commerce business was also established to help these villagers.
"Early this year, the proportion of 'left-behind' children was 70 percent. Now, the proportion is lowering gradually," Xiong explained.
"It is the first step to resume the school enrollment for poverty-alleviation, and we will establish charitable funds to organize children to participate in different activities to broaden their minds," Xiong added.
Students attend school in the new semester. [Youth.cn]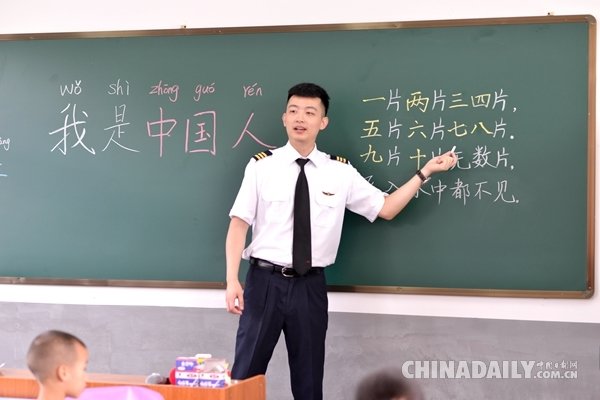 A steward from China Southern Airlines gives a lecture during the new semester for students. [Youth.cn]
(Source: Youth.cn/Translated and edited by Women of China)