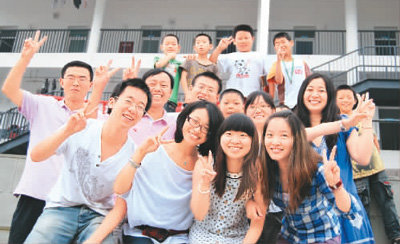 Several overseas returnees with their students in a rural school [Provided by the interviewed]
Many overseas returnees have shown strong commitment to imparting knowledge and skills with an emphasis upon interaction to rural children in learning English and broadening their horizons in a volunteer teaching program over the past decade.
The volunteer initiative was launched by a group of returnees under the authorization of China Association for NGO Cooperation shortly after the devastating Wenchuan Earthquake in southwest China's Sichuan Province in May 2008.
The charity program aims to create a platform for Chinese college students and their foreign peers to interact with rural children across the country. Moreover, it is intended to make full use of their academic learning and relevant experiences in a move to increase the level of English-teaching in rural areas and expand the horizon of local children.
Its debut took place in an elementary school in the county-level city of Shifang in Sichuan in October 2010, which suffered huge losses in terms of human lives and property in the natural disaster. During the week-long visit, many participants held multiple activities with local students.
Since then, the volunteer project has been carried out in rural areas in Anhui, Gansu, Yunnan and Henan provinces.
Tan Xuan, a graduate from Catholic University of Louvain in Belgium, became a member of the volunteer program when she found an internship opportunity in the branch of China Daily in Brussels in 2012.
Tan has been involved in the compilation of teaching materials, the recruitment and training of teaching staff, and many other tasks over the past six years.
"We have underlined the principles of utility and interaction when writing teaching materials and methods for target children in a drive to free them from traditional norms and exam-oriented education. In addition, students are encouraged to speak out and express their points of views in class," Tan said, adding that she was deeply impressed by the decade-long contributions made by local teachers to their students.
Sun Haoran, a graduate from Moscow State Pedagogical University, took part in the initiative in 2012 and 2014.
Sun emphasized that the voluntary teaching is expected to help teenage students become interested in English and realize that there is a large world outside their village waiting for them to explore.
Sun continued that she and other attendees have benefited much from the volunteer teaching experience, which deepens their understanding and feeling of conveying compassion and being care for others since many overseas returnees, including her, are the only child in their families and had no idea of sharing before that.
Yang Lin, mentor of the charity project who has lived abroad for years, agreed with Sun and added that the participation in volunteer teaching is set to positively transform those overseas returnees and encourage them to think about what they can contribute to the society.
Zhang Peng, a college student from Shanghai-based East China Normal University, joined the volunteer program this year. He noted that overseas returnees often draw inspiration from their studying experiences to successfully make their classes become more interesting.
In addition, organizers of the charity initiative this year have invited seven foreigners to join with Chinese volunteers, read textbooks to rural students and share personal stories with them.
Tan Xuan (L2) teaches drumming to her students during an extracurricular activity. [Provided by the interviewed]
A volunteer (L2) teaches Scottish dancing to her students in a primary school in southwest China's Sichuan Province in 2015. [Provided by the interviewed]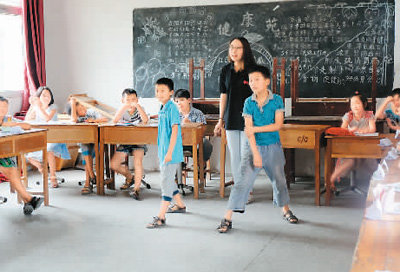 Sun Haoran (R4) plays with her students in 2014 during a volunteer teaching program in a rural school of central China's Henan Province. [Provided by the interviewed]
(Source: People's Daily/Translated and edited by Women of China)