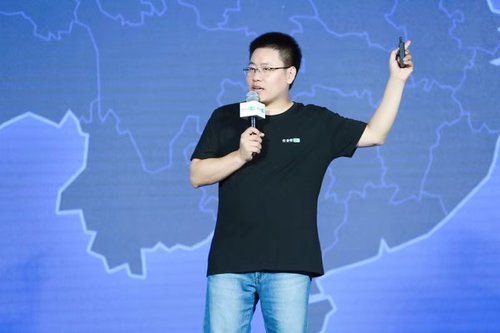 Hou Jianbin, founder and CEO of Chinese online education company Zuoyebang, delivers a speech at its brand upgrading conference in Beijing on July 9, 2018. [China Daily]
Online education can traverse time, space and region and is an ideal way of promoting high-quality resources to cities across China, especially some remote areas, a top industry executive said on Monday.
"Through livestreaming courses, students from third and fourth-tier cities can get access to high-quality education resources," said Hou Jianbin, founder and CEO of Zuoyebang, a Chinese online education company.
"We cannot ignore that teachers gather in major Chinese cities and students from third and fourth-tier cities find it hard to access high-quality education resources," he said.
Hou made the comments right after the company announced Zuoyebang Yike, a livestreaming learning platform with an aim of helping more children enjoy education through advanced technologies.
Recent data shows there are around 180 million primary and middle school students in the country, yet more than 73 percent of them live in third to sixth-tier areas.
Through the company's livestreaming platform, small classes of students can take online courses covering all subjects, from primary school to high school.
The Beijing-based startup also launched a new online English learning platform — E Raccoon English, which can provide young learners a personalized English learning system.
Under the system, students can find their weaknesses through self-study and testing, while teachers will use tailor-made teaching plans, including livestreamed teaching based on test results.
"It is the first time we have introduced the flipped classroom model into online English learning. We hope to turn online courses from teacher-oriented to student-centered," Hou said.
Zuoyebang, an after-school tutoring platform, raised $150 million in its latest round of financing last year, with H. Capital and Sequoia Capital among the investors. Company data shows there are more than 5 million paid users on its platform.
(Source: China Daily)