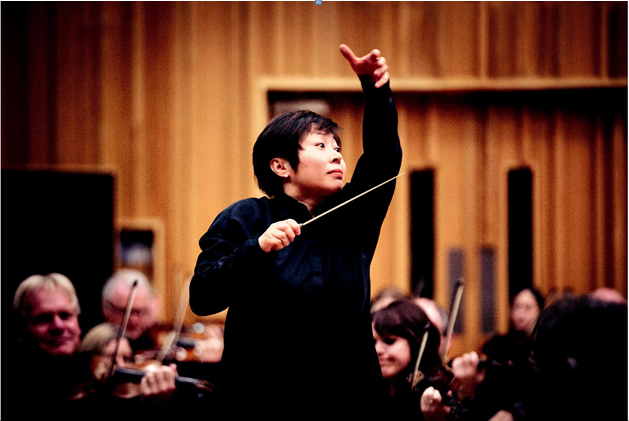 Zhang Xian conducts on the stage.[Cultural and Education Section of British Embassy]
Female conductors are seldom seen on the stage. Talented female conductors appear to be rarer. The BBC Music Magazine once selected the 11 most-outstanding female conductors from around the world, and China's Zhang Xian was the only Asian to make the list. Zhang, born in Dandong, in Northeast China's Liaoning Province, is music director with New Jersey Symphony Orchestra, in the United States, and she is principal guest conductor of BBC NOW (National Orchestra of Wales) in the United Kingdom.
Prestigious Conductor
Zhang enrolled at the middle school affiliated with Central Conservatory of Music (CCOM) when she was 11. She was admitted by CCOM six years later, where she was taught by famous female conductors Wu Lingfen and Zheng Xiaoying. She moved to the US in 1998, where she earned her doctorate in conducting from the Conservatory of Music at the University of Cincinnati College. She studied under prominent international conductor Lorin Maazel (1930-2014).
"The biggest challenge for a conductor is the repeated study of the full music score, and the thorough familiarity with every sheet of music. It is a huge project. Half-an -hour performance on the stage means at least more than 20 hours of laborious desk work off the stage," Zhang told China Today reporter Zhou Lin.
"When I was young, I had a hard time understanding some of Tchaikovsky's intricate music. However, as time went on, and as my experience expanded, I became able to appreciate the marvelous parts of the music, understand diverse versions of his works, and play out my own version of this great artist's music. That is a slow and progressive process, and cannot be achieved overnight," she added.
"Nowadays, most young people are exposed to a wide range of information in various fields. They have musical proficiency and opportunities to communicate with the Western world, enabling them to grow up quickly," Zhang said, adding that every time she returns to China, she is surprised to discover that classical music is becoming more and more popular among Chinese youth.
Creative Cooperation
"We have five concerts in China's four biggest cities during this music tour to promote creative cooperation between China and Wales. It is a great honor for me to partner with the four cities, and for our orchestra to have a direct interaction with Chinese audiences," Michael Garvey, Director of BBC NOW, said. Zhang noted the tour was her first in China with a European orchestra.
Zhang has devoted herself to communications with and collaboration between musicians in China and the UK. Zhang's connection with the UK can be traced back to the Promenade Concert, held in London in 2013. The annual summer event is the world's largest and most-renowned classical music gathering. In 2013, Zhang was conductor of the Symphony Orchestra of Milan Giuseppe Verdi, which performed during the Promenade Concert, as that year marked the 200th anniversary of the Italian opera composer Giuseppe Verdi's birth.
Having lived overseas for two decades, and having accumulated international fame, Zhang said, at the technical level, Chinese musicians have the capability to stand on the global stage. From a cultural perspective, however, Chinese musicians still a long way to go, and must overcome some obstacles, she added. She advocates cultural communications during musical-exchange activities between China and the West.
Well-Balanced Life
Every year, conducting 80 to 100 performances, together with rehearsals and concert tours that follow, is a tough job for Zhang. What's more, she has to participate in the production of one or two operas a year. "Sometimes, it takes me eight or nine hours to complete the rehearsal of just one opera per day. Conducting is not just time-consuming, but also brain- and energy-consuming, making it a really demanding job," she said.
Zhang is accustomed to taking round trips between Europe and the US. As a mother of two, she strives to maintain a balance between career and family. She strictly limits her time away from home to a maximum of two weeks, and she makes sure she stays at home and accompanies her children for a few days.
Zhang is one of the female artists that joined the British Council's campaign "Inspiring Women in the Arts," which is designed to inspire young women about the world of the creative industries, to raise confidence and aspirations, and to enable them to make more informed choices about their careers. Zhang hopes to share her personal experience with more Chinese young women.
"There are many talented girls, who, when faced with the choice between career and family, usually choose the latter because of the pressures from their relatives and friends. They do not try to find a balance between the two roles. Even though it means a more- challenging life, it can be achieved," Zhang said. "Girls should be more courageous and make their own decisions. Do not wait for others' encouragement, and don't be stopped by any objections. Be yourself, and do the things that you will never regret."
A panel discussion with Zhang Xian (eighth from left) at Central Conservatory of Music [Cultural and Education Section of British Embassy]
Zhang Xian conducts at a concert.[Cultural and Education Section of British Embassy]
(Women of China English Monthly April 2019 issue)