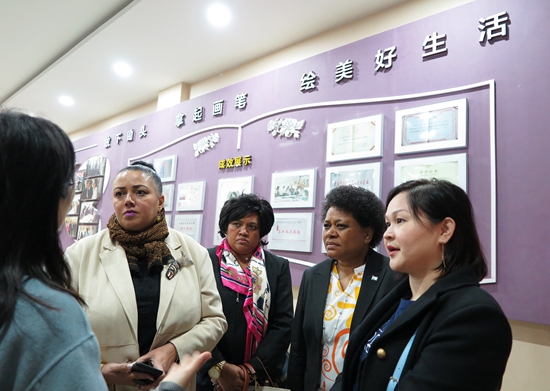 Foreign female diplomats working in China are briefed on women's development in a village in Luoyang City, central China's Henan Province, on April 9. [Women of China/Ye Shan]
A group of female diplomats from Cape Verde, Suriname and Fiji were invited by the All-China Women's Federation to visit their last stop in Henan Province — Mengjin County in Luoyang City — to inspect local women's contribution to rural revitalization and communicate with them on April 9.
The diplomats said they were moved and impressed by the outstanding women they met in Mengjin, including two folk artists and a businesswoman leading local people to plant strawberries to increase their incomes.
All of them agreed that the unique role of the women's federations and the role models set by grassroots women in rural revitalization will offer valuable references for their work in their countries.
Tania Romualdo, Ambassador of the Republic of Cape Verde to China, said they got brand new experience at each of the stops during their inspection tour. She added that she found the strawberry planting base the most touching.
Lü Miaoxia, a national March 8th Red-banner Pacesetter, returned to her hometown and launched a strawberry planting base in 2009. She helped more than 5,000 locals, mainly left-behind women under the age of 70, shake off poverty through offering jobs. Romualdo said she was touched by Lü, who has built a successful career and helped more women start businesses or get jobs.
Patty Chen, ambassador of the Republic of Suriname to China, said the visit as an eye-opener. From her point of view, such a bellwether of starting businesses and helping others increase their wealth not only offered more job opportunities for rural women but also made them more confident to strive for equal rights for women.
Litia Salavuki Tagicakibau, spouse of ambassador of the Republic of Fiji to China, said she was impressed by the strong interest in and commitment to inheriting the folk art of sancai, a Chinese porcelain characterized by a glaze with three intermingled colors.
The tour offered the foreign female diplomats working in China an opportunity to exchange ideas with Chinese women and learn the progress made by women and the women's federations at grassroots level.
The diplomats expressed their gratitude to the ACWF for the invitation and expected to bring the experience learned in China back home to establish closer ties with women in their own countries.
At the end of the tour, Romualdo said she looked forward to seeing more females learn from women such as Lü, and Chen called on every woman to pursue her dream and never give up. Tagicakibau said she hoped Chinese women will seize every chance to forge ahead toward their goals.
Women learn traditional Chinese paper-cutting in a rural women's school, which was launched at a strawberry planting base. The school offers various training programs for rural women in Mengjin County, Luoyang City, central China's Henan Province on April 9. It is the first rural women's school in Luoyang. [Women of China/Ye Shan]
Diplomats visit an exhibition of sancai artworks in Chaoyang Town of Mengjin County. [Women of China/Ye Shan]
Tania Romualdo gets a closer look at a painting created by female folk artists in Pingle Town in Mengjin County on April 9. [Women of China/Ye Shan]
Lü Miaoxia (first, L) tells her story of starting business to foreign diplomats on April 9. [Women of China/Ye Shan]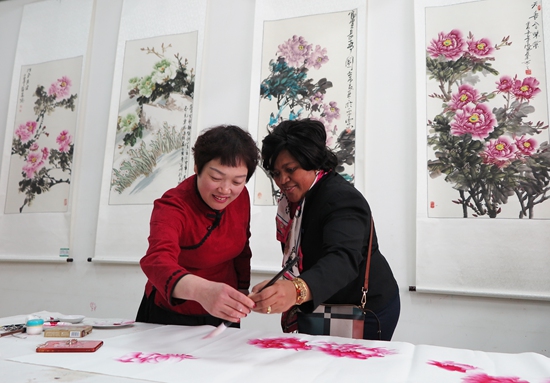 A secretary at the embassy of the Republic of Fiji to China tries her hand at traditional Chinese painting with the help of a local folk artist in Mengjin County on April 9. [Women of China/Ye Shan]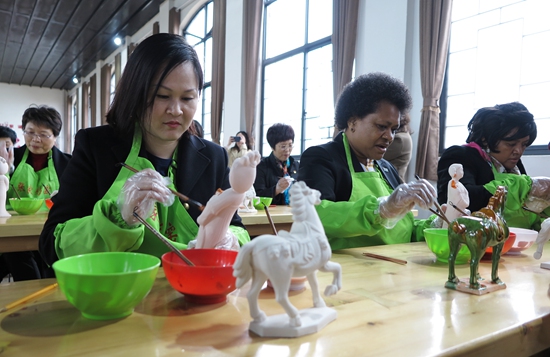 Diplomats make sancai works at a workshop in Mengjin, on April 9. [Women of China/Ye Shan]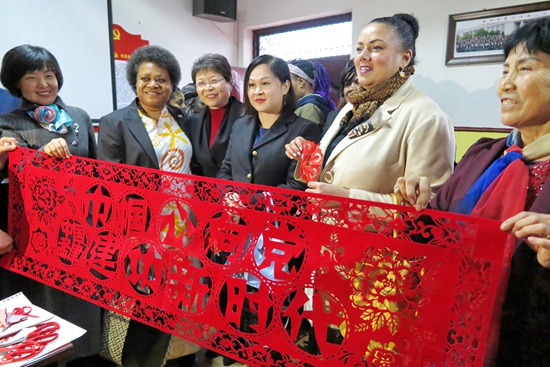 Diplomats communicate with local paper-cutting artists in Mengjin, on April 9. [Women of China /Ye Shan]
(Women of China)