Quan Yingmei (L2) poses a picture with other friends.
Savile Row, a street in London, capital of the United Kingdom, is best-known for bespoke tailoring. After having worked her way up from the bottom, Quan Yingmei is now director and business partner at Welsh and Jeffries, a tailor to the Prince of Wales, at 20 Savile Row. She is Savile Row's only business partner from China, and also the only Chinese woman to win the Savile Row Golden Shears Awards, or the Oscars of the tailoring world.
Quan Yingmei, from Mudanjiang, in Northeast China's Heilongjiang Province, moved to the UK in 2000 to study design at Central Saint Martins, in London, where she was introduced to tailoring. She has worked at various bespoke tailors, including Kilgour and Nutters. "My sights were firmly set on tailoring, and I didn't want a path toward sales and design. I wanted to know how to actually make and fit a jacket from start to finish," she says.
"I left Savile Row and worked elsewhere in London. I started from scratch and learned about making patterns and canvasses for about a year and a half. But I felt I wasn't learning enough to get to where I wanted, so I returned to Savile Row," she adds.
Quan finally settled at Welsh and Jefferies, in 2009, and she became what was believed to be the first Chinese female master cutter to work in the home of bespoke tailoring (making custom-made clothes according to customers' specifications).
"Workers at Savile Row would have been there for 20 to 30 years and probably thought I wouldn't stay around for long," she says. "I had to build my confidence and learn a new culture, how to speak and how to greet people. Some thought I was too young."
She proved herself with her skills and professionalism. "While I gained respect, it took a while to get clients on my side. I have many customers now who completely trust me and my judgment," she says.
"What we admire here is the spirit of craftspeople. In my opinion, the true spirit of craftspeople means not only mastering exquisite skills, but also maintaining a sincere heart when treating customers," she says.
Welsh and Jeffries always keeps records of the body measurements of its clients, and it offers lifelong services to its clients. "One day, a young man brought a suit of his grandfather to us. The suit was made in 1937. He wanted us to mend the suit and alter it according to his own size. In China, it may sound a little strange that a grandson wears his grandfather's clothes. But in the UK, the bespoke suits, like antiques, can be handed down to younger generations," Quan recalls.
"What I love about tailoring is the detail. Your eyes have to act as a camera to capture everything. A few years ago, when I took the tube (London Underground) to work, I would observe the suits the men were wearing, looking at how their trousers and jackets were made and fitted, if the color was right and if it was bespoke or ready-to-wear," she says.
Quan says she likes to keep her suits traditional, but she is also happy to add a contemporary twist to some of her creations. "I like creating something new that makes customers feel confident. I don't want them to open up their wardrobe and it be full of the same suits."
In 2011, Quan outshone all other competitors to win the Golden Shears Award, for a woman's wool overcoat that she made. The biennial competition was held to honor the most outstanding bespoke tailors.
Quan's victory attracted the attention of mainstream British media. The media reported that the Chinese woman successfully broke into the male-dominated tailoring trade. In 2012, Quan became director and business partner at Welsh and Jeffries.
As a result of Quan's contributions and influences, Welsh and Jeffries is becoming known for its strong female clients and Chinese client base. In recent years, Quan has been expanding the Chinese market, and the number of her clients in China has been growing. She travels every few months to China, and other countries, to provide services to her clients.
"Currently, Beijing has the largest number of our clients in China, followed by Hangzhou, Shanghai, Kunming and Guiyang," Quan says.
"If the clients are in London, it usually takes us about six weeks to finish making bespoke clothes. If the clients are in other countries, especially Asian countries, it will take us about half a year," Quan adds.
Welsh and Jefferies celebrated its 100th anniversary in April 2017. Quan says she loves watching women enter the trade. "Women have a different sense of style and can offer a newer perspective, which I think is great for business," she says.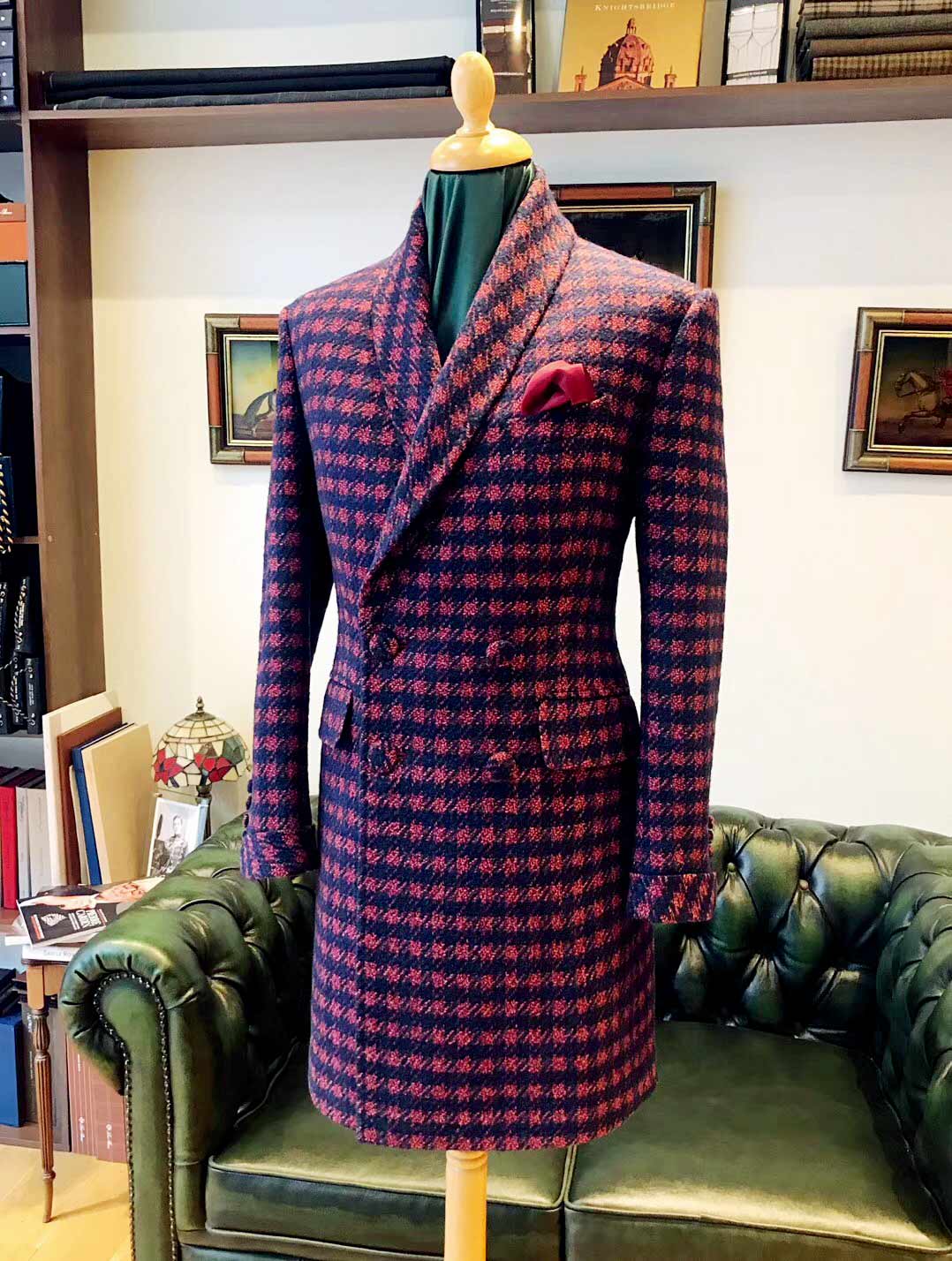 A dress made by Quan Yingmei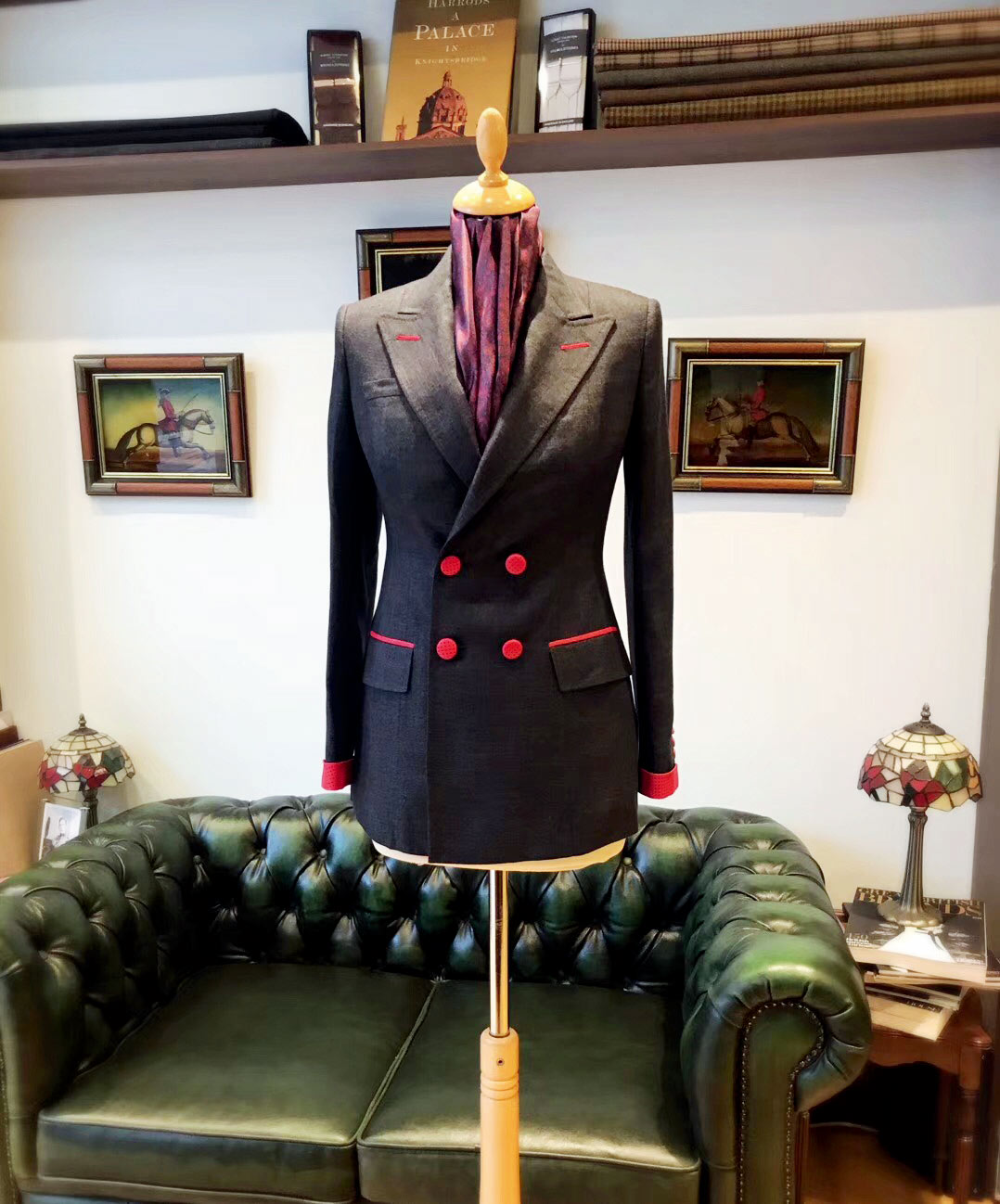 A piece of clothes made by Quan Yingmei
A dress made by Quan Yingmei
(Source: Women of China English Monthly April 2018 Issue)