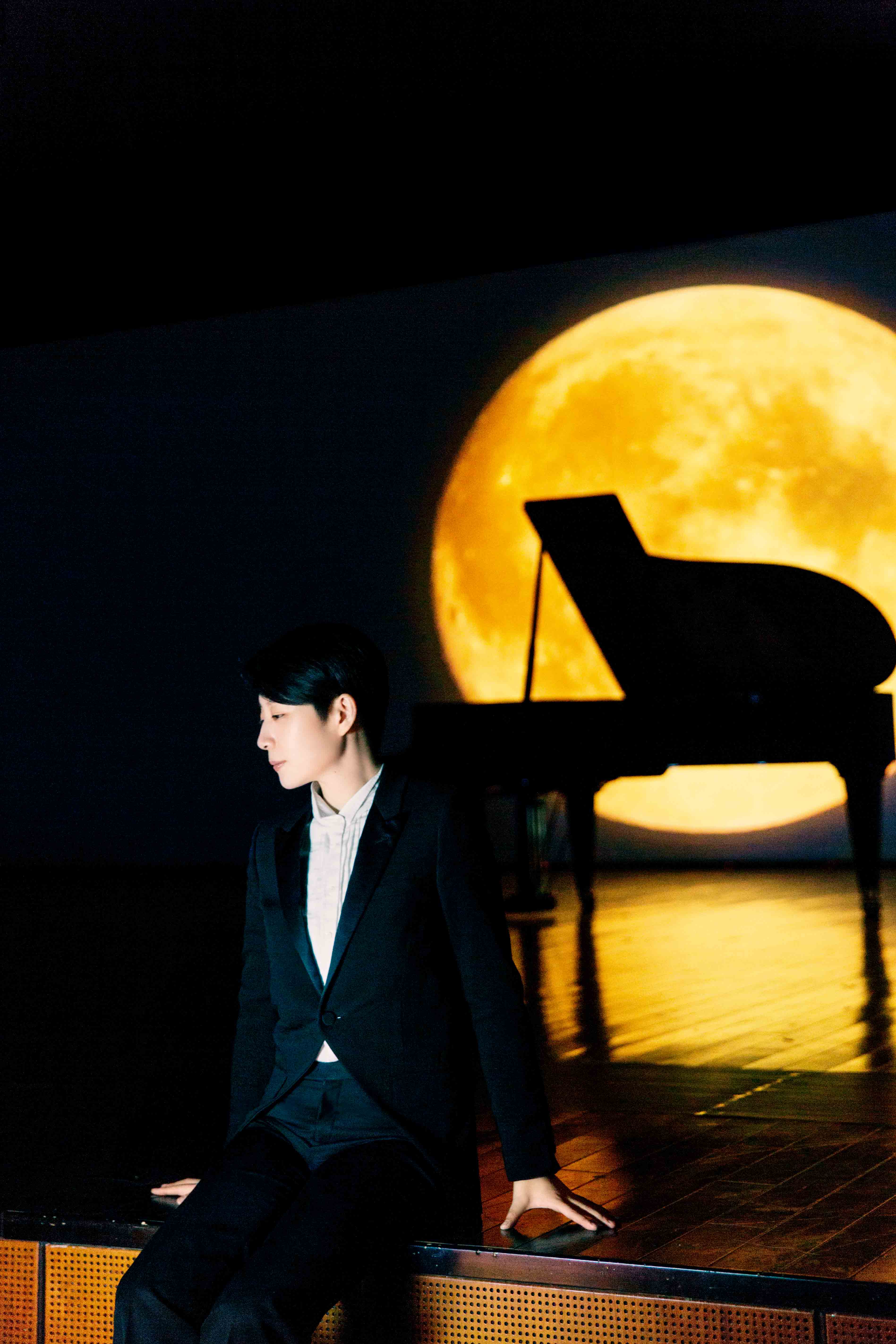 Gu Jieting
Cultivation
Gu Jieting, a young pianist who has studied in Paris, has long been influenced by both the art cultivation of her family and the systematic art education received in Europe.
In recent years, she has expanded her career from simply playing the piano to directing stage performances that combine traditional Chinese art with classic Western art. Gu uses the performances, in a straightforward way, to express her understanding of Chinese and Western cultures.
When did Gu begin learning to play the piano? "It started from an episode, which took place when I was two and a half years old," Gu recalls.
A piano teacher, who was a friend of her parents, visited their home and told her parents that Gu's palm was big, and suitable for playing piano.
After that conversation, Gu's home was filled with the beautiful melodies of Kunqu opera, guqin (a seven-stringed plucked instrument), pingtan (storytelling and ballad singing in Suzhou dialect) and piano.
Gu enrolled in the primary school affiliated with Shanghai Conservatory of Music when she was 9. The school recruited students in Grade 4 or higher. Gu became an independent child, who traveled alone, by train, between Shanghai and Suzhou (her hometown, in East China's Jiangsu Province) during weekends.
"I enjoyed studying and living in the boarding school. Actually, before I wrote the entrance exam, I suffered from myocarditis (a disease caused by inflammation of the muscular tissue of the heart).
Although my doctor suggested I stay at home to have enough rest, I told my parents I wanted to take the exam. Living in the school, and with other students, gave me opportunities to learn how to cope with various difficulties by myself," Gu says.
Did she experience times when she thought the hardships were too severe? "Yes, before I became an adult," Gu answers. "Playing the piano can be boring sometimes, especially when I have to spend a lot of time fixing just a tiny problem. I urge myself to practice over and over again."
Gu participated in school performances every two weeks. Each performance offered her an opportunity to make a breakthrough, by expressing her feelings through the piano.
Each time she received positive feedback from the audience, Gu thought she had found the meaning of tireless practice. "Playing the piano made me realize the importance of persistence. It is like playing a game.
You have to pass one round after another. It is natural that you sometimes fail, but you have to encourage yourself to keep trying, and to adjust your methods until you eventually win the game," she adds.
When Gu was 18, her instructor, Xu Zhong, a renowned conductor and pianist, recommended she study in Paris. At that time, most Chinese students in conservatories preferred to go to the United States.
But Gu's instructor insisted she should go to Europe. Gu won a full scholarship, in 2002, to study at the National Superior Conservatory of Paris for Music and Dance, in France.
She was instructed by famous French pianists Dominique Merlet and Jean François Heisser. She became the first Chinese student to graduate with master's degrees in both piano and chamber music from the National Superior Conservatory of Paris for Music and Dance.
Gu says she formed her overall understanding of Western art during her time in Paris. "The strict and rigorous teaching methods, developed by the conservatory, laid a good foundation for my music composition.
I also enjoyed the openness and diversity of the people's lifestyles in Paris. I had enough time to lower my speed of composition and better concentrate on my academic research.
My experiences overseas have helped me form certain habits; for example, I care a lot about details, and I tend to spend much time preparing my music composition and producing my work," she explains.
Family Influence
Does Gu have interests other than playing the piano? Yes, photography. She likes to record beautiful scenes by taking photos of the landscapes.
She believes photography enables her to record something special in her life. She tries hard to answer these questions: "What do I truly want to do? What should I do? What am I doing?"
Whenever she is confused about her future, she recalls her father's words: "My father once said 'learning a skill is like climbing a mountain.' If I start to learn photography now, I will have to first get down from my mountain (of playing the piano), and then, climb another mountain (of photography).
I will be much slower than those who began climbing the mountain (of photography) a long time ago. But if I am good enough to reach the top of the mountain I have chosen to climb, I may realize the distances between mountains, on the top level, are not too far from each other."
Gu is grateful that her parents trust her and give her the freedom to do what she likes. Persistence is the most important "gift" Gu has received from her parents.
Her father, Gu Keren, is a Kunqu opera scholar, and the person who founded the Chinese Kunqu Museum, in Jiangsu Province. Her grandfather, Gu Shusen, is a renowned educator in modern Chinese history.
Gu Jieting says her father often urges her to keep the following words as her motto: "We, as people of different generations, have to make contributions to society in our own era."
She believes it is her duty to combine classic cultures from East and West, and to promote her works to the world and help people appreciate the art of music.
New Expression
At the invitation of Shanghai Oriental Symphony Orchestra, Gu Jieting returned to China in 2013 to become the orchestra's standing member and solo pianist.
Near the end of 2014, Gu gave a 15-minute preview performance of Rencontre between Debussy and Du Liniang, a music drama she directed, at Suzhou Museum. During the show, Gu played the piano, while she also played the role of famous French composer Claude Debussy. Another performer played the role of Du Liniang, the heroine of Kunqu opera The Peony Pavilion.
After that debut, Gu spent two years developing several versions of the show, such as the drama performed on stage and the drama performed in a well designed garden.
Instead of calling Rencontre between Debussy and Du Liniang a show or a work, Gu prefers to call it an "event." Every time she performs it, her team adjusts how she performs the show according to where the show is staged and what type of audience is in the seats.
The "I" in the show is not only represented by Gu, the composer, but also by every spectator who participates in the "event."
While Gu studied in Paris, she wrote a 70-page essay to discuss the interconnections of traditional Chinese art and piano music composed by Debussy. She listed examples, including Kunqu opera, ink-and-wash painting, landscape architecture and ancient poetry, each of which expressed similar artistic values and contexts as Debussy's music.
Her essay was included in the collection kept by the library of the National Superior Conservatory of Paris for Music and Dance.
"I started to play music composed by Debussy when I was very young. I could tell there was something common between his music and Oriental culture. When I studied in Paris, I deepened my understanding of Debussy's music, and the skills needed to play his music.
Kunqu opera was also an indispensable part of my childhood. This type of opera helped me form my early understanding of traditional Chinese culture. For me, combining Debussy's music with Kunqu opera was like finding a new expression to describe an old dream I had for a long time," Gu explains.
She is often impressed by the feedback from audiences. "Once, a spectator asked why we burned the Peony Pavilion after Du Liniang died. I realized our spectators not only cared about the artistic context created in our performances, but also about the spiritual and philosophical meanings hidden behind our performances," she says.
What is her vision of the future? Gu hopes to stand on the world stage with her new attitude, and with her new method of expression. "I hope my works will influence how people, from around the world, look at today's China. I believe we will have a better future. I hope I will never betray people's trust in me," she says.
Gu Jieting on the stage
Gu Jieting on the stage
(Source: Women of China English Monthly 2018 March Issue)