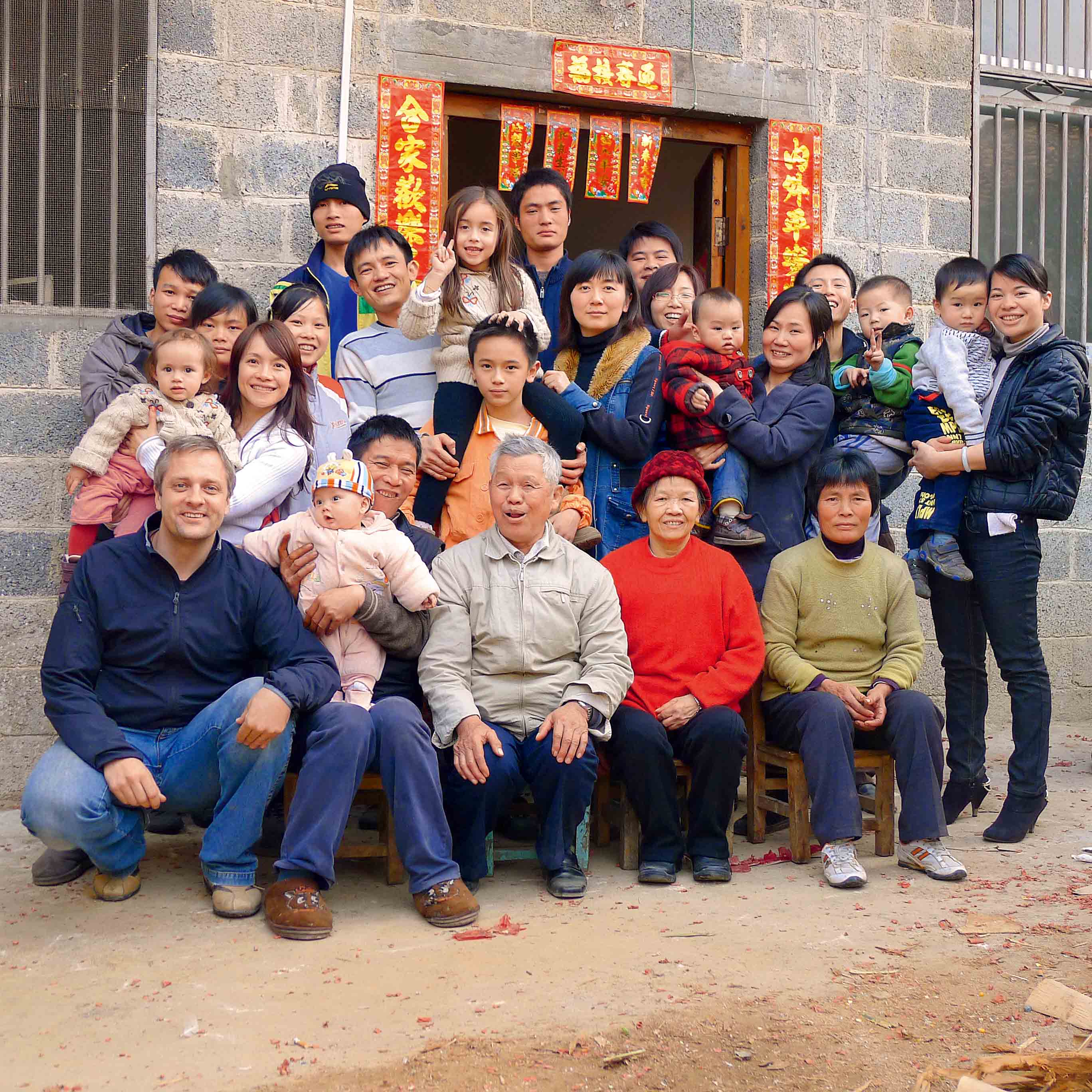 Simon Bosshart and Huang Yanhui pose for a photo with Huang's big family in Guangxi
Simon Bosshart, Director of Asia-Pacific Region of Switzerland Tourism, speaks fluent Chinese. Bosshart has made many contributions to the enhancing of communications, in tourism, between China and Switzerland.
When he talks about his career achievements, Bosshart gives credit to his Chinese wife, Huang Yanhui, for her selfless dedication to supporting his work. Huang used to be a gymnast, and a gymnast who won several top awards during national competitions in China. Since she married Bosshart, in the late 1990s, Huang has had many interesting experiences in their cross-culture marriage.
Making Dumplings
Huang was born in 1975, into a poor peasant's family, in Nanning (capital of South China's Guangxi Zhuang Autonomous Region). She became independent and strong when she was a little girl. She entered a sports school, in Beijing, when she was 12.
Given her good performances during national competitions, she later enrolled in Beijing Sport University, and she and her two teammates won the top award during a national acrobatic gymnastics competition.
In September 1997, then-22-year-old Huang moved to Switzerland, at the invitation of her friend, with whom Huang used to perform acrobatic gymnastics. Huang was invited to teach acrobatic gymnastics at a club her friend opened in Basel.
At that time, Huang saved most of her income to support her family in Guangxi. One year later, Huang relocated to Bern, capital of Switzerland. She began teaching yoga and pilates (a physical fitness exercise to improve the flexibility of one's body). Once, when Huang visited a Chinese friend, who had opened a martial arts school, she met Bosshart, who was then a freshman at the University of Bern.
Bosshart and his roommate both liked Chinese martial arts. They invited Huang to have a meal in their apartment. Huang was surprised that Bosshart was able to cook tasty Chinese food. She was happy that she met a foreigner who could speak Chinese, and who had a great interest in her home country.
Huang later organized a party at her house. She planned to make dumplings for the 20 guests she had invited, including Bosshart and his roommate. When she realized she had to make at least 200 dumplings, she asked Bosshart if he could help her. They spent a whole afternoon preparing the big dinner. Huang taught Bosshart how to use a beer bottle, as a rolling pin, to make dumpling wrappers.
They told each other stories about their families and their childhoods. Bosshart was impressed by how Huang had survived hardships as she earned a living — and supported her family — abroad.
After the party at Huang's house, Bosshart stayed in touch with Huang, via email. He asked her questions related to learning Chinese, and in time he asked her out for a date. Not long after they fell in love, Bosshart moved to China to study Chinese. He attended Beijing Normal University. During the year he lived in Beijing, from 1999-2000, Huang traveled to China, three times, to visit her boyfriend.
Bosshart returned to Switzerland after he completed his studies, and he married Huang on July 12, 2000. According to tradition in the West, parents normally do not give their children financial support after their children become adults. Since Bosshart was still studying in university after he got married, Huang did her best to earn money and support her husband.
Huang was sometimes depressed, due to the great pressure she bore, as she had to support both her husband's studies and her parents' lives. Bosshart cheered her up, and he said: "We are husband and wife, and we ought to support each other through hardships. I promise I will give you all my income after I get a job, and you will manage the money of our family."

East Meets West

Bosshart worked at a travel agency in Zurich after he graduated from university. In 2006, he applied to work as Switzerland Tourism's chief representative in the Asia-Pacific Region. The fluent Chinese he spoke, and his rich experiences, which he had accumulated while he worked at the travel agency, helped him win the job. He was dispatched to work at the tourism bureau's office in Beijing.
Huang relocated to Beijing with her husband, so she could take care of him, and so she could help him build good connections with his colleagues in China. To promote tourism in Switzerland to Chinese, Bosshart and his team launched a winter camp.
They selected seven Chinese ski coaches and took them to Switzerland to participate in training. The Chinese coaches then returned to China with the knowledge and skills they had learned in Switzerland. The winter camp became popular; many Chinese students developed an interest in skiing, and they traveled to Switzerland. During the seven years Bosshart worked in China, he promoted Swiss tourist spots to Chinese.
In 2013, Bosshart and Huang moved back to Switzerland, and they settled down in Zurich. Huang now runs a studio, in which she teaches yoga and plitates. Bosshart spends all of his spare time accompanying his wife and daughter. He often travels with them.
Every year, he prepares a special birthday gift for his wife. The gift can be a romantic vacation, when they go skiing together, a wine-tasting event or an glacier-exploration adventure.
Due in part to their different cultural backgrounds, they sometimes have different opinions about their daughter's education. "My husband fully respects our daughter's hobbies, and he encourages her to do what she likes. But I push her to study harder and harder. Gradually, I realized that my husband's concept of child education was correct. He also accepts some of my reasonable suggestions. We are able to integrate the advantages of our cultures and reach agreements," Huang says.
(Source: Women of China English Monthly 2018 March Issue)