Drum Tower West Theater [Women of China]
Good dramas attract people to theaters to watch the plays, no matter where the theaters are located. A small theater is located at No. 6 Xiaobadaowan Hutong, which extends to the north of Drum Tower West Street, in Beijing. It is a former rehearsal room for the art troupe of the All-China Federation of Trade Unions.
In 2012, Li Yangduo, who had worked in the film and television production industry, shifted her career focus to the theater. When she visited the rehearsal room in Xiaobadaowan Hutong, she realized the venue, which had not been used for years, could be transformed into a theater. Given her enthusiasm for the theater, Li established Drum Tower West Theatre at the venue on April 25, 2014. Li and her team have since produced several plays, which have been adapted from contemporary Western classic dramas. When night falls, the plays, which are put onto the stage of Drum Tower West Theatre, are like "blossoms," the fragrance of which attract people to the theater, and cause those people to fall in love with the art form.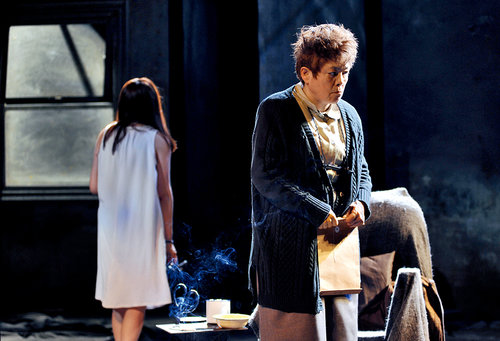 Stage photo of The Beauty Queen of Leenane [Women of China]
Indispensible Part of Life
Li has always loved the theater. But it was not until four years ago, when she opened Drum Tower West Theatre, that she realized producing dramas and operating a theater were far more complicated than simply watching dramas as a member of the audience. Since 2014, her daily work hours have vastly changed. "The work hours for most people, who have stable jobs, are normally from 9 a.m. to 5 p.m. or 6 p.m. But employees at our theater often begin working at 1 p.m. or 1:30 p.m. and they go home normally after a performance concludes at 10 p.m. or 10:30 p.m," Li says. The theater has become an indispensible part of her life, she adds.
Before Li moved to Beijing in 2010, she spent more than a decade working and living in South China's Shenzhen and Guangzhou. She opened an advertising company in Guangzhou (capital of Guangdong Province) in 1999. Four years later, she changed the focus of her career to film and television production. In 2009, she took part in the promotion of director Stan Lai's famous work, The Village. Li helped promote the drama in Guangdong, and the drama became quite popular and won high praise from local audiences. Every time Li watched the drama being performed, she felt that a good drama could gently "touch" the bottom of her heart.
In 2012, Li made up her mind to open a theater and produce dramas performed by her own crew. The same year, she visited the abandoned rehearsal room in Xiaobadaowan Hutong for the first time. "The rehearsal room was in a yard hidden in a quiet hutong. It was a perfect venue for opening a theater, as it had a precious, peaceful atmosphere for people in a big, crowded and noisy metropolis like Beijing," she says. She rented the place and renovated it into a small theater. She named the theater Drum Tower West, the name of the region in which the theater is located.
During the past four years, Li and her team have produced several dramas. Given the influence of theater art, Li has learned to get along with others and "embrace" her life with a more open-minded attitude. "Compared with films and TV dramas, plays performed in a theater build stronger and deeper emotional connections with audiences. Sometimes, I see audiences cry after they watch a play, or sometimes I see them walk silently out of our theater, and I can tell they have received something important from the play. By listening to their comments, I feel clearly the influence of theater upon their lives," Li says.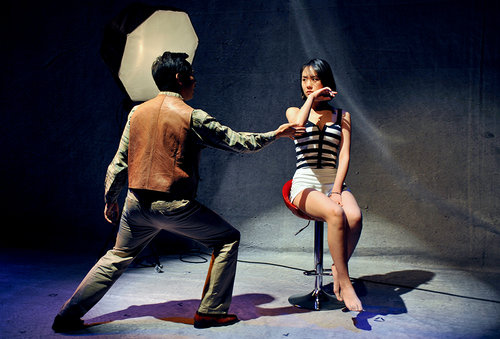 Stage photo of How I Learned to Drive [Women of China]
Motivated by Audiences
The Pillow Man was the first play produced by Drum Tower West. The play was written in 2003 by Irish playwright Martin McDonagh. Li and her team obtained the copyright to adapt the play and perform it in the theater. They invited famous actor Zhao Lixin to play the lead. The play attracted many professional actors and producers. Drum Tower West Theatre became widely known by audiences in Beijing after that show.
For nearly four years, Drum Tower West Theatre has attracted more and more spectators. "Since we mainly produce plays adapted from contemporary Western dramas, it is easy for us to attract young viewers, who like to watch TV dramas produced in the United States or the United Kingdom, and who are familiar with Western art forms. But most recently, I have noticed some elderly people, who used to watch dramas in traditional theaters, such as Beijing People's Art Theatre, National Theatre of China and National Centre for the Performing Arts, coming to our theater.
"People in big cities, like Beijing, have to work hard almost every day to earn a good living. When they spend two hours in a small theater, it is natural that they want to relax by watching a play, whether the play is a comedy, a musical drama or a suspense play. But after they watch a certain amount of plays, audiences will have higher expectations for this art form. They will be keen to watch dramas that highlight deep thoughts and high artistic tastes," Li says.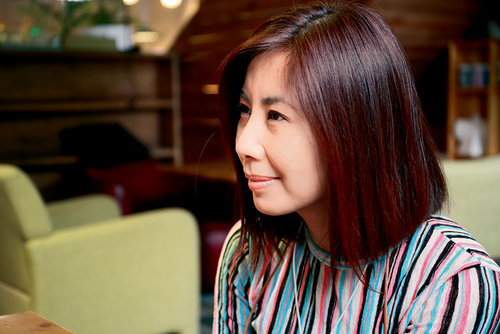 Li Yangduo, founder of Drum Tower West Theatre [Women of China]
The crew of Drum Tower West Theatre attaches great importance to the selection of plays to be performed. Due to the limit of the theater's space, it cannot accommodate too many spectators per performance. Li says although her theater, compared with most big theaters, does not have that many spectators, but she notices that spectators to Drum Tower West generally have received good education and/or art cultivation. They are able to properly understand the thoughts and art expressions in contemporary Western classic dramas. Audiences motivate Li and her team to constantly develop their theater and plays, she adds.
To give back, Li plans to organize workshops, to strengthen the connection between Drum Tower West Theatre and its audiences. The theater has already organized several script-reading workshops to help the public learn the ideological and artistic values of classic dramas. Li says she hopes to organize lectures about art films and theater education in the future, because she believes her theater, as a venue for showcasing theater art, must accept its responsibility to promote art education to the public.
Last year, when Drum Tower West celebrated its third anniversary, Li and her team invited two photographers to take photos of viewers while they were watching plays. "We have some faithful viewers, who not only come to watch our plays many times throughout a year, but who also invite their friends, who come to Beijing for a visit, to our theater. The viewers look proud when they introduce our theater to their friends. We feel grateful and we want to do something to give back to them," Li says. That is the reason why her team collected and displayed 150 photos of audiences when the classic drama, Anna in the Tropics, was performed from April 21 to May 7, 2017.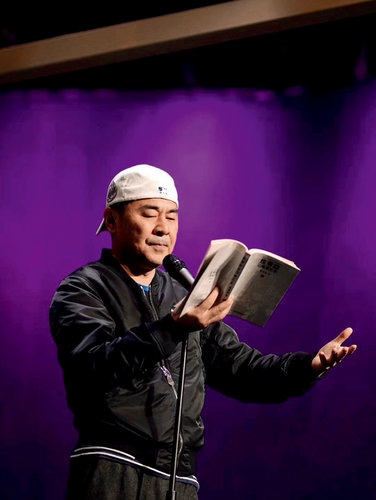 A script-reading workshop [Women of China]
Input and Output
Li and her team plan to promote Drum Tower West's plays on a bigger stage. They are working on a play adapted from Chinese writer Liu Zhenyun's novel, Someone to Talk To. The play will be performed by actors from Central China's Henan Province, and the actors will speak the Henan dialect. The play is scheduled to open in April 2018 at the National Centre for the Performing Arts.
"Contemporary Chinese literature offers a great resource for us — people who work in the field of theater — to produce nice plays. There is a lot of excellent literature that can be adapted to a stage-art form, such as theater. We hope to expand our focus from contemporary Western classic works to contemporary Chinese classic works," Li says.
Her crew has invited Mou Sen, a pioneer theater director who became well-known in China in the 1990s, and Shen Li, a famous stage designer from Shanghai Theatre Academy, to produce the play. "We hope to create a play, which can be widely accepted by audiences from both home and abroad," Li adds.
In addition to literature, Li thinks traditional Chinese opera can also be adapted to theater art. "Chinese opera, as a stage art form, has a long history. We should absorb the cultural and artistic values in traditional operas and present them by an innovative form, such as contemporary theater art," Li concludes.
A spectator [Women of China]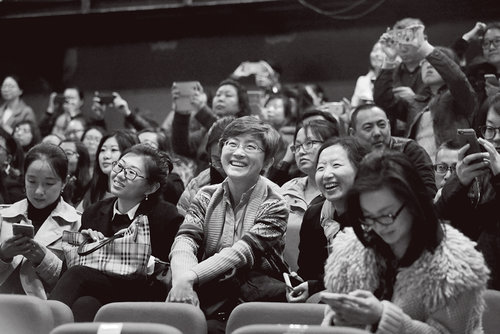 Spectators [Women of China]
Spectators [Women of China]
A spectator [Women of China]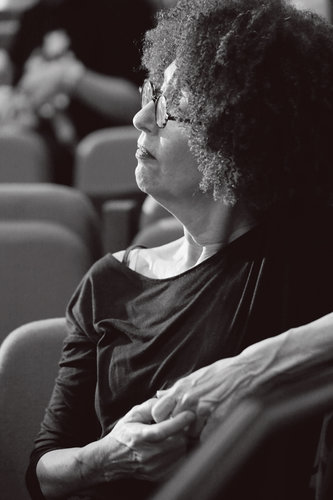 A spectator [Women of China]
(Photos by Zhu Zhaohui, Wang Chuyi, Li Yan)
(Source: Women of China English Monthly January 2018 Issues)