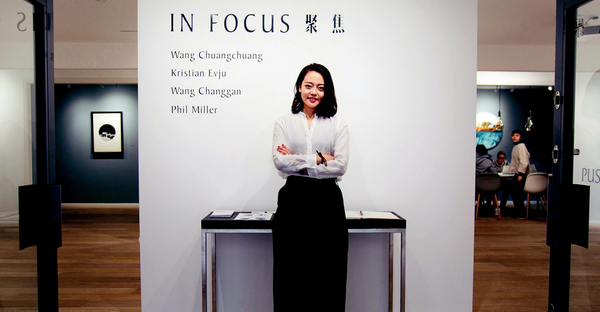 Michelle Song opens gallery in London [Photo supplied by Lu Ming]
Michelle Song was born during the 1980s. She used to be a singer, a Western-style-food cook and an editor with a television station in China. At the end of 2014, she moved to London, the United Kingdom, where she opened an art gallery. "I believe that an artist's works of art reflect his/her personality," she says.
Song has experience in running an art gallery. In addition to the gallery in London, she owns an art gallery in Rizhao, in East China's Shandong Province. She opened her gallery in Rizhao more than eight years ago. When asked about her work routine, she says, "I keep in contact with both Chinese and foreign artists, and we discuss cooperation … I also contact collectors and clients who are interested in art … Before an exhibition, we are extremely busy with curating, promoting and transporting the art. We prepare the next (exhibition) right after we finish an exhibition.
"I have a good team in my London gallery. We pay much attention to the opinions and suggestions of the artists when we are planning exhibitions and other art events," she adds.
Song has her own criteria for choosing artists with whom she wants to work. "I will first get to know the artist's temperament, interests and personality. If the artist doesn't get along well with people, we generally won't cooperate with him/her, no matter how famous he/she is. I believe that an artist's works of art reflect his/her personality."
One of the exhibitions, entitled In Focus, displayed the art of an artist from Norway, an artist from the UK and two artists from China. Visitors could experience the cultural differences as they viewed art created by the young artists, from different cultural backgrounds.
"Ina, from Germany, is the manager of my gallery. She is responsible, and she is very sensitive about the art market, thanks to her work experience in Sotheby's (a global company that engages in art auctions, private sales and art-related financing activities). We got to know each other through one of my friends," Song says.
Song has met many people and received help from others, and she says she is grateful for those connections. However, it is not easy to open an art gallery in a foreign country. She and her team have encountered many difficulties.
"We ordered the front door of our gallery from a British company, and we gave the company a down payment of £5,000. But the company failed to send us the door on the date we had in the contract. We sued the company. Although we won the lawsuit, we haven't received our down payment yet. That was just one of the many problems we encountered. As a matter of fact, we meet different challenges every day … Our first exhibition was about Chinese wash paintings. It cost us a lot of money to frame the paintings in the UK," Song says.
"My home is on the second floor of our gallery. The gallery is part of a church that has more than 200 years of history. I like the culture collision between the history in the West and the modern art in the East," Song says.
She says she mainly reads books related to art auctions and the art industry in her spare time, because she must obtain new knowledge in order to survive in the sector.
"I have been interested in painting since my childhood. But I haven't received professional training … I usually paint in a free and unrestricted style. Personally, I like abstract and surreal paintings," Song says.
"I studied vocal music at university. Music used to consume my life. I especially love traditional Chinese music. But now, I devote much of my time and energy to running my gallery," she says.
Michelle Song operates her gallery in London [Photo supplied by Lu Ming]
In addition to operating her gallery, Song and her team offer customized travel services to art lovers and students. The students experience the art atmosphere in the UK and/or attend short-term art courses in some British universities.
"In the future, I think I will continue to do business related to art and culture … I hope more Chinese will gain a deep understanding of London and the UK. We will bring more excellent exhibitions and performances back to China, and we will promote the blending of cultures between China and the UK," Song says.
(Source: Women of China English Monthly November 2017 Issue)