Shangri-la [Women of China/Fan Wenjun]
Shangri-la, in the northwestern region of Southwest China's Yunnan Province, is the beautiful capital of Diqing, an autonomous prefecture inhabited mainly by people of Tibetan ethnic group. A 10-member ethnic Tibetan family lives near the Naizi River, in Jiantang, a town administered by Shangri-la. The family is not wealthy. Members of the ordinary family love and respect each other. The harmony within the family has earned its members the respect of the neighbors. This year, the family, which has four generations living under the same roof, received the National Most Beautiful Family Award.
Shangri-la is situated in the border area between Southwest China's Tibet Autonomous Region and Yunnan and Sichuan provinces. It has beautiful, snow-capped mountains and villages inhabited by people of various ethnic groups. It is a wonderland-like place, where the residents live in peace with each other, and where residents maintain a harmonious relationship with nature.
Diligent Couple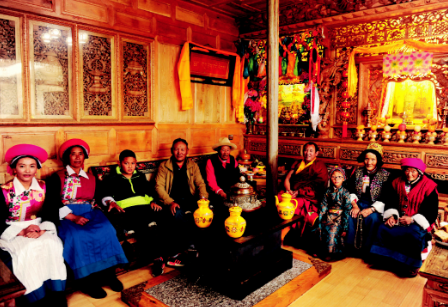 Tibetan Family in Shangri-la [Women of China/Fan Wenjun]
The four-generation family near the Naizi River lives an ordinary and happy life. Zhishiqilin, a second-generation member of the big family, and who is in his 60s, always gets up early. Praying in the scripture room, in his home, is the most important thing to him. His wife, Qilin'amu, cooks a delicious breakfast, including fragrant and sweet buttered tea, for the family. Every day, the family begins its happy existence by eating breakfast together.
Qilin'amu has a good reputation in Zuogua Village, the hometown of her husband's family. Qilin'amu grew up in a neighboring village. Zuogua has many elderly residents, and a considerable amount of farmland, but few young laborers to do farm work. Parents in other villages are not willing to let their daughters marry men from Zuogua because Zuogua's residents live in poverty. Qilin'amu's family, though, was an exception.
Before Qilin'amu married Zhishiqilin, her family learned (from the matchmaker) that Qilin'amu would probably live a hard life if she decided to marry the young man. Still, Qilin'amu was moved by Zhishiqilin's honesty, to both his own family and that of his fiancée.
After the couple got married, Qilin'amu realized she would often have to live apart from her husband. Why? Zhishiqilin had to drive the yaks, raised by his family, to pasture, which was quite a distance from his home. When he was not at home, his wife had to do all of the heavy farm work; at the same time, she had to look after the elderly people in their big family.
For years, Qilin'amu worked diligently on the 20-plus-mu (1.33-hectare) farm, owned by her husband's family. She also completed the chores and took good care of both the young and elderly members of the family. Her neighbors tried to persuade her, several times, to let Zhishiqilin sell the yaks, so he could spend more time at home, helping his wife complete the chores. Qilin'amu refused. "Raising yaks is an important part of my husband's life. I want to support him as he does the things he likes. I am willing to hold on until the life of our family gets better," she said. She stayed true to her words, and she never complained about her husband leaving home.
Given the couple's efforts, and hard work, the family now lives a much more prosperous and comfortable life.
Respect the Elderly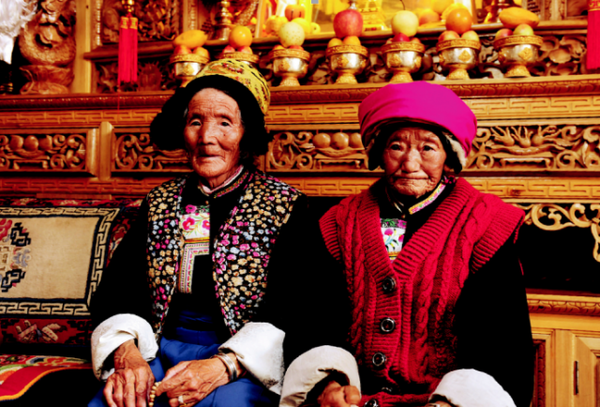 The elderly in Tibet [Women of China/Fan Wenjun]
Villagers in Zuogua often praise Zhishiqilin and Qilin'amu for their diligence. The villagers are also impressed by the filial piety they show to the elderly members of their family — Zhishiqilin's parents and his aunt. The three elderly members are approaching 80. Since they live in a village located in an area at a high altitude, they sometimes suffer from diseases due to lack of oxygen.
Two years ago, Zhishiqilin's aunt had cataract surgery.
The family spent a combined 30,000 yuan (US $4,478) looking after the elderly woman . Despite the great pressure they bore, Zhishiqilin and Qilin'amu never lost patience. They do their best to cook tasty and nutritious foods for the elderly members, to help them maintain their health.
Sometimes, Zhishiqilin's parents and aunt become upset, even angry, with their children, but Zhishiqilin and Qilin'amu never blame them for having bad tempers. The couple comforts the elderly family members, and they try their best to maintain harmony within the family.
Belief in Harmony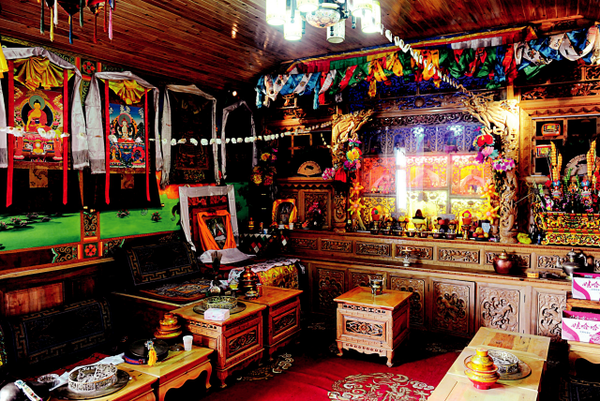 Buddhism [Women of China/Fan Wenjun]
Zhishiqilin has a younger brother, Jiangchuchuipi, who has been a monk since he was 15. Now a renowned monk, with great achievements in his practice of Buddhism, Jiangchuchuipi is often invited by residents in his village to pray for blessings during festivals and/or the harvest season.
Every time Jiangchuchuipi is invited to pray in someone's home, he prepares scriptures and relevant materials at least two days before the event . His family often helps him prepare the materials. When Jiangchuchuipi prays, he must recite the scriptures for a long time, and without a break. Some monks politely refuse to take part in such ceremonies, because the prayers can be exhausting. Jiangchushuipi, though, seldom refuses others. His belief in harmony has earned him the respect of his followers. In 2014, the committee of Gedan Songzanlin Monastery, the biggest Tibetan Buddhist Monastery in Yunnan Province, named him an individual who excelled in maintaining harmony.
Spread Culture, Traditions
Tibetan culture and traditions [Women of China/Fan Wenjun]
Zhishiqilin's father, Qilindingzhu, is a famous host in his village, and he is good at presiding over traditional Tibetan wedding ceremonies. When he was a young boy, Qilindingzhu started to learn from his uncle how to preside over a traditional wedding. He mastered the knowledge and skills before he turned 20. But it was not until he turned 35 that he formally became a professional host.
During a traditional Tibetan wedding, the host must organize the participants to speak, sing and dance. The families of both the bride and groom have different procedures for completing the wedding ceremony. Qilindingzhu grasps well all related procedures. In addition, he has studied traditional Tibetan songs and dances. He has taught the knowledge and skills to his grandson, Larongliba. He urges his grandson to protect and inherit the culture and traditions of the Tibetan people.
In May every year, the horse-racing festival in Shangri-la attracts spectators from both home and abroad. During the event, Larongliba often displays a set of six items collected by his family — mat, saddle, head sleeve, horsewhip, bells and a pair of stirrups — to spectators. He explains how to use those items.
Qilin'amu says she is glad to see that her family is living a much better life. Her family members are grateful that both the Communist Party of China and the local government have provided great support to the villagers in Zuogua, to help them improve their lives.
(Source: Women of China English Monthly November 2017 Issue)