Artwork by Zhu Jingrui [Photo Supplied by Zhu Jingrui]
White Pagoda, monasteries, prayer wheels, Kangba men and Tibetan women … Those images, which are important reflections of Tibetan culture, are depicted by Zhu Jingrui on the stones she has collected in Southwest China's Tibet Autonomous Region. She calls the stones, on which she draws and paints, "fei shi." She says her works of art emphasize the importance of keeping one's loyalty and unchangeable willpower.
Artist's Bio

Zhu Jingrui
Zhu Jingrui, born in 1992, is an ethnic Mongolian woman. She developed an interest in painting when she was a little girl. When Zhu was in college, she became fascinated with the art of thangka, a type of painting on silk with embroidering. She traveled to Northwest China's Qinghai Province in 2010, lived near Ta'er Monastery and began learning how to paint thangkas. Three years later, she moved to Tibet Autonomous Region to continue studying the art. In May 2016, Zhu started to combine the art form of thangka with paintings on stones.
Zhu's paintings on stones were displayed during an art exhibition, which opened in Lhasa (capital of Tibet Autonomous Region) in September. The smart combination of various colors and the delicately depicted lines reminded spectators of Zhu's excellent skills in painting thangkas.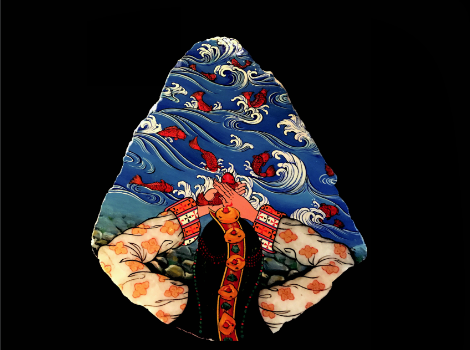 Artwork by Zhu Jingrui
In May last year, Zhu started to collect obsidians and other types of dark stones from the mountains and valleys in Tibet. She noticed those stones were perfect for her paintings.
"Those stones, which come from nature, are like gifts from nature. The stones, the shapes of which are naturally formed, are 'works of art' coming naturally from our world. The images I draw and paint on the stones are in accordance with the stones' shapes and textures. I call the stones with my paintings "fei shi," which comes from Shijing (The Classic of Poetry). Those stones represent people's love for this region (Tibet). I hope we won't change our minds about pursuing beautiful things in our lives," Zhu says.
Each stone she has picked represents a unique "work of art" created by nature, she says. When she Waiting looks at those stones, she feels like listening to the stories the stones have "witnessed" during the millions of years of the development of nature. "When I put the stones under the sunlight, I can imagine landscapes, such as snowy mountains, reflected on the stones. Then I start to draw and paint the scenes in my mind onto the stones," she recalls.
Zhu compares the stones to her "close friends." Through her paintings, she depicts the soul of the beautiful Tibet in her mind.
(Source: Women of China English Monthly November 2017 Issue)