Zhang Yifan at Kazan Kremlin, the historic citadel of Tatarstan situated in the center of Kazan [Photo Supplied by Zhang Yifan]
Chinese student Zhang Yifan, 26, has lived in Kazan, Russia, for three years. She is currently studying overseas on a master's program at Kazan State Conservatoire and works hard to fulfill her dream — of becoming a professional music teacher.
The talented young woman says she greatly enjoys her life and experiences in the foreign country. Instead of choosing Moscow or Saint Petersburg, Zhang headed for Kazan for her studies when she was selecting a university because of what she calls "yuanfen," the Chinese word for "destiny."
Zhang said she first heard about Kazan during her childhood. In one of her music classes, her teacher, who had just returned from Kazan to China, mentioned the city.
"I was curious about it and the State music academy where my teacher used to study," Zhang recalls.
"The most interesting thing is that a Russian professor who used to instruct my old music teacher has been teaching me while I have been studying music at the same academy."
Zhang considers those people whom she has come to know in Kazan an essential part of her life. "I feel grateful that they teach me a lot of things and they help support me while I am living far away from my hometown," she adds.
Kazan greatly impresses Zhang as a "peaceful and quiet city with rich culture." Living in such a city, one can always find an interesting place to visit or have something interesting to do.
For example, Kazan Kremlin, the historic citadel of Tatarstan, situated in the city's center, is one of her favorite places. She also likes Bauman Street, which is widely known among local people just like the famous shopping street Wangfujing in Beijing.
Zhang says life in Kazan is quite different from the life she used to lead in her hometown Changchun, in northeastern China's Jilin Province. "First, the lifestyle in the two cities is different. People in Kazan do not spend too much time hanging out; and as a result, you cannot see many activities, such as fairs, bazaars and food sales, on the street.
"You may feel bored, especially in winter time. Secondly, due to the climate, people must endure tough living conditions here including dry air and extremely cold weather in winter," she explains.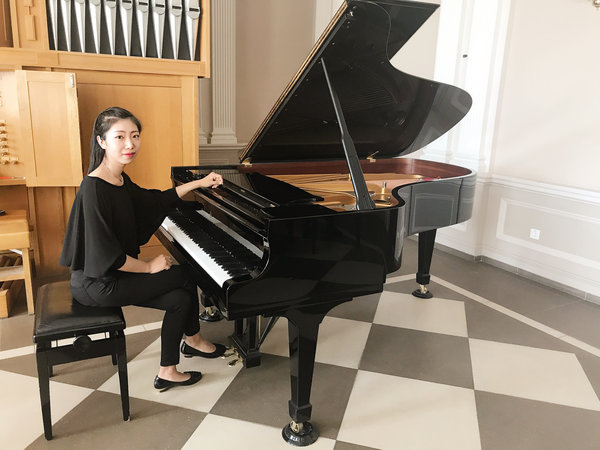 Zhang Yifan studies on a master's program at Kazan State Conservatoire.
[Photo Supplied by Zhang Yifan]
Zhang Yifan at Kremlin Bay [Photo Supplied by Zhang Yifan]
What is her impression of local people? "Hospitable!" Zhang answers. She feels lucky that she have met many amiable and friendly people in Kazan.
"The hostess of the house where I live is an elderly Russian lady who treats me like her own daughter. My professors and teachers at school, my peers at classes and my Russian friends have all convinced me: Once you become a friend of a Russian, the two of you will be friends forever.
"The people with whom I have made friends all love and cherish me from the bottom of their hearts," Zhang says.
Tatarstan, a federal subject (or republic) of the Russian Federation, is a place that combines Russian and Tatar cultures, which have different roots. Based on her communications with people in Kazan, Zhang thinks Tatar people's way of thinking is comparatively similar with that of Chinese people.
It is easy to communicate with them and fix deals. In general, she thinks Chinese and Russian people can always find a way to understand each other — even though they speak totally different languages.
Kazan is one of the largest cities in Russia. It attracts Chinese tourists and students as an educational center and a city "open and friendly to foreign investment."
Nowadays, some 2,000 Chinese people study or run their businesses there. To date, there are only two authentic Chinese restaurants in Kazan. Zhang says she hopes there will be more Chinese restaurants open in the future.
She predicts it will take 10 years or longer for this Russian city to have a Chinatown — a place filled with appealing Chinese street foods and well-made crafts and souvenirs. "I am sure we will have such a place one day, because Kazan is a city open to everything new," she notes.
The story of Zhang is just one example of how Chinese people are gradually discovering the appeal of Russia, its people and culture.
When she becomes a music teacher, she wants to use what she has learned overseas to influence children and young people in China. Hopefully, she will fulfill her dream and open a new chapter of another amazing story.
(Women of China)