Many professionals, especially women, in cities across China have in recent years formed the habit of ordering fresh flowers online, and having the flowers delivered to their homes and/or offices weekly. Many of those professionals also like to post photos of the nicely designed and packaged flowers on their social media accounts, such as WeChat Moments. They greet their colleagues with words like, "What flowers do you have today?" They feel happy and relaxed when they look at the beautiful flowers on their desks. As flowers are becoming an indispensable part of professionals' daily lives, business owners are seizing various opportunities to make fortunes.
[Photo supplied by tuchong.com]
Compared with flowers that are given as gifts, for various occasions, flowers used as decorations in daily life tend to be purchased by customers on a regular basis. The price of flowers for such use is generally lower than gift flowers, such as roses on Valentine's Day.
Holland in 2015 issued statistics related to the country's flower market. According to the statistics, 40-60 percent of customers from developed countries, including the United States and countries in Europe, purchase flowers generally to decorate their houses and/or offices. In China, though, the majority of customers tend to buy flowers as gifts for special occasions.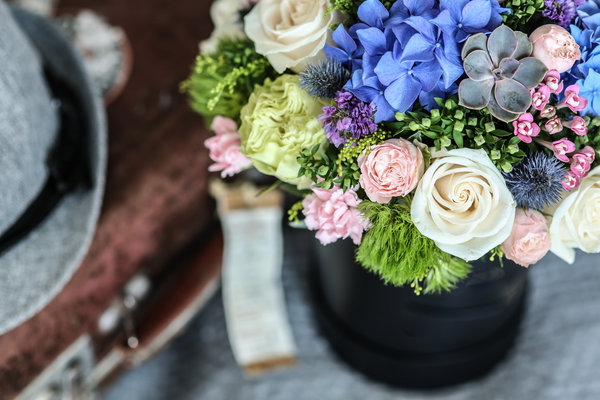 [Photo supplied by tuchong.com]
Flower Plus, a popular online florist, recently released statistics compiled from its consumer survey. The statistics indicated more than 90 percent of Flower Plus' customers were women, the majority of whom were female professionals between 25-38. Online business owners, such as Flower Plus, have many opportunities to explore the flower market aimed at professionals, especially female professionals, with stable and decent incomes.
Techniques Are Key
"What can be the source of happiness in our everyday lives?" Zhu Yueyi, founder of online business Reflower, once asked. What was her answer? "Happiness is often derived from small things in our lives. For example, you leave your home and you want to take a taxi, then you immediately find a taxi. You are able to buy something you have longed for, and that 'something' happens to be the last one in the shop. For me, personally, I feel extremely happy when I buy flowers, during the weekends, and I trim them to form a nice-looking shape, and then, I put them into a vase," she said.
Motivated by the idea of bringing flowers into people's daily lives, and using flowers to make people happy, Zhu founded Reflower in 2015. Fulfilling orders and delivering flowers on a regular basis are the major services provided by Reflower.
A basic order is 99 yuan ($14.78) for four bunches of flowers, one bunch delivered per week. Such an order includes at least four types of flowers.
Zhu believes techniques are the key to developing business. She suggests online business owners must develop techniques that will maintain the freshness of the flowers being delivered over a long distance. "Owners of traditional, offline flower shops pay a lot of attention to the standards set by suppliers. Take roses as an example, shop owners judge the quality of a rose by the length of its stem. But for us, online business owners, we redefine the standards based on our customers' needs. Customers, in general, care more about the freshness, sizes and colors of flowers. We have constant-temperature facilities to store our flowers. Now, we are able to transport the flowers, the roots of which are soaked in water, from Southwest China's Yunnan Province to cities, such as Beijing and Shanghai," Zhu says.
[Photos Supplied by Monet Floral]
[Photos Supplied by Monet Floral]
Given the rapidly developing online business sector in China, online florists will attract an increasing number of customers. In the past two years, Reflower had five million customers.
According to statistics shared by Gao Junping, a professor with China Agricultural University, approximately 25 billion flowers were sold in China in 2016. That was up 25 percent from 2015.
More than Flowers
Several online businesses, including Flower Plus and Reflower, have provided similar florist-related services. The prices of their services are fairly consistent. For example, the cost of delivering four bunches of flowers a month ranges from 79 yuan (US $11.79) to 169 yuan (US $25.22), depending on the types of flowers ordered.
Zhang Qing has operated a flower shop for 12 years. What does she think about the prices set by online florists? "Take the 99-yuan (US $14.78) order as an example, if the money is used to purchase four bunches of flowers, for a month, the cost of each bunch is about 20 yuan (US $2.99). If we reduce the costs of packing and delivery, the cost of flowers will be merely 10 yuan (US $1.49). That means the online business owners cannot afford to provide top-quality flowers. The materials they use for packing, such as brown paper and ribbons, are important because those materials give customers the first impression of their services," Zhang says.
The rapid development of businesses operated by online florists has pushed traditional flower shops' owners to improve their services.
[Photos Supplied by Monet Floral]
Shen Jie owns a flower shop, Monet Floral, in Haining, a city administered by Jiaxing, in East China's Zhejiang Province. She not only sells flowers and potted plants, she also provides floral decorations for weddings and she organizes workshops for customers to learn flower arrangements. She also provides monthly flower-delivery services to her regular customers.
What is Shen's impression of the booming online flower business? "At present, online flower-order services have advantages, such as low prices, convenient deliveries and a wide range of customers. The quality of the flowers is fine," she says.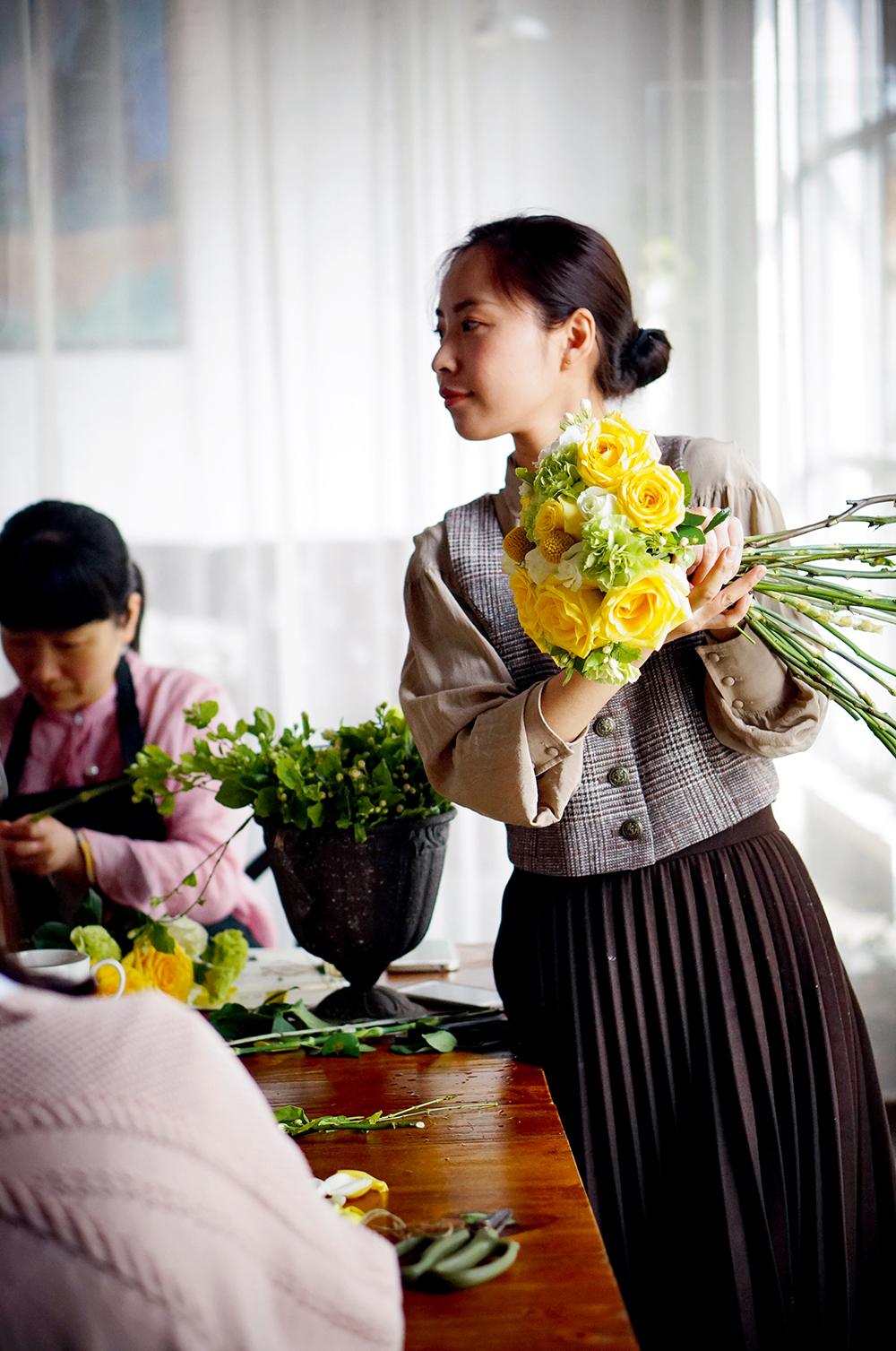 [Photos Supplied by Monet Floral]
Facing fierce competition caused by online florists, Shen is promoting the concept of "more than flowers." The cost of an order-and-delivery provided by Shen's shop is a bit higher than the average price set by online florists. But Shen provides a mixture of various good-quality flowers. To maintain the freshness of the flowers, Shen only delivers flowers within Haining. Her regular — and important — customers are provided with extra services, such as flower arrangements and cleaning the vases.
"We make special designs, based on how our customers plan to place the flowers in their homes or offices. Customers can order our flowers to be delivered once every week, or every two weeks," Shen adds.
The development of online flower businesses, in recent years, has helped grow the flower market in China. Shen is glad to see an increasing number of people are showing an interest in making flowers part of their everyday lives.
(Source: Women of China English Monthly October 2017 Issue)