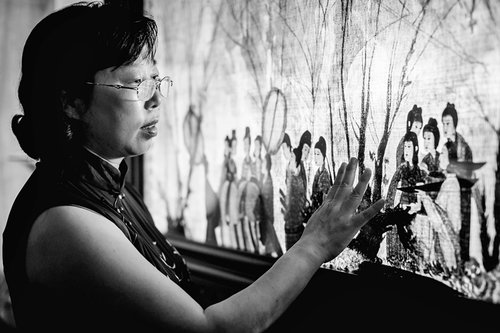 Zhang Xiaohong [Photo supplied by Zhang Min]
Xinyu, a city in East China's Jiangxi Province, is renowned for its ramie cloth. As the cloth is soft and light, and as it does a good job of keeping one's body cool, it is often used to make summer clothes. Hence, it is commonly referred to as "summer cloth." Zhang Xiaohong, a once-laid-off woman in Ruichang, a city in Jiangxi Province, has become known far and wide in recent years. Why? She has created exquisite artworks by embroidering patterns of ink wash paintings (an East Asian type of brush painting, of Chinese origin, which uses black ink in various concentrations) on the "summer cloth." In 2014, China added the craft (of making "summer cloth" embroideries) to the list of the country's items of intangible cultural heritage.
Records indicate Chinese began using ramie cloth to make hats, crowns and clothes during the Xia Dynasty (c. 21st century-16th century BC). For millennia, the craft of making the cloth has been handed down from generation to generation, especially among women, in Xinyu. The handwoven cloth is soft and durable, and it does not fade easily.
Craftspeople use silk threads, which are glossy and strong, to create "summer cloth" embroideries. Sometimes, craftspeople divide a thread, which is as thin as hair, into several strands to make an item.
To make an embroidery, craftspeople must complete several complicated procedures, including designing patterns on the item, using the threads to embroider the outlines of the patterns, and filling in the outlines with colorful silk threads.
During the past millennium, numerous craftspeople have used bright-colored silk threads to create "summer cloth" embroideries, which have vividly depicted figures, natural views, flowers, birds, fishes, insects and other animals. Many of the embroideries are of high artistic and practical value. Some people use the artworks to decorate their houses, and many art collectors take delight in accumulating the embroideries.
Zhang Xiaohong, curator of Xinyu Summer Cloth Embroidery Museum, is a provincial-level inheritor of the craft. She is a master of arts and crafts in Jiangxi Province, and she is a National March 8th Red-banner Holder. When she recalls the many sweet, and bitter, experiences in starting and running her business, Zhang says she believes all of her efforts have been worthwhile.
Zhang in 1958 was born into a worker's family in Ruichang. She developed an interest in creating embroideries during her early childhood.
In early 2002, Zhang was laid off — amid the nation's reform of State-owned enterprises — by the factory where she had worked for several years. Despite the setback, she never gave up hope. She eventually moved to North China's Tianjin Municipality and Suzhou (a city in East China's Jiangsu Province) to study embroidering. After she returned home, she frequently visited Xinyu Culture Center, to learn, from well-known craftswomen, how to improve her embroidering. In 2004, she held her first solo exhibition in Xinyu.
In March 2004, with the help of Liu Xiaoyan, President of Xinyu Women's Federation, Zhang received a 40,000- yuan (US $5,970)-loan from the federation. Within a short time, she established Yuzhou Embroidery Studio.
Zhang in recent years has put a lot of effort into improving and innovating embroidering techniques, to add beauty to her artworks.
In 2005, Zhang obtained a national patent for a new method of embroidering on the "summer cloth." In 2009, Zhang established Xinyu Summer Cloth Embroidery Institute.
During the past few years, Zhang has cultivated more than 800 craftswomen, among whom three have been named masters of the arts and crafts in Xiyu, and provincial- or municipal-level inheritors of the craft. Given the sound development of the craft, jobs were created for more than 1,000 women.
Completing an embroidery is time consuming, and the work requires tremendous patience. However, Zhang and her employees have never given up on their pursuit of artistic perfection. With their enthusiasm for beautiful things, and their persevering efforts to improve their artistic skills, they have created many works of art that have captured their "vigorous vitality" during the past decade. Many of their embroideries, with patterns of traditional Chinese ink wash paintings, embody the unique culture of the Chinese nation. The exquisite artworks have enthralled people throughout the world.
In 2014, Zhang established Xinyu Summer Cloth Embroidery Museum, the first of its kind in China. Many of the works, which have been displayed in the museum, have amazed people with their charm and unique artistic beauty.
Zhang recently told media she hoped the "summer cloth" embroidery would become one of the best-known embroidered crafts in China. She said she planned to develop a multifunctional base, in which craftspeople produce and exhibit embroideries. She also said she hoped more visitors, from home and abroad, would have a better understanding of traditional Chinese culture through the exquisite artworks created by the base.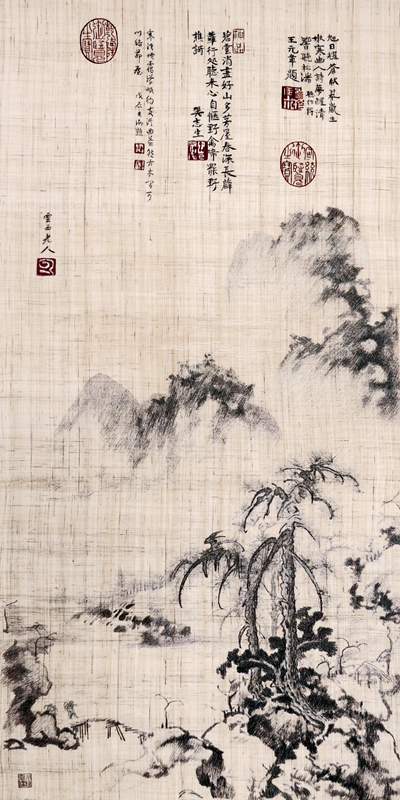 A work by Zhang Xiaohong [Photo supplied by Zhang Xiaohong]
(Source: Women of China English Monthly September 2017 Issue)